Brilliant Barca wins Champions League
May, 28, 2011
05/28/11
3:31
PM ET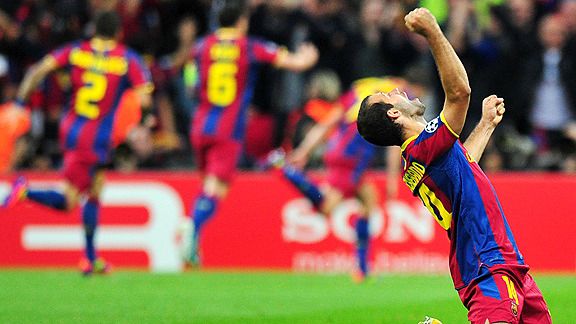 CARL DE SOUZA/AFP/Getty ImagesBarcelona defeated Manchester United 3-1 to win the Champions League.
Manchester United knew what was coming -- everyone did. But there was no stopping Barcelona on Saturday. This was the team that people have fallen in love with, the team that schooled Real Madrid in November with peerless passing and clinical finishing. Gone were the theatrics and petulance from El Fiasco. Lionel Messi & Co. dominated Manchester United in the Champions League final, winning 3-1 for its second title in three seasons by putting on a beautiful display of football.
In much the way the 2009 Rome final played out between these teams, Alex Ferguson's side started the game strongly for the first 10 minutes or so, before Barcelona's pressure and possession began to wear down the Red Devils until, by the second half, they were chasing shadows. It was a bit like watching a father play keep-away with his young son and buddies, as there were stretches of time when United couldn't get so much as a sniff of the ball no matter how hard its players ran.
This wasn't an embarrassing loss, mind you, but the crowning achievement for the best club in world football. Greatest of all time? That debate will continue to rage, but Pep Guardiola's side did its best to make the case Saturday that it belongs in the pantheon, a team that mesmerizes you into a hypnotic state -- triangles and slide-rule passes, it's a system of methodical planning and spontaneous imagination -- before tearing you a new one.
It was a nightmare scenario for United when Barcelona scored first in the 27th minute. After over 20 minutes of sustained pressure, Xavi was able to exploit acres of space between United's midfield and backline and get the ball to Pedro, who coolly passed the ball into the back of the net. It was finishing at its best and most beautiful, at once methodical and creative. Xavi loves to talk about how his game is built around finding space, and United gave him too much of it.
Xavi was (as usual) a marvel to watch, his head spinning left and right, his body pivoting around the ball like a turret, as he searched to exploit the tiny holes in United's defense. Tiny holes that eventually became gaping ones, but all credit to Xavi -- he is the game's best midfielder by a country yard, and yet not even the best player on his team. Simply amazing.
The Red Devils were able to make a game of it, however, as they pressed forward with a high line. Against the run of play, Wayne Rooney was able to get the ball in the danger area. He passed it to Ryan Giggs, who laid it back to Rooney on a silver platter. He hammered home the equalizer in the 34th, which is how things remained going into halftime.
You might have thought that the break would have given the United players a breather, a chance to recharge their engines. But this is how Barcelona beats you, extracting every last ounce of energy right from the get-go until you've got little left to give. And so it was that while Barcelona had the better of United in the first half, it thoroughly tore Ferguson's men apart in the second half. Weary legs and perhaps weary minds, United players lost a zip in their step and failed to close down both Messi and David Villa, who put two more goals on the board.
Take nothing away from either of those two shots, but United should have done better. Much better. Rio Ferdinand said as much after the game, knowing that his team gave Barcelona too much time and space in the danger area. In the 54th minute, Andres Iniesta stood over the ball outside the penalty box, while the man marking him, Michael Carrick, made no attempt to close him down. Iniesta easily got the ball to Messi, who -- as he so often does -- moved into the center of the pitch and unleashed a corker. Both Patrice Evra and Park Ji-Sung were caught ball watching as the best player on the planet continued to burnish his resume.
Barcelona continued to tease and torment Manchester United. In the 70th minute, Messi made a brilliant now-you-see-me-now-you-don't run, skinning Nani (who had just come on in place of Fabio) before laying off the ball to Sergio Busquets, who in turn found Villa in space on the edge of the penalty box. It was a terrific finish in the right corner, but with no one challenging the Spaniard, you'd expect nothing less than the sight of the ball being buried into the back of the net.
It was a testament to Barca's brilliance that they took United out of its game. Antonio Valencia wasn't able to make any of his blazing runs down the right, reduced to spending the bulk of his time breaking up plays instead of creating them. Persistent fouling finally earned him a yellow card in the 79th minute. Rooney did his best to take control of the game, but he never had enough of the ball to do much with it. That was the story for pretty much all of United's players.
Of all the stats coming out of the match, this one stood out: Barca's most frequent passing combo was Messi to Xavi (31); United's was Ferdinand to Van der Sar (10).
What could United have done differently? Not much. In the training days leading up to the game, Nani had been playing the role of Messi, with his teammates taking turns trying to shut him down. They knew what was coming. Problem is, there is only one Lionel Messi. And there is only one Barcelona -- the Dream Team for a new generation.