Dimitar Berbatov's bizarre season
June, 2, 2011
06/02/11
11:41
AM ET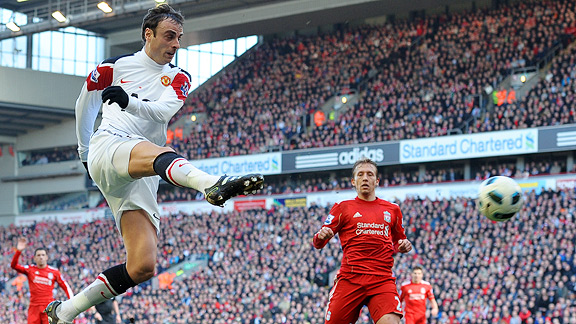 Paul Ellis/AFP/Getty ImagesHe was the joint Golden Boot winner in the Premier League this season, yet Dimitar Berbatov found himself on the outside looking in at Old Trafford.
Have you ever tried to explain the internet to a senior citizen? The other day, my grandmother -- who's pushing 90, mind you -- wanted to know what the hubbub was all about. So I set about the task. "It's a connection of everyone's computers."
"Connected by what?"
"Phone lines, or cable lines, like with your TV," I said.
"Well, I'm supposed to have the internet, but don't," she replied, pointing to her TV. She clicked a few buttons on her remote, changing the channel. "It's supposed to be right here."
"No, Gram, you need a computer for that, and then you need to get online."
"On where?"
I gave it the old college try, but realized no amount of detailed explanation was going to work. But I can empathize, too, because no matter how many times people tell me that Dimitar Berbatov is a crap player, I cannot figure it out. Especially after Berbatov's 2010-11 season. Calling it strange doesn't seem to do it justice. He started in 24 Premier League games and scored 20 times, tying him with Carlos Tevez for the Golden Boot. It was a significant improvement on his rate of return, having scored just 12 goals in 24 league starts during the 2009-10 campaign. But the better he got, the less he was liked. So by the time the 2010-11 season was over, the brooding Bulgarian had fallen out of favor with Sir Alex Ferguson to the point that Michael Owen (really, Michael Owen?) had taken his spot on the bench.
It's understandable that Berbatov lost his starting position to Javier Hernandez during the course of this past season. Chicharito proved time and again that he is a clutch finisher, finding the net 13 times in 15 league starts. He was also able to create an almost telepathic understanding with Wayne Rooney in front of goal; as Hernandez surged forward, Rooney dropped back and tried to feed him the ball. Predictable, yes, but effective.
What isn't quite understandable is that the joint Golden Boot winner has been booted in favor of Owen, who has just signed a new one-year deal at Old Trafford.
[+] Enlarge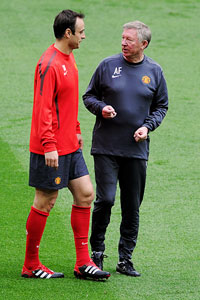 Michael Regan/Getty ImagesSir Alex Ferguson talks with Berbatov in a training session before the Champions League final.
In 2010-11, Owen started one EPL game and was used as a sub in another 10. He scored two goals. Yet it was the Englishman who found himself on the bench for the Champions League final, not Berbatov. Ferguson had taken him into a room before the start of the match to break the news to him that he wouldn't be suiting up. Berbatov broke down in tears and was so disconsolate that he couldn't join his teammates to watch the game, or celebrate with them at the after-match party. (He did manage to participate in the open-bus parade in Manchester to celebrate the team's 19th title.)
Twenty league goals -- now don't let the door hit you on the way out. That seemed to be the message.
You can find plenty to fault Berbatov for. He's long been a lightning rod in the Prem, the kind of player who will be criticized even when he's enjoying a tremendous season. No matter how many goals he scores, he will be pilloried for supposedly being lazy and not making enough darting runs into the danger area. His reluctance to track back and help out on defense -- which isn't technically even part of his role -- will forever be considered a weakness.
And there's some truth to these charges. You're not going to confuse Berbatov for a tireless engine such as Tevez. (Why Red Bull Energy Drink hasn't beaten a path to his door to sign him up is a big-time missed sponsorship opportunity.) Plus, Berbatov getting caught off-side 33 times this season, more than anyone else on United, does suggest a certain lackadaisical approach to his craft. The only Premier League players with more off-side calls against them were Darren Bent with 67 in 36 league starts and Peter Odemwingie with 48 in 29 starts.
Even his goal-scoring record came under fire. Berbatov scored three hat tricks, joining Ruud van Nistelrooy and Andy Cole as the only United players to do that in a Premier League season. But unlike the other two, Berbatov's achievement is lauded by some, while others hold the stat over his head as damning evidence that he's really not that good. "Twenty goals," his critics will say, "but too many of them came in bunches."
Sometimes, you lose even when you win.
Perhaps the last straw was his performance in the FA Cup semifinal, a 1-0 loss to Manchester City in April. After missing two early gilt-edge chances, Berbatov only started against Schalke and Blackpool before the end of the season. Ferguson had long ago decided that Berbatov was not the man for the big occasion, and this seemed to only seal the player's fate.
But signing Owen while leaving Berbatov out there to twist in the wind? That's a bit of a head scratcher. At this stage in Owen's career, he is essentially an older and less effective version of the much more dynamic Chicharito -- a poacher. But he certainly doesn't bring anything new to the attack. By contrast, Berbatov gives you something completely different -- he's a sort of holding striker, if you will, with his smooth passing and ability to link up with teammates with the merest of back-heel flick-ons a real asset. Perhaps I'm alone in this, but I feel that Berbatov sometimes processes the run of play faster than anyone else on the pitch, seeing how things will develop well before his teammates. This ability to read the game, rather than a slothful mindset, may contribute to him looking lazy when he's really not. It may also cause plays to break down, as he's one step ahead of his teammates in seeing where to pass the ball to exploit the defense.
You take away the points Berbatov helped United earn, sometimes with terrific displays of individual effort, and you probably take away the Red Devils' 19th league trophy.
Now, with Danny Welbeck set to return from an impressive loan stint at Sunderland, Ferguson will have another attacking option. Then there are the rumors that United will sign Aston Villa's Ashley Young and use him as a second striker. All the while, Berbatov has told a newspaper in his homeland that he plans to fight for his place at Old Trafford and not give up. Commendable words, especially when it appears the club has all but given up on him.
Perhaps Ferguson will cash in on Berbatov before his contract runs out -- he was signed to United in 2008 for a club record fee of 30.75 million pounds -- and use that money where it is most needed, in the midfield. It may be the most prudent course of action, especially if United can land someone like Luka Modric or Wesley Sneijder. On the other hand, as things stand now, to rely on Owen as your sub instead of Berbatov doesn't make much sense. And when you're a team like United fighting campaigns on multiple fronts, you need at least three proven goal-scorers to shoulder the burden.
However things shake out, there's no getting around the fact that this has been a truly bizarre and bitter season for Berbatov. From Golden Boot to goat. It's tough to explain.