Guus Hiddink should just say no
June, 9, 2011
06/09/11
8:43
AM ET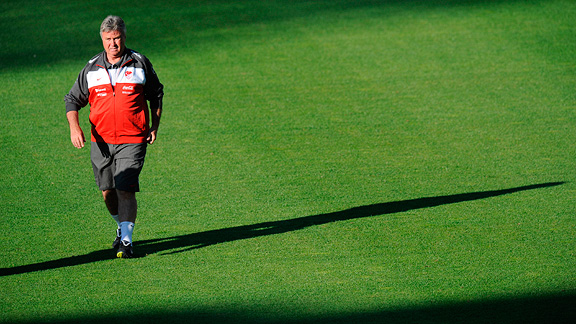 John Thys/AFP/Getty ImagesAfter sacking Carlo Ancelotti, Chelsea is reportedly on the verge of bringing Guus Hiddink back. But is he the right man to give the Blues a necessary reboot?
Wanted: Chelsea manager
Job description: Coach aging London-based team in an effort to win the Champions League at all costs. Must have strong ability to handle sulky forwards and stubborn English international "stars," and integrate young players into the mix without upsetting veterans. Ability to work for capricious, megalomaniac owner who can (and probably will) sack you on a whim. Also: Search through lost and found bin for a certain Spanish player's scoring boots and get him to sync up with the other forward players (there are 50 million reasons this should work). Use transfer market to create a team that will have Barcelona trembling in its tika-taka boots. Salary is competitive; pressure is priceless.
This was the job advertisement -- or, OK, something like it -- that has Guus Hiddink ready to leave his position managing the Turkish national team for his second stint at Stamford Bridge. The Dutchman, who has always been a stickler for honoring his contracts, has an escape clause with the Turkish football federation that can allow him to move on; shockingly, it will probably come down to Chelsea paying a reported 4 million pounds to buy out the remaining 12 months on his contract, with the Turkey Football Federation now taking a strong stance that they will fight an attempt to poach their manager.
It's well known that Hiddink has wanted to get back to the day-to-day rigors and rhythm of club management, but returning to Chelsea is definitely a gambit. With the club's vast resources, he could end up holding the European Cup aloft. But he could also be unceremoniously handed a pink slip in the tunnel after a game. Carlo Ancelotti could give him the background on what that feels like.
Stamford Bridge is a chop shop, a place where Russian owner Roman Abramovich has done his best to mimic the mad days of old George Steinbrenner with his meddlesome ways. Eight years, six managers -- Claudio Ranieri (2000-04), the first Abramovich victim; Jose Mourinho (2004-07); Avram Grant (2007-08); Luiz Scolari (2008-09); Hiddink (2009); and Ancelotti (2009-11). Some are fired, others leave, as trigger-happy Abramovich makes rash decisions in his increasingly quixotic quest to win the Champions League.
Then again, you wouldn't be in your happy place after plunking down some 700 million pounds over eight years and still not having the thing you covet the most.
Abramovich isn't the only pot-stirrer. The team's senior players can cause their fair share of trouble. The inmates often run the asylum, going behind the manager's back to undermine his position if things aren't going to their liking. Maintaining the support of the dressing room in this age of bloated contracts and avaricious agents is no easy task at any club -- Harry Redknapp recently spoke about how his disgruntled players won't knock on his office door but instead complain about him via their agents nagging the club's suits -- but it's a particularly arduous endeavor at Chelsea.
It's into this hornet's nest of discontent that Hiddink will reportedly return. He certainly had a successful stint in 2009, when he took over as a caretaker manager for the departing Scolari after he had just seven months in charge. Big Phil was sacked because of (wait for it) dressing-room discontent -- at one point, Terry publically and symbolically jabbed the knife in Scolari's back when he told the media that Mourinho was the "best" manager he ever had -- and an imbalanced squad that was heavy in the midfield but light up top, with injuries to Didier Drogba and Michael Essien not helping matters. Even though the Blues were headed into some key fixtures at the time (away to Aston Villa, at home against Juventus in the Champions League), Abramovich provided Scolari with a golden parachute, buying out his contract for 7.5 million pounds.
[+] Enlarge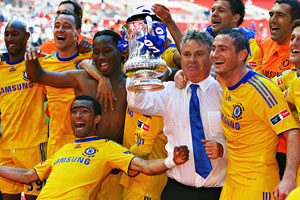 Alex Livesey/Getty ImagesChelsea manager Guus Hiddink celebrates winning the FA Cup with Chelsea's old guard in 2009.
Hiddink immediately revitalized the team -- the "new-manager bounce," as some people like to call it. He only lost once while he was with Chelsea in the league, a 1-0 defeat to Spurs, and led the Blues to an FA Cup title, relying on the core of Mourinho's team of Petr Cech, Terry, Frank Lampard and Drogba. "Goose" also had his team primed for Champions League success, only to be undone by poor refereeing in the semifinals against Barcelona. In his last game at the Bridge, Hiddink was given a standing O, but he had always said he'd return to coaching Russia full-time.
But Russia failed to qualify for the 2010 World Cup. Known for his Midas touch with Netherlands, South Korea and Australia, Hiddink had failed. He moved on to coach Turkey in February 2010 in an effort to help the team qualify for Euro 2012, and that campaign has gone pear-shaped. As of the latest round of qualifying matches, Turkey was in third place in Group A with 10 points, behind Belgium with 11 points and Germany -- which has the group all but wrapped up -- with 21 points.
So now Hiddink is on the cusp of accepting the Chelsea job (perhaps, in one scenario, as a director of football, with Mark Hughes handling the front-line responsibilities) to help rebuild his reputation.
Given his past success at Stamford Bridge and the fact that he's been acting as an unofficial advisor to Abramovich, Hiddink may be the best man for the job. But this F.O.R. (Friend of Roman) has already gotten a sniff of the possible pitfalls. Last week, Terry spoke to the media about how brilliant it would be to re-hire Hiddink. Why? It had nothing to do with X's and O's. The manager would "hit the ground running," Terry said, and the "training schedules" would remain unchanged. Translation: Leave me, Lamps and the rest of the old guard alone. We like things the way they are.
[+] Enlarge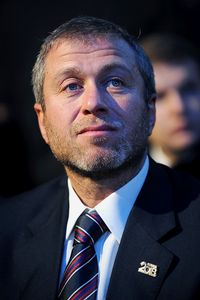 PhilBlues owner Roman Abramovich has become the George Steinbrenner of the EPL.
Upon hearing this, Hiddink reportedly joked, "Is he [Terry] the president of Chelsea now?"
And that, in a nutshell, is where the battle will be waged long before the season kicks off in August. Chelsea is in dire need of a reboot. Suggesting that Hiddink, if he's hired, will mastermind a full-on changing of the guard is probably a stretch, but there has to be a limit to the amount of faith and match time the club can place in its aging core.
Terry has slowed significantly in the center of defense, and with able-bodied replacements such as the dynamic David Luiz available, Chelsea has some flexibility there.
Lampard struggled to find his form after injury this past season, going long stretches in games without having any impact (or even touches on the ball). To his credit, he improved toward the end of the season and had some coolly taken penalty kicks. The same cannot be said of Essien, who has clearly never fully recovered from rupturing his anterior cruciate ligament; once a blazing-fast monster in midfield, he is a shell of his former self.
Look around at the rest of the team. Florent Malouda and Nicolas Anelka are moody, and Paulo Ferreira, Henrique Hilario and Jose Bosingwa aren't going to top anyone's list to keep at the Bridge. The rest of the bench is thin, with some young blood, such as Ramires and Joshua McEachran. Perhaps the brightest spot for the Blues last season was Daniel Sturridge, who was sent out on loan to Bolton in January and proceeded to impress, scoring eight league goals in 12 games. Freed from having to sit on the bench behind Drogba, Anelka and Salomon Kalou, the 21-year-old showed a swagger and youthful exuberance that Chelsea so desperately needs.
Of course, whoever takes over at Stamford Bridge will have to figure out the small matter of the Drogba-Fernando Torres partnership, which gave Ancelotti the kind of headache no amount of Advil will cure. If the 50 million-pound man is to become the focal point of the attack, the manager will have to tool around with something other than Chelsea's preferred 4-3-3 formation; perhaps a 4-2-3-1 or a 4-4-2 with supporting players who can provide genuine width and resist the temptation of coming inside. Ancelotti tried to tinker, but ultimately couldn't make it work despite a late-season surge (a surge that tended to work best when Torres was left on the bench).
Will Hiddink be the man to solve these problems? Will he handle the egos? He's known more for taking a team that's close to success and pushing it to achieve, but is he prepared to do real spadework to rebuild Chelsea? It's not even really his forte.
This isn't 2009, when Hiddink was able to motivate the players. Remember, Ancelotti won the double in 2009-10 with Terry & Co. but couldn't get the best out of them this past season. Injuries played their part. So did age. Fact is, the bulk of the team's best players came on board during or before the Mourinho era. It's time for fresh legs, and no amount of motivational tactics will change that.
If Hiddink takes the job, he would be wise to remember the words of chess master Bobby Fischer, who once said, "I don't believe in psychology, I believe in good moves."
If media reports are accurate, Hiddink has the proper mindset. He has supposedly told Abramovich that the first item on the agenda should be signing Wesley Sneijder from Inter before either Man City or United beats the Blues to it. Maybe Chelsea targets Eden Hazard or Carlos Tevez. Maybe it looks to bring in Brazil and Santos attacker Neymar, long rumored to be heading to the Bridge, or Anderlecht and Belgium striker Romelu Lukaku -- aka the "new Drogba" -- and send the real one packing.
If Abramovich decides to open his man purse, money won't be an obstacle. It's about the only thing that won't get in the way if Hiddink takes the job. And the moment he puts pen to paper, everyone will start to wonder when the owner will get an itchy trigger finger.