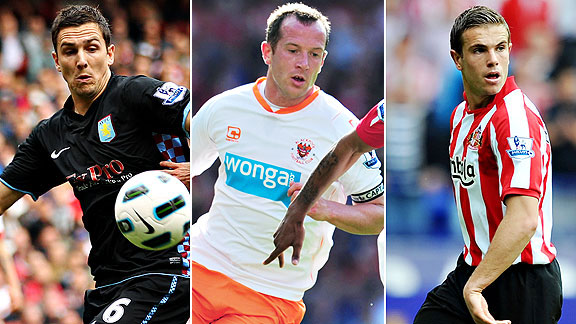 Getty ImagesIf there's one thing Liverpool won't be lacking this season, it's midfielders. The team has recently signed Stewart Downing, Charlie Adam and Jordan Henderson to join an already crowded midfield.
I know a guy, a good guy, who likes to eat. I mean, really likes to eat. He was one of those kids whose parents strictly forbade the eating of sweets. Anything that smacked of sugar was off limits -- something to do with messing up his ability to concentrate. Strange, as Pez was one of my four food groups and I've never had a problem focusing on … er, what were we talking about? Oh yes. My mate, like so many children who were prohibited from engaging in a certain activity, has made up for lost time ever since he hit adulthood. Freed from his parents' shackles, he can sniff out a Skittle within 50 yards. Forbidden (artificial) fruit and all that.
Looking at Liverpool manager Kenny Dalglish, you'd think he was told at some point in his managerial career to field a team with a keeper, a back four and forwards -- but no midfielders. Folly, of course, but look at the glut he's got in the middle of the park right now. Go ahead, name all of their midfielders -- it'll take some time. (You can check out Liverpool's team page here.)
Just this summer, Liverpool has invested nearly 47 million pounds in three players -- Stewart Downing, Jordan Henderson and Charlie Adam. We haven't seen a British Invasion like this since the Beatles hopped on a plane.
It's good for the home-grown rule, but is it too much of a good thing?
You can say this much: While other teams have made a lot of noise in the transfer market -- this summer has been mostly a battle in brinkmanship as far as the big-name players go -- Liverpool has steadily reinforced its squad, spending more than 100 million pounds since January. It started at the beginning of the year, when Liverpool offloaded Fernando Torres and bought strikers Andy Carroll and Luis Suarez, two buys that ended up looking like money well spent by season's end. Henderson (20 million pounds), Adam (6.5 million pounds) and Downing (20 million pounds) haven't come cheap as a group, either.
They're quality additions. Adam proved his net worth at Blackpool last year on crosses and diagonal passes, but he'll have to compete for spots against the likes of Lucas Leiva and Raul Meireles. Then there's this little-known player, Steven Gerrard. And the new guy, Henderson. Meireles didn't have the best of times under Roy Hodgson, but under Dalglish he became a beast in the midfield, showing off his ability to wage an attack and score brilliant goals. Brazilian Lucas might not have been able to stop his team from losing to Paraguay in the Copa America, but he was hailed as one of the most improved players at Anfield last season.
Unless the FA changes the rules to allow a starting -- I don't know -- XX, Dalglish & Co. have some cutting, transferring and loaning to do, given that we haven't listed all of Liverpool's midfield options. The manager will be doing just that in the coming weeks, as Liverpool finishes up its tour of Asia and heads into the start of the season.
According to most reports, the process of weeding out could very well start with Milan Jovanovic. And Liverpool's Maxi Rodriguez told the Argentinian newspaper La Capital that he'd favor a return to his old club, Newell's Old Boys. But apparently the Reds can't do without Joe Cole. First-team coach Steve Clarke insists the player, who's gone from rising star to international has-been, still has a role on the team. And owner John Henry has called Alberto Aquilani's return from a year-long loan stint at Juventus the team's "missing link." He, along with Jonjo Shelvey, were said to impressed in Liverpool's 6-3 victory against a Malaysian all-star team this past week. But such statements could also cause some supporters to question Henry's judgment after Aquilani failed to fill the shoes of Xabi Alonso and ended up going out on loan after a season at Anfield. With Dalglish clearly looking to favor British players, could forcing Aquilani back into the fold work? It's early days, and will be interesting to see how things develop.
Downing, meanwhile, is a solid acquisition, and will help give the team width and the flexibility of playing a 4-3-3 (which would suit Adam, for one). He should act as a supply line for Carroll, swinging in crosses and corners for the old-fashioned No. 9. That said, compare Downing to his former Aston Villa teammate on the left side of midfield, Ashley Young, who's now plying his trade at Manchester United. In their Premier League careers, Young has played 177 games to Downing's 244. Pass completion: Young is at 68 percent, Downing 78 percent. Young has 268 shots on goal, Downing 324. But Young tallied 33 goals to Downing's 25, and they're more or less even on assists (44 to 41). Young's transfer was about 4 million pounds cheaper.
Did Liverpool overpay for Downing? Probably. But beyond the stats, he's reliable in possession and should pan out just fine.
That's all academic, though. Dalglish is trying to rebuild brick by brick, starting in the center of the park. Unlike under Benitez, whose transfer record was all over the map, the new gaffer is taking a more conservative approach with his picks of late. And he's also spoken about having faith in the team's youth brigade.
But how the manager makes all the pieces click in the midfield will play no small part in the team's success this campaign. And at some point, he'll have to address the back line, too. The options there -- a past-his-prime Jamie Carragher, a decent but not great Martin Skrtel, injury-prone Daniel Agger, an underwhelming Sotirios Kyrgiakos, Glen Johnson, a supposedly stronger Emiliano Insua and Fabio Aurelio and young guns like John Flanagan -- will not exactly create a sense of dread among opposing attackers. What's more, some of those defenders, such as Kyrgiakos, Agger and Johnson, were brought into the club because they could also pose a scoring threat, just like many of the team's midfielders. But with so many attacking options now, Dalglish needs to make sure his back line takes a defend-first approach.
With Liverpool's moves so far, Dalglish has unquestionably improved the squad, while other teams either struggle to hold on to their stars or woo new ones into the fold. Winning the Premier League will still seem an impossibility to all but the club's most fervent followers. But pressing for a spot in the Champions League isn't out of the question, especially if clubs around them lose key players.
But first things first: Dalglish & Co. have to start making some tough choices about who's to stay, and who's to go, in the midfield.
The death tackle
As the caption under this video puts it so succinctly: "No card, no foul, just a boot in the face." John Terry's tackle on a Portsmouth player in preseason action was so appallingly violent it could make Freddy Krueger blush. Even better were the apt labels for the video: "Chelsea, Death Tackle, WHAT?"