Is Mario Balotelli a lost cause?
July, 24, 2011
07/24/11
6:34
PM ET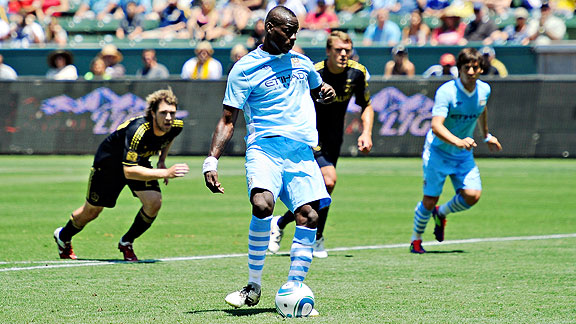 Kevork Djansezian/Getty ImagesMario Balotelli's latest hall-of-shame play -- a poorly advised backheel against the Galaxy -- once again raises questions about the player's frame of mind.
This preseason was shaping up nicely for Mario Balotelli. The Manchester City player's main strike partner, Carlos Tevez, is desperately trying to secure a move away from Eastlands, and while Sergio Aguero is rumored to be City's main transfer target, Balotelli is positioned as a player who could become critical to his team's attack. Indispensable, even.
But as we've learned with Balotelli, you must expect the unexpected. And so it was that on Sunday, when Manchester City took on the Los Angeles Galaxy in the World Football Challenge, Super Mario did it again. Perhaps he watches too many YouTube videos. Maybe, like many impressionable kids, he saw something that he deemed cool and decided to emulate it. That was the impression I was left with after Balotelli tried to backheel a ball into the back of the net.
It was a surreal scene similar to what happened about a week before when United Arab Emirates' Awana Diab slotted home a penalty with his heel after running backward toward the spot. Video of the stunt predictably went viral, while the player faced disciplinary action from the UAE Football Association for being disrespectful to the opposition.
It was a bad idea then, and it was a bad idea for Balotelli. After David Silva released the Italian into the penalty box, Balotelli had a clear shot on goal. Instead of taking his chance, he turned around and pushed the ball wide of the goal with his heel. The move was greeted with a chorus of boos, as his strike partner Edin Dzeko shrugged.
Just chalk it up as another "What was that?" moment in the world of Balotelli.
The timing couldn't have been worse, either. This is when manager Roberto Mancini is trying to figure out his best starting XI -- most likely without Tevez -- and against the Galaxy, the manager fielded an EPL opening-day-worthy team (Yaya Toure was notably absent because of injury). Balotelli didn't help his cause, only adding to Mancini's anxiety about what to do if Tevez does, in fact, move on. If anything, the incident may have Mancini getting on his hands and knees to beg the Argentine to reconsider.
When a top player such as Tevez leaves his team, there's the usual panic from supporters who worry that everything will fall apart. But on good squads, other players inevitably raise their games and open some eyes. Balotelli continues to command our attention, but not for the right reasons. Can someone get through to him? It's probably unlikely. Looking into his eyes, I'm reminded of the classic Husker Du song, "What's Going On?" when Bob Mould screams as though out of control, "What's going on, what's going on, what's going on inside my head?"
Balotelli probably doesn't know the answer, either.
Let's say Tevez does leave and City signs Aguero. It will take time for Kun to settle in, and let's also be clear that no player is going to match Tevez's production -- like him or not, the man scored or set up 42 percent of his team's goals this past season. That's ridiculous. But in such a scenario, Balotelli could step into this leadership vacuum, whether as the lone striker or out wide (a role that isn't a natural for him) in the manager's preferred 4-2-3-1. But to impress, Balotelli has to make decisions based on logic instead of being ruled by his often wayward emotions.
Sunday's antics once again imply that Balotelli may be a lost cause. His backstory is well known. He was a foster child whose biological parents tried to get him back because, according to Balotelli, they thought he could become a cash cow through his soccer talent. Balotelli also had a turbulent time in Serie A at Inter, where he was subjected to racial abuse and taunting from fans and players. Manager Jose Mourinho considered Balotelli all but uncoachable. Obviously Mancini, who also coached Balotelli at Inter, believes otherwise.
Since he arrived at City, we've read about Balotelli the superhero who supposedly helped a kid get a schoolyard bully off his back. We've read about Balotelli the philanthropist, supposedly giving 1,000 pounds to a homeless man outside a casino. We've read about Balotelli the enfant terrible, who reportedly threw darts toward at least one of City's youth-team players because he was bored.
Balotelli's off-the-pitch antics, combined with some brilliance in front of goal, has been enough to make supporters sing a song in his honor:
"Oooooh Balotelli, he is a striker, he's good at darts, an allergy to grass, but when he plays he's $#%@ class, he drives around Moss Side with a wallet full of cash."
At some point, though, the 20-year-old Balotelli needs to grow up and become the subject of songs for his goal-scoring ability. In the FA Cup final this past May, football analysts praised the Palermo native's performance as one of his most mature outings yet. The cause for such adulation was simply the fact that Balotelli didn't retaliate and kept his cool after Stoke's Robert Huth elbowed him in the face, in all probability an intentional move to get the City player to lash out (he picked up two red cards last season). Opponents will contiue to goad Balotelli; fans will keep booing him. It's up to him to keep his cool.
Balotelli doesn't have to become a model citizen -- such talented individuals often have to walk on the dark side to create magic on the pitch -- but antics like the one we saw on Sunday cannot be tolerated.
Mancini did the right thing by subbing out Balotelli soon after the poorly advised backheel. With so much uncertainty surrounding City's strikers at the moment, Balotelli has a small window of opportunity to prove to the manager that he's the man. But against the Galaxy, he proved that he was a chump.