United's deeper, but is starting XI better?
August, 3, 2011
08/03/11
6:46
PM ET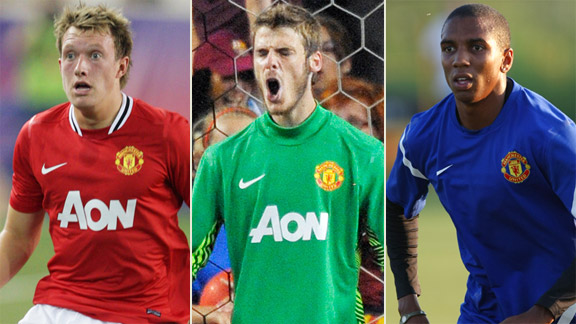 Getty Images, AP PhotosIn adding young guns Phil Jones, David de Gea and Ashley Young, Manchester United has increased the strength of its squad, but is the starting XI any better?
Not sure what's more bizarre these days: Joey Barton pretending to be the EPL's resident scholar, quoting philosophers and champions of freedom (big up, George Washington!) as he fights with his club, Newcastle, or the advert for Getafe's mascot, Rocky the Suicidal Koala. Both are good for a laugh and highlight the building tension as the new season approaches.
It isn't too long now. The unofficial kickoff in England comes this Sunday when Manchester City and Manchester United face off in the Community Shield. It's a meaningless match in the broad scheme of things. As one of my buddies recently put it, "How many Community Shield shirts do you have?" (He did look a bit disturbed when I said, "One," but there you go.) Yet this match will have more eyeballs than usual, because of what United's "noisy neighbors" have done over the past couple of years in trying to build a championship-caliber team. (Michael Cox has a preview of the match here.).
City has made the biggest noise in the transfer window this summer with one signing -- Sergio Aguero. The former Atletico Madrid striker will take his place either alongside, or in place of, Carlos Tevez. Although I doubt Kun will score 20-plus league goals this season, as defenders will get "stuck in" on tackles to see how the Argentine with the strong legs but slight upper body holds up over nine months of physical abuse, he will provide that classic No. 10-type leadership. City has also added Gael Clichy and Stefan Savic to a squad so deep that Adam Johnson, the pacy England winger, has been rumored to be considering a loan move to Sunderland. How Roberto Mancini is going to keep all his players happy when they're riding the bench will once again be a major test of his managerial skill, as will his ability to babysit Mario Balotelli.
What about the defending champion? Manchester United has made three acquisitions this summer. They are smart signings, yet nothing that has supporters feeling that a fifth title in six years is in the bag. Phil Jones, David de Gea and Ashley Young have added depth to the squad, but they haven't improved the team's preferred starting XI.
Jones' defensive prowess belies his age of 19. Manager Alex Ferguson was wise to bring him on, because we have a better chance of Barton being awarded an honorary doctorate for his pedantic tweets than we do seeing a season in which Rio Ferdinand will stay healthy. Jones will add cover there, as well as provide flexibility if needed in a holding midfield role or as a defensive back. Ultimately, he may be the future in the center of defense with Chris Smalling.
De Gea is replacing the exceptional Edwin van der Sar, so no one is suggesting that United has improved on this front. One thing you can say: The Spaniard earned his keep in La Liga last season, making 154 saves (compared, to say, Victor Valdez, who in Barca's possession-based style was only called into action 76 times) while conceding 53 goals. Van der Sar made 82 saves and conceded 32 times.
So far with United, de Gea has seen limited action in friendlies. Preseason is a poor barometer of performance -- too many substitutions and players going through the motions to build fitness and avoid injury make it difficult to draw conclusions -- but de Gea has been a bit shaking. Good on reflex saves, hesitant in coming off his line on corners and crosses, it'll take time for him to command the box with his new teammates. His confidence should grow in time. By comparison, Anders Lindegaard has looked composed, and has also spoken of wanting to fight for the No. 1 role. Either way, United will be fortunate if it feels the same comfort between the sticks this season as it did under the Dutchman.
The acquisition of Young will give United a bit more variety -- he can play on the wings or perhaps in the hole behind the main striker -- but for now, Ferguson has made it clear that the former Aston Villa man will be stationed on the left side of midfield. This means Nani and Antonio Valencia, two very good players, will fight it out for the privilege of starting on the right-hand side. The manager loves his 4-4-2 -- it's long been a blueprint for winning the league, with key wide guys like Andrei Kanchelskis and Ryan Giggs getting service from the likes of Paul Ince in the middle. In this context, the Young acquisition makes perfect sense, as the club tries to turn him into a technically proficient winger, AKA the next Giggs.
That said, it also only serves to enhance an area where United is already strong. It's the middle of the park where the team will continue to struggle. You only had to watch Giggs and Patrice Evra admonish Anderson during a friendly against Chicago in July to see that. Daft in his distribution, with big-time lapses in concentration, the Brazilian has much to learn. He's often paired with Michael Carrick, who seems to be good only when the opposition affords him time and space on the ball. But the former Tottenham man can't seem to create that space himself. Of course, it's not a dire situation: Giggs can provide leadership, Darren Fletcher is working his way back to fitness and Tom Cleverley may build on his impressive loan stint at Wigan and live up to his words that he wants to be the next Paul Scholes.
In short, United is deeper and better equipped to cope with injuries in certain positions -- but it isn't better. Perhaps, if Dimitar Berbatov ends up being sold to French side PSG for around 20 million pounds, as is being rumored, the club would be more willing to pay (OK, overpay) for someone like Wesley Sneijder or Luka Modric. Do that, and the Red Devils would not only put a firm grasp on another league title, but add the piece to the puzzle that would allow them to properly challenge Barcelona in the Champions League.