Real crosses the line against Barca
August, 17, 2011
08/17/11
5:50
PM ET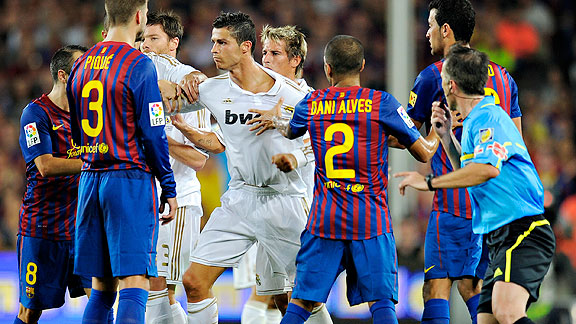 Lluis Gene/AFP/Getty ImagesMarcelo's tackle on Cesc Fabregas caused the game to end in chaos, a bench-clearing brawl that marred yet another Clasico.
Enjoy it while you can. That was the message hanging over the second leg of the Supercopa at Camp Nou between Barcelona and Real Madrid. A La Liga strike is looming -- the players' union is fighting for greater protection of wages at financially troubled clubs and is on the brink of making good on its threat to sit out the first two weekends of action, the first of which is scheduled to start Saturday. So Wednesday's match, a glorified exhibition, was to be savored like a Lionel Messi slalom or Cristiano Ronaldo blast.
We got both and then some in this electrifying match, which Barcelona won 3-2 (5-4 on aggregate) for a record 10th Supercopa.
And let's also qualify the "glorified exhibition" bit, shall we? Barcelona, which clearly isn't at full fitness and played at three-quarters strength on Sunday, put the same squad on the pitch that decimated Manchester United in the Champions League final in May. Pep Guardiola put Seydou Keita (overwhelmed in the first leg) and Thiago on the bench, where they joined newcomers Cesc Fabregas and Alexis Sanchez, and started Xavi. Real Madrid continued what it did so well on Sunday, playing a brilliantly high-paced game, pressing Barcelona very high and at every turn.
The victory doesn't mean anything in the big picture, but it can help set the tone for the coming season (whenever it starts). It would have helped Real Madrid get a much-needed shot of confidence. But just three minutes from extra time, Messi struck a fatal blow. Fabregas started the sequence, feeding the Little Flea at the top of the box. He slotted the ball out wide right to Adriano, who sent it back across the box. A surging Messi met the ball, and you won't see a more emphatic strike than that one.
From there, sadly, the match went downhill, evoking the ugliness of the Clasicos this past spring. The aggression that Madrid had been showing for the match up until then -- the lung-busting defending, the full-fledged attacking -- was to be applauded. Yes, there were some borderline challenges, but the likes of Sergio Ramos and especially Marcelo and Pepe were ratcheting up the level of physicality until Marcelo went in with a dastardly scissor kick on Fabregas, taking out the Spaniard. It all went off at that point, another appalling scene that will make its rounds on the highlight shows. Even Jose Mourinho got into the act, doing his best Joey Barton impersonation, twisting the face and digging into the eye of Barcelona assistant coach Tito Vilanova. (Barton himself tweeted, "Its kicking right off at Camp Nou now, Mourinho then haha." See that, Jose, you've got a fan.)
Can football descend any lower? I'm a fan of Mourinho's, but behavior like that from a manager -- the man whom the players should take their cue from -- is beyond the pale. A hefty suspension should be the only result, and as the video footage is replayed to see others grabbing, groping and throttling, more suspensions should be handed out. It's the only way to restore a bit of dignity to what's supposed to be the jewel of club football. That, or Mourinho -- a nasty if brilliant piece of work -- leaves Madrid.
This all-too-familiar blight between the teams unfortunately overshadowed some sublime football. Like Messi's first goal. Gerard Pique, once again flashing skills that most center backs can only dream of, backheeled the ball to Messi, who squirmed past Ricardo Carvalho and Pepe to chip the ball over Iker Casillas. And how about Messi's through ball to set up Andres Iniesta? If you don't believe in ESP, you will after seeing Messi's no-look pass to his teammate's feet that split the defense like a thread through a needle's eye.
There are plenty of other talking points. Karim Benzema continued to struggle with his finishing until he got a bit lucky and put the ball into the net in the 82nd minute on a corner kick that Adriano should have cleared. Javier Mascherano, filling in at center back, continued to prove his quality, rescuing Barcelona time and again, and giving Guardiola a tough decision to make when Carles Puyol returns to action. And Victor Valdes came up with some excellent saves, including a vicious strike from distance by Ronaldo in the first half. (How much the crossbar also helped Valdes was too hard to tell.)
In the end, of course, it'll all come back to the brawl. For about 90 minutes, this match was serving as a tasty reminder that the season can't start soon enough, and fueled hopes that the strike won't cause too big a delay. By the end, with Barcelona yet again triumphing over a Real Madrid side that walks on the dark side too often, maybe the break will turn out to be a good thing.