La Liga preview with GolTV's Phil Schoen
August, 26, 2011
08/26/11
8:32
PM ET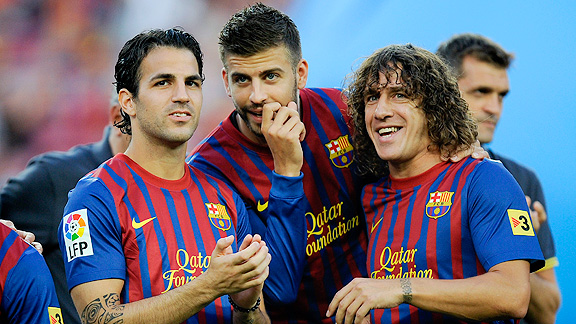 David Ramos/Getty ImagesCool and the gang: Cesc Fabregas has returned to Barcelona, which also added Alexis Sanchez to its squad.
As far as labor strikes go, La Liga's was blink-and-you'll-miss-it fast. Only the first scheduled weekend of action was sacrificed, and now we have a season of fixtures to look forward to. So what better way to celebrate than to chat about Spanish football with one of its indelible voices, GolTV's Phil Schoen. Along with his broadcast partner, the magisterial Ray Hudson, Schoen makes watching football both educational and entertaining. Reached by phone, he chatted on topics ranging from the Supercopa fiasco to why most La Liga teams would fit right in with the EPL. Here are some highlights of our conversation.
We'll have to wait some time for the next Clasico, but what did you think of the Supercopa?
PS: It's really hard to put into words, because I'd say the first 180 minutes put you in one frame of mind, and the final couple of minutes kind of gives you pause. What we saw from Real Madrid was almost like bringing the EPL into La Liga -- a little bit more intensity, more effort, more hustle, more physical play. It always seemed to be dancing on the line. But as somehow Barcelona overcame Real Madrid, it looks as though Real Madrid went over the line. You almost wonder if this is going to be a team fighting for the Champions League or fighting the referees all season.
Jose Mourinho's strategy could backfire, no? Going in with tough challenges is one thing, but bringing Premier League-style force to opponents -- OK, Barcelona -- in a league not accustomed to it could see the team embroiled in all sorts of problems with officials.
PS: Oh, 100 percent. We saw that with [referee Fernando] Teixeira Vitienes in the first leg, especially, of the Supercopa, where he could have called a couple of penalties and handed out a few yellow cards but didn't. In the second match, [referee David] Fernandez Borbalan did pull out some yellows here and there, but even that wasn't able to keep things in check. Remember, that was a cup tie. And while it might not be the Copa del Rey or Champions League, normally in cup ties, referees don't want to directly influence the outcome -- giving penalties and throwing a player out obviously does that. Once you get into La Liga, where it's just one of 38 games, I have a feeling things are going to be a little bit tighter.
Regardless, I think what we've seen from Real Madrid is potentially an amazing story. I don't know if they're going to be following in the footsteps of a Di Stefano, but it's definitely another step in Jose Mourinho's development of this team and it looks like it has a lot of potential.
How do you size up each team's moves in the transfer window? Barcelona's notable signings are Cesc Fabregas and Alexis Sanchez. Real Madrid added a slew of players, most notably Fabio Coentrao. Conventional wisdom is that Real has closed the gap. What's your take?
[+] Enlarge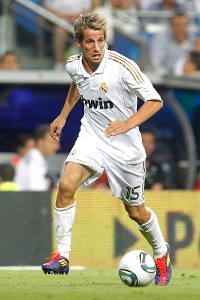 Angel Martinez/Getty ImagesFabio Coentrao is one of the players who will give Real Madrid added depth this season.
PS: I think what we've seen from Barcelona is that they wanted to get that extra piece of the puzzle. It was Alexis Sanchez as a young, attacking player in a position where they've tried to improve in the past. Ibrahim Afellay showed signs in the past but never really seized the ring. Now you have just that much more depth. I think Cesc Fabregas is like reaching into the rainy-day fund. They had the money, as Pep Guardiola said, set aside. They wanted to bring the prodigal son back home. As an Arsenal fan, it was a bit heartbreaking, but in my mind, he didn't want to be there, so, so long and thanks for the memories. But take a look at the way he was playing [in Supercopa] -- he fit right in. And there was that question last year when there was a few injuries and suspensions about who you were going to move where, the times when Andres Iniesta had to be pushed to the front lines, and especially now with Bojan gone, I think Sanchez is key. But for Fabregas being an emotional purchase, it looks like he could slide in and give them a little more stability.
As far as Real Madrid, you take a look at what they've done, and in some ways it looks as if they've overbought. But when you take a look at what they go through every year, with 60 games or so, if not more, plus players going on international duty, the league, the cup, Champions League, they desperately needed depth. I think Coentrao is showing a lot more versatility, though I'm not really sold on him as a defensive midfielder. But I think he and Marcelo on the left provide depth and balance. I think the emergence of Mesut Ozil last year was key, and I think this year is going to be even more pronounced. [New arrival] Nuri Sahin is an interesting signing. I think he's got a ton of talent and he's got the connection with his fellow Germans, but you can see that when you take a look at what Xabi Alonso brings, and now you have Sami Khedira, they don't have that Claude Makelele or even a Sergio Busquets or Javier Mascherano, so they're going to keep things the way they are, trying to protect the back line. That's the one area where I have a question -- to find out how quickly Sahin not only adjusts to La Liga, but also adjusts to his teammates and how much he can contribute.
But the one thing Real Madrid didn't do that they wanted to do was to shore up the top. I think that while Gonzalo Higuain started very strong last season before he got injured and came back, only to see Karim Benzema take over, neither of them is consistent enough to really be fearful at this level.
Do you rate Benzema? He's definitely a bit of a lightning rod. He scored a goal and set one up in the Supercopa, but he's had his struggles in front of goal.
PS: Higuain and Benzema are flipsides of the same coin. Both of them are streak players -- when they're on, they're on and everything seems to go in. But I think you need more consistency. Take a look at Real Madrid. Except for goalkeeper -- and I'm sure they're keeping their fingers crossed that they don't have to see Antonio Adan too much -- every other position there's backup after backup. That front spot, though, is still up for grabs. If things don't work, they might have to once again push Cristiano Ronaldo higher up into a position he doesn't particularly like. There might be some moves in January, too. It's a much stronger team, but it's not the perfect team. Yet.
Does the arrival of Fabregas at Barcelona spell the end for Thiago?
PS: I don't think he spells the end. ... When Thiago's dad was talking about maybe it's time for his son to move [to another club], Pep basically said that maybe he had more confidence in Thiago than his father does. So I have a feeling that maybe they will loan him out here and there to get some playing time, but who knows? I don't think Thiago is going to get 30, 40 games, but I think he can still get some significant playing time, especially with the cups and other contests.
One thing critics of La Liga love to harp on is that it's just a two-team race. What's your response when fans come up to you and say that?
PS: Normally those are the same people who watch the EPL every week, where even if you could say it's a four-, five- or six-team race, it always seems to be 38 games later Manchester United lifts the title. So you could say it's a one-team race. I think when you look at what La Liga has, the comparison to what's happened a bit in England, what is definitely happened in Scotland and to a slightly lesser extent in Holland, it's true -- it's a stratification. However, I think that too often critics and fans take stratification and automatically assume that those other teams aren't any good. I think if you took those other teams ... OK, last year there was a little bit of a drop-off, but I think if you took them and pitted them against those non-top two teams in those other countries, they'd do quite well. Valencia, Sevilla, Villarreal, Atletico, Athletic, these are teams that can compete in any league in Europe and do quite well. I think they'd all have a very good chance of going into Scotland and winning the championship ahead of Rangers and Celtic.
I do agree that something needs to be done. You take a look at fans of Sporting Gijon where the only thing they can hope for is survival. There are similar stories in other leagues. I think even with a bit of revenue sharing and a salary cap there needs to be a general agreement that while maybe not to an NFL level, there needs to be some form of parity to the point where, every so often, a fan can see a path toward a championship. When you take a look at what's going on in England and Spain, the only way that happens is if someone who happens to have an oil field in his backyard comes in and decides to drop a bit of cash.
Until La Liga realizes that Real Madrid and Barcelona can pretty much print money by going on tour, changing a jersey, signing a sponsorship deal, they don't need 50 percent of TV revenue. Let them have those outlets, but when it comes to league business it needs to be fairer so you don't have some teams getting just 3, 4 percent of TV revenue. It's unfair and unworkable.
Speaking of clubs on the rise, Malaga has brought in a slew of players, from Ruud Van Nistelrooy to Jeremy Toulalan to Joaquin Sanchez, thanks to Sheikh Abdullah Al Thani. How far can this team go?
[+] Enlarge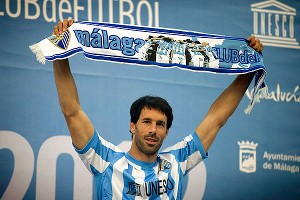 Jorge Guerrero/AFP/Getty ImagesWith new money behind it, Malaga has been able to buy impact players such as Ruud Van Nistelrooy.
PS: Well, right now they're all but assured a top-six spot. Remember, you still have to play the games. However, if you take a look at the types of players that [coach Manuel] Pellegrini & Co. have brought in, it's not Manchester City where they're like the Raven and anything that's shiny they go out and grab. This was a team that was deep in the relegation zone -- to the point that Pellegrini offered his resignation a couple of times, and they showed how smart they were on rejecting it. Bit by bit the pieces started to come together, the younger players stepped up and finished just outside the top 10. Then they go out and get nine guys who are better than the guys that they had (and that's no slight to the guys that they had).
The pieces of the puzzle fit perfectly. Pellegrini wants a forward, he gets Van Nistelrooy. He wants a left back, he gets Nacho Monreal. There was thought behind this. Malaga could easily finish in the top four.
To me, it adds to the excitement that Real and Barca will have to face another tough team -- that there's the potential of them dropping points against Malaga. It'll make the season all the more interesting.
PS: Think about this: Aside from Real and Barcelona, you've got Villarreal, Sevilla, Valencia, Atletico, Athletic, now Malaga -- I mean pretty much you have a very competitive top half of the table fighting it out for Champions League berths. The talent's there, and the one thing I love about Spain is that they let you play. Unlike in Italy and England so many times, where they park the bus and try to make sure they don't get relegated, these teams go out and try to play.
So many of these teams would do well in the EPL, despite what EPL apologists might think?
PS: You take a look at a Valencia, Villarreal, I think they're right alongside Manchester United fighting for the league crown [if they played in the EPL]. I think it's just the fact that Real Madrid and Barcelona are so dominant, the other teams look weak. But you put Barca and Real Madrid in the EPL, they're going to be 10 points ahead of Manchester United.
OK, final question: Which teams are going to make up La Liga's top four at the end of the season?
PS: As far as I'm concerned, Barcelona is the champion, and until someone knocks them off, they're No. 1. I think this year it'll be a little tighter -- if that's even possible. I'm going to go with Malaga third because I think they've bought right, have the right guy in charge and they obviously have the money to fix anything that is broken in January. After that, it's a little bit of a mix. I think Atletico has fallen down a bit. I'm thinking it could be Valencia, or Villarreal, and maybe Athletic. I'm going to say Athletic.