The most valued stat in the Premier League
September, 8, 2011
09/08/11
7:14
AM ET
International breaks can do weird things to football fans. Days without the Premier League, La Liga, Champions League or even the Europa League can cause all manner of unnatural behavior -- leaving the pub to take a walk outside, listening to NPR and actually talking to your significant other who on any other day wouldn't be as significant as, say, United vs. Chelsea.
That fixture, by the way, is a couple of Sundays away on Sept. 18, the same day as Liverpool vs. Spurs. You can already hear the marketing mavens at a certain channel coming up with the cringe-worthy "Super Sunday" ads. But we don't need paid programming to get excited about the next few weeks. As European club football gets set to hit the restart button Friday (that's when AC Milan takes on Lazio at 2:45 p.m. ET; you can watch it on ESPN3.com), here are three thoughts.
The Premier League's best creators
Statistics can be overrated in football. Take Nicklas Bendtner. His defenders will point to the goals he scores as proof that the Dane is a dynamic forward, one Arsenal will regret leaving the club. Bendtner no doubt shares that assessment, but it's the timing of goals that matters as well as a player's positioning and off-the-ball movement. On these counts Bendtner fails more than he delivers.
Point is, statistics can be tricky, but if there's one that deserves a bit more publicity, it's "chances created" -- defined by Opta as "a pass that directly leads to a shot from an intentional assist." It's this stat, among other factors, that led Liverpool to purchase Charlie Adam, Jordan Henderson and Stewart Downing in the transfer window, as they were all in the top 13 of chances created last season. (For more on Liverpool's metric-based transfer policy as it rebuilds a very British-looking team seemingly straight out of the first Kenny Dalglish era, check out this excellent piece.)
Who are the leading creators so far this season, with the caveat that we're only three games into the season: Martin Petrov, Danny Murphy and Ashley Young all lead with eight chances created, and Wayne Rooney is next with seven. We can expect to see other names on this leaderboard, as the likes of Downing, Samir Nasri and Nani get more playing time.
[+] Enlarge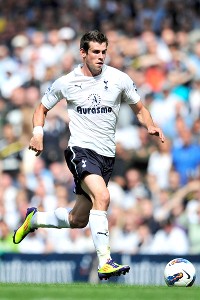 Glyn Kirk/Getty ImagesGareth Bale has blazing pace, but his teammates need to do better in converting his crosses into goals.
Last year, one player who was conspicuously absent from the top 10 was Gareth Bale. He created 39 chances. The No. 10 player on this list, Didier Drogba, created 52, and the leader was another Chelsea player, Florent Malouda, with 74.
Bale's relatively poor showing is not surprising. For all his explosive pace and peerless ability to cross the ball with his left foot at breakneck speed, he hasn't had much luck seeing his balls go into the back of the net. His fault? Hardly. It's been more down to the likes of his target men. Guys like Peter Crouch, who's glaring inability to head the ball into the net -- if you watched him against Manchester City, his final game for Spurs before transferring to Stoke, you saw a man standing 6-feet-7 who blew not one but three headers in front of goal -- have done the Welshman a disservice. Will Emmanuel Adebayor, on loan this season from City, be the one who starts connecting with Bale's sublime crosses and puts him in the top 10 for chances created?
Bale would do himself a favor if he becomes more adept at coming into the middle of the park, mixing up his play and developing his right foot a bit more so he's not such a one-trick pony. But overall, the player may eventually need to consider leaving Spurs to surround himself with better players. It can do wonders. Just ask Ashley Young.
Spurs are in for a tough go. Manchester United's manager said there are five to six teams that could win the league -- the assumption being Man City, United, Chelsea, Liverpool, Arsenal and Tottenham. Whether Alex Ferguson was having a laugh or playing mind games, who knows? If Harry Redknapp wants to remain in the conversation for fourth place, never mind the league title (sorry, no chance), Spurs must defeat Wolves on Saturday before facing Liverpool, Wigan and Arsenal. Tottenham will have the benefit of newly arrived midfielder Scott Parker. And if Luka Modric can get his head right, Redknapp will have an outside chance at building some momentum.
United's youth movement
One of the great ironies of late is that while Arsenal has long been synonymous with exciting young teams, it's been Manchester United that has created -- through player development, transfer policy and loans -- a youthful side that has even critics begrudgingly applauding what they see on the pitch. Phil Jones' maturity at center back has been a welcome sight, especially after Rio Ferdinand and Nemanja Vidic went down with injuries. Chris Smalling, a player prone to mistakes at Fulham when he tried to play the ball out of the back, has demonstrated good technique and versatility at right back. Tom Cleverley has a long way to go before filling the boots of a certain strawberry-haired midfielder, but he's looked calm in his distribution. David de Gea remains the biggest question mark -- reflexes like a cat, but when a play unfolds and he has time to think, the synapses start misfiring. Danny Welbeck, who went down with an injury in the last game, and Cleverley are proof of Ferguson's brilliance -- he made sure that his most promising players got experience on loan last season instead of riding the bench and coming on for meaningless league cup matches. Nothing can replace Premier League minutes.
Can United's youth brigade keep up the pace? In the next four fixtures before another international break -- don't know about you, but I plan to tap into my inner nihilist with a bottle of scotch and finally finish "Naughty" on the Stoke Naughty 40 -- Ferguson's players will face Bolton at the Reebok Stadium, Chelsea at Old Trafford, Stoke City at Britannia Stadium. Right after the break will be back-to-back matches away at Liverpool and home against Man City. It will be up to the likes of veterans Ryan Giggs and Rooney to keep the younger players from losing their heads when the inevitable setbacks happen.
How does Arsenal put the pieces back together?
Arsene Wenger finished his last-minute transfer-window shopping with a strange cast of characters. Per Mertesacker, the German international, will help plug the holes in the back (especially now that Thomas Vermaelen is out with injury for at least a month). Whether he proves to be technically proficient on the ball in the traditional Arsenal mold remains to be seen. Andre Santos will add cover at left back, though opinion on the player is divided. Some think he'll provide excellent pace and good defending while others believe he'll behave like a "typical Brazilian" at the back -- run, run and run before, oops, forgetting to track back. (As one of my Arsenal friends gloomily said, "He'll fit right in.") This type of player can work in the right system (see Dani Alves at right back for Barcelona), but with Jack Wilshere still hurt and the loss of Nasri and Cesc Fabregas, Wenger will need stout defending from his entire back line to avoid the game-that-Gunners-fans-refuse-to-speak-about-ever-again. Anyone who thinks Mikel Arteta will be a difference-maker hasn't watched much of the Spaniard at Everton in the past season and a half. To paraphrase one spot-on tweet, Arteta has been a man of limp corners and dead-ball kicks that hit the wall.
Park Chu-Young might turn out to be the best signing of the lot, thanks to his ability to link up with other players. Oh, yes, and Arsenal got squad player Yossi Benayoun. It tells you everything that Chelsea was willing to loan him to Arsenal; the Blues clearly don't see Wenger and his men as a threat this season. It's rebuilding time at the Emriates, where all you can say at this point is that Wenger has added bodies to his depleted squad.
It will be interesting to see how his side comes together. Maybe Wenger will surprise us, but at least we don't have to endure those dead-rubber Euros. Club football is back. For now.