City's Champs League debut is bittersweet
September, 14, 2011
09/14/11
5:04
PM ET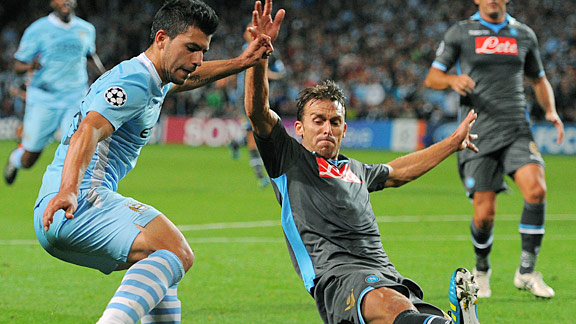 Andrew Yates/AFP/Gettty ImagesManchester City's first taste of Champions League football was bittersweet, as Sergio Aguero & Co. ended in a 1-1 draw with Napoli.
Don't know about you, but I can't remember the last time I've ever chosen to watch a Manchester City match over a Manchester United one. Typically, the Red Devils are the ones playing the more attractive football and competing for the biggest crowns. Not anymore, of course. Both clubs have engaged fans and neutrals alike with goal-scoring feasts, and both started their Champions League 2011-12 campaigns Wednesday. While United looks to get back to the final and avenge a thumping at the hands of Barcelona, City has returned to the continent's premier club competition for the first time since 1968-69. That was reason enough to prioritize the match against Napoli at Etihad Stadium.
Going into the game, the big question about the big-spending club was whether Roberto Mancini's men will be able to handle the pressure of battling on multiple fronts -- Premier League, Champions League, FA Cup and league cup. United's Ryan Giggs, for one, said that City's inexperience in the Champions League -- coupled with being in a tough group, A, with Villarreal, Bayern Munich and Napoli -- could sink its prospects. "We found it tough early on to get that mix of playing in a Champions League game, which takes so much out of you physically and emotionally, and then have a hard Premier League game the following weekend," the midfielder told MUTV. "You need the squad to handle it."
But is that really a problem for a team that can field two world-class players for virtually every position? The preposterous amount of money that the Abu Dhabi United Group has spent since taking over the club in 2008 has led to derision and ridicule. Claims of trying to "buy" a title have been the clarion call of its critics. Mancini's often negative, overly defensive tactics last season (playing for draws at home seemed to be his specialty) only added fuel to the fire. But this season, the criticism has abated as the manager has clearly loosened the noose and allowed his players to compete with verve. We saw that again Wednesday.
This must also be asked going into this Champions League encounter: What's been the quality of the opposition that City (and, for that matter, United) has faced so far in the league? The standard has been relatively poor. It was always going to be different against Napoli. European nights often are.
At Etihad Stadium, the players came out to play, so don't let the 1-1 scoreline fool you. It was a tactically engaging battle with City maintaining the lion's share of the possession and Napoli looking well organized -- not in a park-the-bus sort of way, however. The match ended with each team scoring its first Champions League goal (Edinson Cavani for Napoli, Aleksandar Kolarov for City).
In the first half, City bossed the play in many respects (it wasn't until the seventh minute that Napoli even made an attack into City's half). Yet, Napoli predictably showed defensive brilliance, with a back three of Paolo Cannavaro, Salvatore Aronica and Hugo Armando Campagnaro that could quickly become a back five when Christian Maggio and Juan Zuniga dropped back. Swansea, Bolton, Tottenham and Wigan -- City's first four Prem victims -- can't come close to matching this defensive savvy. And going forward, the three-headed monster of Cavani, Ezequiel Lavezzi and Marek Hamsik looked dangerous. In the 18th, Lavezzi opened his body and curled a shot in from the left, which hit the woodwork.
Still, City had the better attacking chances, with Edin Dzeko and Aguero working well together, Yaya Toure absolutely rocking the crossbar on a break after a dreadful Napoli corner, the best chance of the first half. Yet while City moved the ball fast and early, Mancini's men were probably a bit too intricate in their buildup, making one too many passes at times and attacking too much down the center of the pitch into Napoli's strength.
The second half kept up the pattern of play until the 49th minute when City was totally caught out. Zuniga found a wide-open Hamsik. Were it not for Vincent Kompany's tremendous clearance off the line, Napoli would have gone ahead. It did anyway on a fast counterattack. Some 40 yards away from goal, Maggio got the ball and raced forward, sending a perfectly weighted pass to Cavani, who shot the ball through Joe Hart's legs.
It was at this juncture that you had to wonder: How would City react after being rattled? Would Aguero & Co. lose their composure? Would the defense be exposed again as they had flashbacks to the Community Shield? But after a bit of a shaky period, as Napoli had the bit between its teeth, City regained its composure. In the 73rd minute, Samir Nasri passed the ball to Aguero, who hit the woodwork. As Kolarov regained possession, he was fouled. On the free kick, the left back on one side of the ball, Aguero on the other, Kolarov sent a rocket into the near post.
On this night, 300 million pounds wasn't enough to "buy" victory. City started strong -- indeed, commentator Martin Tyler, upon assessing Mancini's starting lineup, said the manager was prepared to give up one or two to get four or five -- but it wasn't able to find an answer to defeat the Italians. City's bewitching ruthlessness in front of goal, so evident in the EPL this season, was still on display in the buildup play, only to be foiled time and again. It wasn't the start Mancini was hoping for, and the game perhaps raises a concern for City in terms of the team's strength on the flanks when faced with an astutely organized, well-balanced side.
This was City's first taste of Champions League football. Bittersweet, to be sure, but the blue side of Manchester showed enough quality and attacking prowess to suggest it'll be able to navigate through the so-called Group of Death. Napoli contained City with superb defending. Can Bayern and Villarreal also stop the impressive firepower at Mancini's disposal? Don't bet on it.