United v. Chelsea was game of epic misses
September, 18, 2011
09/18/11
1:56
PM ET
[+] Enlarge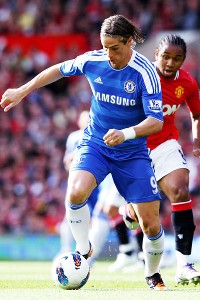 Clive Brunskill/Getty ImagesIt was the best and worst of times for Fernando Torres, who scored a goal then missed an open goal.
Confidence is a precious commodity. It's the difference between a team's center half exhibiting no fear and bursting upfield to create a goal and another player scuffing the ball in front of a gaping net. We saw both on Sunday when Manchester United defeated Chelsea 3-1 at Old Trafford to maintain its perfect record in the Premier League and hand manager Andre Villas-Boas his first league defeat in 17 months.
The scoreline does little to suggest the dramatic and debatable talking points. United's first two goals -- Chris Smalling's header off a set piece and Nani's rocket into the upper left -- should have been disallowed as both players were in offside positions. Then again, you could question why Juan Mata made a half-hearted attempt to tackle Nani, giving the United player time and space to launch the ball. And where was the marking by John Terry and Frank Lampard in the box when Smalling (and Jonny Evans next to him) was all alone?
Wayne Rooney made it three before the end of the first half. After a quick one-two with Jones at the halfway mark, Jones burst upfield. Usually, it's only the likes of Barcelona's center back Gerard Pique who we're used to seeing so far up the pitch, but such is United's assurance that Jones got all the way into the box and started the sequence that allowed Rooney to score.
At that point, the Red Devils were up 3-0 despite the fact Chelsea played quite well, creating many chances and taking more shots on goal. But if the first half was marred by a couple of questionable calls, the second was downright surreal. It started with Fernando Torres getting on the end of a pass from Nicolas Anelka. Jones was caught ball watching -- his one poor moment in an otherwise strong showing -- and Torres expertly took his chance. Game on. But what unfolded for the next 45 minutes was a match of spectacularly missed sitters.
Rooney, for example, could have had his third hat trick of the season. In the 55th minute, Nani lashed a shot against the crossbar and in the followup he was fouled by Jose Bosingwa. Harsh penalty? Perhaps. Then, with Terry watching, Rooney did his best impression of his English teammate from the 2008 Champions League final. Running up to the ball, Rooney slipped on the spot and sent his shot into the stands.
Fans must have been readjusting their television sets. Torres found the net, while Rooney blew it. In the 76th minute, United's talisman missed again, this time a sitter from a few feet in front of the goal.
But it would pale in comparison to Torres' flub in the 83rd minute. El Nino ran off the shoulder of Evans and picked up the ball from Ramires' pass. United keeper David de Gea came off his line, leaving Torres a few feet away from an open net. What went on inside Torres' head in that split-second no one will ever know. He seized at the ball and sent it wide left. Miss of the season so far. Torres could have pulled Chelsea back to within a goal.
[+] Enlarge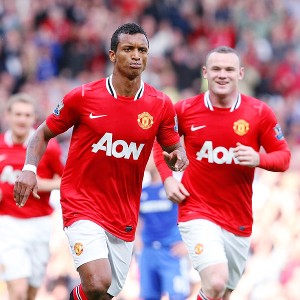 Matthew Peters/Man Utd/Getty ImagesNani celebrates after scoring United's second goal.
The missed chances didn't end there -- Rooney passed the ball, perhaps a little too fast, to Dimitar Berbatov, who blew a gilt-edge chance himself -- but it's Torres' blunder that will haunt the player and make all the headlines. Watching the panic in his eyes when he gets the ball reminds me of Ricky Bobby. You remember him, the fictional character in the comedy gold that is "Talladega Nights." The man with two first names got into a horrendous car accident, and while all his skills were intact, Ricky Bobby couldn't compete and even fooled himself into thinking he was paralyzed. Rock bottom came in the form of a job as a pizza delivery boy. It was only after his father stashed some cocaine in his son's car and called the cops that Ricky Bobby was able to channel his fear and get back to driving on instinct. Unfortunately for Torres, life isn't a comedy, and his problems aren't going to be solved with a stunt.
Chelsea didn't manage any points on the day, but it competed well, often outplaying United. Supporters will rightfully point to the two offsides not given, and the weak penalty as more examples of home cooking at Old Trafford. Villas-Boas managed the game well. Perhaps his best move was a little addition by subtraction, taking off an ineffective Lampard at halftime. (His Chelsea career continues its slow slide to oblivion.)
That said, Villas-Boas should be concerned about the ease with which United was able to get behind his midfield and create chances almost at will when it was on the counterattack. The manager's main concern, though, will be whether Torres' blunder will take away from any confidence he seemed to have gained after scoring his second goal for Chelsea (about 11 playing hours after his first). Will it be back to the deer-in-the-headlights look for the Spaniard? Or can he put the ghastly miss behind him? With United's perfect record intact, the Blues can ill afford to see further setbacks in their prized asset.
Problem is, it's not something Torres can sort out on the training pitch. Confidence only comes from playing -- and succeeding in -- matches.
What can AVB possibly tell Torres to boost his morale? If I was him, I'd inform the struggling striker of an inspirational line from the classic HBO show "Deadwood." "Pain or damage don't end the world," the lead character Al Swearengen said. "Or despair or $#%#@ beatings. The world ends when you're dead. Until then, you got more punishment in store. Stand it like a man -- and give some back."
The Race for Fourth
After Arsenal's debacle at Blackburn on Saturday, we can dispense with the notion that the team is suffering a slow start. Calamitous is more like it. At this rate, the Gunners should be pleased to be plying their trade in the Europa League next season, and at the moment even that is looking like a stretch. In the meantime, watching Spurs vs. Liverpool at White Hart Lane on Sunday had the feel of a match between two teams playing for Arsenal's fourth-spot finish from last season.
Tottenham was up for the challenge, coming out from the opening whistle with energy and crisp passing. In the 7th minute, Luka Modric showed why Harry Redknapp didn't want to let his midfielder go. The Croatian picked up a loose ball from about 20 yards out and curled it into the upper right corner for a brilliant finish, as Kenny Dalglish's men looked shell-shocked.
The Reds' lack of endeavor and slightly negative passing -- too many balls in midfield ended up going back to keeper Pepe Reina -- eventually led to an array of poorly timed challenges and chippy tackles. Charlie Adam, for one, picked up an early yellow card and then committed a reckless tackle on Scott Parker to see red in the 28th minute. The commentators suggested that the sending off wasn't worth the second yellow. They were half right. It was worth two yellows, as in a straight red. Regardless of Adam's intention, it was a reckless, studs-to-knee tackle.
Martin Skrtel, filling in at right back, failed to contain Gareth Bale bombarding down the left flank. He, too, picked up a first-half yellow card and then after an ill-advised tackle in the 63rd minute on the Welshman, Skrtel was sent off. Liverpool was down to nine men and effectively finished.
Dalglish will have to insist on more disciplined performances in the future, not just for the two players sent off but from Luis Suarez, too, who received a needless yellow for mock applause in the direction of the referee. Liverpool is a good side still trying to jell, so it can ill afford to cheaply concede advantages to the team most likely to challenge the Reds for a Champions League spot.