Order restored for European giants
September, 24, 2011
09/24/11
4:22
PM ET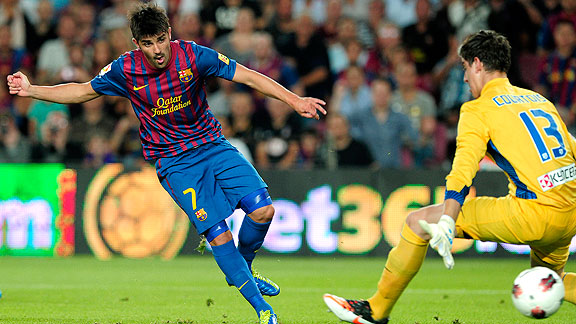 Josep Lago/AFP/Getty ImagesAfter unconvincing performances in their last domestic outings, Barcelona, Real Madrid and Chelsea returned to winning ways with lopsided victories.
The math was scary: 10-plus hours of Premier League and La Liga football, 7:30 a.m. onward. Studying the fixture list, I settled on viewing (in order) Manchester City versus Everton, Chelsea versus Swansea City, Manchester United versus Stoke, Real Madrid versus Rayo Vallecano and (if I still had anything left in the tank from the arduous day of sitting on the couch) Barcelona versus Atletico Madrid. No laughing matter, this -- it wasn't a sprint, it was a glorious marathon of football, one that would be decided by well-timed coffee breaks, bathroom breaks and a quick lunch break.
Herewith, some highlights:
Football giveth, and it taketh away
Fernando Torres has gotten a lot of stick, some of it unfairly so. Coming into Saturday's game against Swansea, Chelsea's leading men -- Nicolas Anelka, Didier Drogba and Nando -- had scored five goals in 19 league matches, or half a season's worth of matches. So on some level, all three players had to be champing at the bit to be named to the starting XI, a privilege that went to Torres and Anelka in a 4-3-3 with the Spaniard down the middle and Anelka and Juan Mata out wide.
[+] Enlarge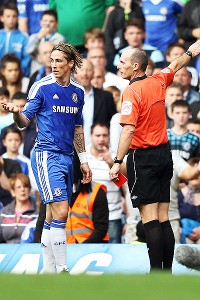 Clive Rose/Getty ImagesFernando Torres scored once and helped set up a goal for Chelsea, but was sent off for a lunging challenge on Swansea's Mark Gower.
It was a frustrating start for the Blues, who once again looked a bit slow -- too many touches on the ball, too many backward and sideways passes, to the point where the Stamford Bridge faithful were getting restless. John Mikel Obi, in particular, gummed up the works as the holding midfielder. But by the 29th minute, it didn't matter. Mata brilliantly chipped the ball to Torres in the box, and El Nino expertly took the ball down with his chest, pivoted and hit the ball off the volley into the net.
In the 36th minute, Torres shone again, starting off a scoring sequence with a beautifully threaded ball between two defenders to Ashley Cole. He quickly delivered the ball to Ramires (the Brazilian had an excellent game), who was making a surging run down the right-hand side to score. This must be what Andre Villas-Boas (and, to a certain extent, Torres, based on his now-infamous interview) has in mind -- a quicker, smarter Chelsea beating teams with pace and quick passing, instead of lollygagging on the ball.
The adrenaline rush must have gotten the better of Torres. How else to explain what he did in the 39th minute, an inane two-footed, studs-up challenge on Mark Gower. Malicious? No. Stupid? Yes. (AVB's reaction toward the fourth official, on the other hand, might be interpreted differently; he's slowly, it seems, becoming more like Jose Mourinho with each passing match.) Torres had to go, of course, but it didn't keep Chelsea from rolling. In fact, if you didn't know better, you'd swear that it was Swansea down a man for the rest of the game, as it played with a lack of conviction all around the pitch. In the end, an easy win for Villas-Boas' men, capped off by a nice finishing touch by Drogba in stoppage time. With Torres out now for three league games, Drogba's return will be most welcome to AVB.
Stoked for a fight
It's one of the biggest clichés in English football. You know how it goes -- "Such-and-such a team is good, but how would it do on a rainy night at Stoke?" We've heard people (who shall remain nameless) even suggest with a straight face Barcelona would collapse in the face of meaty challenges and a reducer or two. Silly. That said, the Potters clearly came out to push United around. If there was any doubt, one tweeter blasted out the pre-match team talk that manager Tony Pulis gave to his players. You can see it here.
Within 11 minutes, Javier Hernandez went off after getting a Malachi Crunch of sorts in the box between Jonathan Woodgate and keeper Asmir Begovic. Was it a penalty? Tough call -- Woodgate got the ball, but also the player. A few minutes later, Glenn Whelan introduced Patrice Evra to the laws of gravity as he sent the Frenchman flying up in the air after a two-footed challenge that resulted in a yellow (despite Sir Alex Ferguson's protests that it was a straight red, the Scotsman yelling "off" straight away).
David de Gea had an interesting game. In the first half, the United keeper made two world-class saves, first off a bullet fired by Andy Wilkinson toward the top corner, and then an even more impressive save as he dived to push Jonathan Walters' attempt across the face of goal out wide for a corner. But de Gea also was a bit complicit in Stoke's lone goal. On a corner in the 52nd minute, Peter Crouch got behind Phil Jones about five yards in front of goal. Instead of coming out to punch the ball, de Gea stayed rooted to his spot like a potted plant, essentially giving the Potters the equalizer. De Gea's reactions are top-drawer, but we also saw on set pieces his unwillingness to join the fracas; on one corner, he even weakly bumped into a defender and flopped to the floor, hoping to get the play whistled off (it was). Dangerous gambit, one that he'll have to leave in his back pocket if he's to command his area against physical sides like Stoke. De Gea will have to develop the stomach for the fight if he's to be as successful as his predecessor, Edwin van der Sar.
Other noteworthy points:
• Nani continues to impress, giving United the lead in the 27th minute. After a quick one-two with Darren Fletcher, he wiggled by three defenders to get into the penalty box, where his finish was clinical.
• Dimitar Berbatov looks increasingly like the odd-man-out on this version of United. He got his first league start of the season, as Wayne Rooney sat home (reportedly due to a hamstring injury) tweeting away. Berba has never been about pace and endeavor, but now that Ferguson's side is truly built around pace and fast passing -- in other words, constructed around the way Rooney prefers to play -- his languid style doesn't fit in. When the Bulgarian wasn't getting bullied off the ball by the likes of Ryan Shawcross and Woodgate (one a comical fall in the box off barely a touch), Berbatov was throwing his hands up in the air in frustration with his teammates for not getting enough help. He's never really been on the same wavelength as Rooney & Co., but that gap is widening. I'm a fan of Berba's, but United might be well served in shopping him around come January.
Normal Service Resumed
There's a Dr. Seuss book called "Wacky Wednesday" in which (as you can probably guess) everything is out of whack, and it's up to the young reader to see what's going wrong. That's pretty much a Cliff's Notes summation of La Liga this past Wednesday when both Barcelona and Real Madrid ended their matches in ties. Barca, you'll remember, got its tactics wrong at the start in a (sort of) 4-3-3 with Dani Alves pushing high up; it ended in a spirited 2-2 draw with Valencia.
Real's 0-0 draw against Racing, on the other hand, was embarrassing, a lethargic performance marred by a lack of energy and sloppy possession. It was the second time Real Madrid failed to score in the league, fueling rumors of dressing-room splits and players losing faith in the Special One, Mr. Mourinho. "Crisis" is how the reactionary Spanish press was describing it; take that for what it's worth, but the atmosphere was taking on a poisoned feel.
[+] Enlarge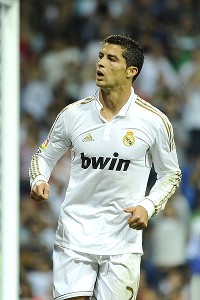 PIERRE-PHILIPPE MARCOU/AFP/Getty ImagesCristiano Ronaldo's hat trick against Rayo Vallecano included two successful conversions from the penalty spot.
With that, Gol TV's Ray Hudson predicted a bloodbath before the match Saturday, and that's pretty much what happened in the end. Madrid defeated Rayo Vallecano 6-2. This even after Angel Di Maria was sent off in the 56th minute for a second yellow.
It's not been the best of times for one of Mourinho's favorites. Two matches ago against Levante, he went down too easily. In the ensuing ruckus, Sami Khedira came over and pushed a player, earning himself a second yellow and expulsion from the game.
This time, Di Maria took out the middleman, intentionally handling the ball to block a Vallecano pass that resulted in his second booking of the match.
It must also be pointed out that Real Madrid's first three goals were all the direct result of mistakes by Vallecano. A throw-in by Tito near the Real corner flag went right to the opposition, and Kaka made a lung-busting run up the pitch before passing the ball to Cristiano Ronaldo, who blasted his shot between Dani Gimenez's legs. Then, at the end of the first half, Kaka was fouled outside the box, and on the ensuing free kick Xabi Alonso nicely lofted the ball to Sergio Ramos, fading to the back post. He headed the ball down and Gonzalo Higuain -- getting a rare start these days -- had an easy finish. And Kaka was brought down in the penalty box by Jose Maria Movilla. It was minimal contact, to be sure, but Real fans will certainly be delighted with Kaka's performance.
While everyone's been studying Torres' every move, it seems people have forgotten about Kaka -- his loss of form seemed to be unrecoverable. But over the past two games, the Brazilian has shown signs of the pace that made him such an incredible player at AC Milan. The penalty he earned was a result of his surging run, and the way he picked out Ronaldo for the first goal was beautiful in its efficiency.
There were some poor moments for Madrid, such as in the first few seconds of the game. Lassana Diarra was caught taking a siesta and passed the ball right to the opposition. The break was on for Rayo -- a team intent on attacking for the duration of the match -- leading to Miguel Perez Cuesta scoring inside the first 30 seconds. But credit Mourinho: In the 29th minute, as Rayo was creating too many chances for his liking, he took off Diarra for Mesut Ozil. "Little Avatar Eyes," as Hudson calls him, helped orchestrate the game from there, including a cut-back, pin-point pass to Karim Benzema, served up on a platter, that the Frenchman absolutely crushed on his first touch.
By this point, many hours into football and with the caffeine making me jittery, I was hoping Barcelona would make short work so I could reacquaint myself with civilization -- or at least a beer. And Pep Guardiola's side obliged, thrashing Atletico Madrid 5-0 in a lashing rain. David Villa opened the scoring. Lionel Messi notched a hat trick. There was also an own goal created by pressure from Messi. In short, order had been restored to La Liga. At least for now.
And with that, it's beer o'clock for me.