Has Mancini lost the dressing room?
September, 27, 2011
09/27/11
4:32
PM ET
[+] Enlarge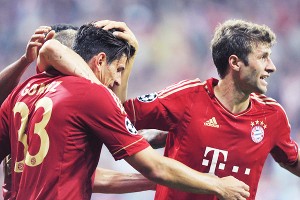 Christof Stache/AFP/Getty ImagesGo, go, Gomez: Mario Gomez scored twice in Bayern Munich's dominating performance over Manchester City.
If ever there was a fixture that would have fans pulling themselves away from Oktoberfest, Manchester City versus Bayern Munich was it. The footballing world's nouveau riche against one of Europe's aristocratic sides which has won the competition four times and been in the final eight times. Manchester City's deep squad has been built to succeed in the Champions League. Bayern Munich came into Tuesday's clash in imperious form, having won nine straight matches. Even more impressive: It had scored 26 goals while conceding once, in its league opener against Borussia Monchengladbach, in all competitions.
It was the picture of two trains steaming head-on for a collision. And while the first 35 minutes or so was a chess match, a fairly even affair, Bayern Munich proved its quality and slowly took control of the game, scoring two toward the end of the first half to all but put the match away. More troubling for City, early in the second half manager Roberto Mancini made a daft substitution (and we've seen him do this before), taking off striker Edin Dzeko for midfielder Nigel De Jong, which led to a row on the bench between player and manager.
It then spilled over with Carlos Tevez, who reportedly refused to play for his team. Mancini told the press after the match: "I decide the changes. That moment I decided to change Edin Dzeko with Nigel de Jong because I wanted to keep calm in the squad and not concede a third goal because we were 40 minutes to the end. And after five minutes Carlos was ready to go on. After that he refused to do warm-up again and refused to go on the pitch. If one player earns a lot of money, play for Manchester City in the Champions League and has this behavior, for me he can't play. Never."
Tevez a bad apple? You don't say.
Tevez issued a statement Wednesday denying, of course, any wrong-doing. It read, in part: "I would like to apologise to all Manchester City fans, with whom I have always had a strong relationship, for any misunderstanding that occurred in Munich. … I had warmed up and was ready to play. This is not the right time to get into specific details as to why this did not happen. But I wish to state that I never refused to play."
He really should just pack up and go back to his "familia," as he said through an interpreter after the match, though it's hard to do that when you're on 200,000 pounds a week. He also claimed that he wasn't feeling well and that it was all just a misunderstanding. On Wednesday, Tevez demonstrated he wasn't actually against playing … golf, that is.
In the wake of all this, there is the possibility that City could void Tevez's contract and keep his registration for refusing to play. But that'll all have to be sorted out. January can't come soon enough for both parties, no doubt.
So much more was expected of City. After City drew 1-1 with Napoli at home, Mancini explained away the result by telling the press that his side was nervous. (Apparently, he missed Gareth Barry's ill-taken backheel pass -- a sign of overconfidence, if anything -- that led to the Italian side's goal.) Yet Mancini stated confidently that City would beat Bayern Munich at Allianz Arena in Munich.
To achieve that goal, Mancini made only two changes to the team that had faced Napoli: Out went Aleksandar Kolarov and Joleon Lescott in the starting XI, and in came Micah Richards and Gael Clichy on the grounds, one would suppose, that City would offer more attacking verve on the flanks.
[+] Enlarge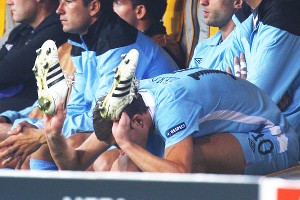 Alexander Hassenstein/Bongarts/Getty ImagesEdin Dzeko was furious at being substituted in the second half.
Ah, the best-laid plans. Manchester City's first trip abroad in the Champions League era ended with a 2-0 loss to the German powerhouse.
There weren't a ton of chances being made on either side in the first half, though Mancini's men for a time looked the more threatening in the final third. Two shouts for penalties (one against David Silva in the early going and one against Franck Ribery toward the end of the first half) were both not given. Yet despite freshening up its fullbacks, City played the first half predominantly down the center of the pitch, causing too much congestion. As time wore on, midfielders Barry and Yaya Toure increasingly struggled to help their team maintain possession and dictate play. Eventually, they would be overrun.
To their credit, the Sky Blues of Manchester had done a good job of keeping Bayern from getting behind their back four. If there's been a question mark for City, it's never been the attacking options in the final third but the steel in the back. And while Joe Hart put in a terrific performance, he and his side were undone before the halftime whistle.
In the 35th minute, after Barry sloppily gave the ball away in trying to pass to Toure, Bayern had a five-on-three situation. This is where the match turned. Thomas Muller passed the ball into the box, and Bastian Schweinsteiger failed to convert a relatively easy chance. But the momentum was in Bayern's favor. Two minutes later, Ribery received the ball out left, charged into the middle and lashed a shot at Hart, who blocked the ball. A charging Muller took a point-blank shot, and again Hart came to the rescue. But Mario Gomez, renowned for picking up the scraps, wouldn't be denied on a third opportunity for his side.
It got worse for City. In stoppage time, Philipp Lahm came racing down the left. Although he was clearly falling down before any contact was made, Dzeko got called for the foul after landing on Lahm in such a way that buying the German dinner after the game might be the appropriate course of action. On the free kick by Toni Kroos, Daniel van Buyten headed the ball into the near post and again Hart parried the ball forward where Gomez pounced again. Hart was absolutely livid. I haven't seen someone stomp in rage like that since the days of Rowdy Roddy Piper in the old WWF.
Said Mancini in the postmatch press conference amid speculation that he has lost the dressing room: "He [Dzeko] had a poor game. In terms of being unhappy, it should be me, not him. This is the last time with me a player will do this."
The madness spilled over to the bench. Tevez, who emerged from the dressing room in the second half much later than the other players to grab his spot of pine, got into the fray because, well, this is City. And Tevez is Tevez. Too bad Mario Balotelli was suspended or we could have seen a no-holds-barred rumble. As it was, the relationship between Tevez and Mancini appears beyond repair.
On the other hand, Bayern Munich was sublime. Ribery (man of the match) gave Richards all he could handle and kept him from getting forward. He and Schweinsteiger did more than their own fair share to run the game and showed yet again what wins in Europe -- keeping possession. And the width that Bayern has in Ribery (and, when he's fully fit, Arjen Robben, who was on the bench) highlights yet another area where City is lacking. Until it can expand the width of the pitch and offer more variety in attack, smart teams like Bayern will find ways to shut City down.
You can see why Ribery says this is the best Bayern side he's seen. It has balance, knows how to keep the ball and create chances. For Mancini, a man who doesn't have the best of records in Europe as a manager, he has suffered another setback. He surely must accept some of the blame. But with Tevez refusing to enter the game, Mancini's options were limited, yet still somewhat puzzling. He took off Samir Nasri in the 69th minute for James Milner, who offers less threat on offense. In the 73rd, a defender, Kolarov, came on for Barry.
If you accept that getting out of the group stage means earning 10 points, City has some numbers-crunching to do, with just one point in two games and four to play. The pressure is only going to ratchet up from here.
As far as Tevez and Mancini are concerned, they prove that money can't buy happiness -- or a win in Europe.