[+] Enlarge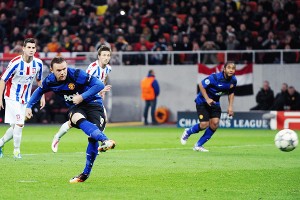 Laurence Griffiths/Getty ImagesWayne Rooney scored two penalties to help United earn all three points in the Champions League and keep its European campaign intact.
The only reason Manchester United's Champions League season isn't in tatters at the moment is because of a skit-worthy handball. Otherwise, the Red Devils did very little Tuesday against Otelul Galati -- a Romanian side that even Sir Alex Ferguson knew nothing about -- to suggest they performed like their early-season imperious selves.
They maintained the lion's share of possession -- 72 percent in the first half, in fact, which was the most for any team in the Champions League so far this season aside from Barcelona's two previous matches. Yet United lacked pace, and looked to be well on its way to reminding fans and critics alike of a famous Ray Hudson quote about possession without penetration.
But in the 64th minute, Wayne Rooney charged down the left-hand side and crossed the ball into the box. One of Galati's most experienced defenders, Sergiu Costin, flapped at the ball as if he were trying to swat a fly, perhaps knowing that Javier Hernandez was making a run inside him. If anything, the infraction was a red card (denial of a goal-scoring opportunity). Rooney converted the penalty and then coolly took another one in stoppage time to help United earn the three points it desperately needed after tying its first two matches in the group stage. In the process, Rooney also became the top-scoring Englishman in Champions League history with 25, one more than Paul Scholes.
The points were precious as United strives to keep pace in Group C. Going into this game, it was off to its worst start since the 1998-99 campaign, although of course that one ended with a famous late victory in Spain.
Here are some takeaways from the match, focused on United, as it heads into Sunday's clash against Manchester City, which won 2-1 on Tuesday in thrilling fashion.
1. Where were the pace and cutting edge?
United lacked pace, the tempo suiting Galati for much of the game. That was down to the team's engine room, Michael Carrick and Anderson. They had plenty of options for their passes -- Nani to their left, Antonio Valencia to their right -- but were unable to move the ball fast enough between defense and attack to trouble Galati. There was a lack of space in the final third, as Galati remained very compact. Carrick might have comported himself well defensively, but there was no Ryan Giggs-style midfielder to create chances and blast in from deep to help pressure the defense. It's the kind of thing Tom Cleverley was doing quite well early in the season before picking up a knock, and perhaps not coincidentally, since he's been out of action, United has struggled. He last played against Bolton, and United has not looked convincing since then (see its 2-0 win over Norwich, which could have easily turned out differently, or the 3-all draw against Basel in the CL). Cleverley is supposed to be back in action Sunday, in time for the Biggest Match of the Season (this week) against City.
2. Has United lost its edge?
The team played a rather tactically sluggish match against Liverpool, and while it switched from a 4-5-1 used Saturday to a 4-4-2, it looked miles away from the team that not long ago appeared indomitable. We'll get a better sense Sunday. This was always going to be a tough week for Ferguson's men, but the fact is, he fielded his A-team, which clearly struggled to create chances. Is this the team that will beat the top in Europe? Or even City on Sunday? On a bright note for United supporters, the match was the 14th clean sheet in the team's past 20 Champions League away matches, according to Opta.
3. Valencia ineffective
The right winger -- who had been filling in at right back in previous matches -- returned to where he's most comfortable, but it didn't show. He was mostly ineffective in this game. He failed to get behind the defense, and his service into the box -- once a staple that Rooney, among others, fed on -- was fruitless. By the second half, he was all but nonexistent until being subbed off for Jonny Evans.
4. Poor refereeing
Galati's Costin surely should have earned a yellow card in the 48th minute for his tackle against Nani, but the referee then inexplicably gave Nemanja Vidic a straight red for an infraction that would be considered a yellow card in most fans' minds. That's four red cards for Vidic while playing for United in his past four seasons.
5. Work left to do
United left the Stadionul National in Bucharest with five points in Group C, two behind leader Benfica, with three matches to play: home versus Galati, home versus Benfica and away against Basel. Hard to imagine the Red Devils won't make it through or even win the group. Then again, few would have thought Tuesday's tussle would have been such a struggle given the team Ferguson fielded.