Real Madrid ruthless in La Liga
October, 27, 2011
10/27/11
2:11
PM ET
"Prepare yourself for subjugation, victory through domination." So goes the lyric from a Bad Religion song, a refrain you could imagine Jose Mourinho singing to himself Wednesday. During the second half of Real Madrid's match against Villarreal at the Bernabeu, the Portuguese manager prowled his technical area, brow furrowed and a scowl on his face. You would have thought Los Blancos were struggling, that the Yellow Submarine was in the lead. But by then, Mourinho's men were comfortably up 3-0 and cruising to yet another La Liga victory.
The Special One's message was clear: He wanted more from his players. More chances created, more hustle, more goals. Three-nil wasn't good enough. After a regal first-half performance that was sharp and physically imposing in equal parts, Real tapered off a bit, the pace lessened, in the second half. And it wasn't good enough for the perfectionist stalking the sideline.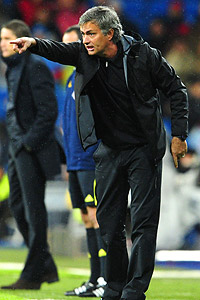 Javier Soriano/AFP/Getty ImagesJose Mourinho is demanding perfection from Real Madrid, and at times he's getting just that.
It speaks volumes that this is about as high-profile as you'll find Mourinho being these days -- that is, unless you count his fining Iker Casillas for being late to training, or his statement that Mesut Ozil is failing to play up to the high standard he set for himself last season. (Mind games, that.) But you won't find the manager in any public quarrels … for now, anyway. The negative headlines have receded, and he's letting his squad do the talking for him in the form of exquisite through balls, comically fast counterattacks and clinical finishing. During a stretch of the season that has seen Barcelona struggle and the Spanish press proclaim that Lionel Messi is (the horror!) human after all, Real Madrid has ripped through the competition with alarming ease. Once criticized as a collection of high-priced individuals working off different playbooks, Real Madrid is competing as a cohesive unit -- an embodiment of the team aesthetic.
With each passing fixture, Madrid takes another step toward fully realizing Mourinho's vision: a mixture of pragmatic football, beautiful football and, above all, winning football. Could this be the side that finally knocks Barcelona off its perch? Madrid supporters have reasons to be optimistic, even if it is early in the season.
1. Youth
You've heard their names so often, for so long, that it's easy to forget that the core of Real Madrid's squad is young and dynamic. Marcelo, Angel di Maria, Ozil, Fabio Coentrao, Karim Benzema and Gonzalo Higuain are all 23 years old. The veteran Cristiano Ronaldo is all of 26, while Sami Khedira is 24. The average age of the entire squad is 24.7 (compared to 26.3 for Barcelona). These players are in their prime, and young legs should mean fresh legs when we get to the business end of the season. Plus, Mourinho smartly added depth to his squad with the likes of Coentrao and Nuri Sahin, once he recovers from injury.
2. Sizzling form
In league play, Real has scored 31 goals while conceding six. Its 3-0 result against the sinking ship that is Villarreal might have you asking, "What's wrong with Los Blancos?" After all, it was their worst league victory this season, as their other wins have come with either four or six goals. The scoring has been spread out, too: four in the first 15 minutes, six in minutes 16-30, three in minutes 31-45, 4 in minutes 46-60, 8 in minutes 61-75, and 6 for the remainder of the match.
Sure, Mourinho's men don't play the tika-taka of Barcelona. It's a more frenzied style, but no less enthralling. The goals against Villarreal illustrated that. In the fifth minute, Ramos laid off the ball to the in-form Di Maria at the halfway mark. The Argentine picked out Benzema, who brought the long ball down with his chest before hitting a cheeky one-touch chip over Diego Lopez. The second goal, in the 11th minute, was a perfectly placed drive by Kaka. And the third was perhaps the most emblematic of this Mourinho side, a nine-second counter that started after Villarreal took a corner. The ball found its way to Kaka's feet, and the Brazilian turned on the afterburners. From there, you needed your DVR's super slo-mo to keep track of the passes: Marcelo to Benzema, through ball to Di Maria, who beat the keeper. As Gol TV's Ray Hudson pointed out, it was the best scoring sequence we've seen from Real in a long time (and that's saying something considering the individual flair from the likes of Ronaldo, Di Maria and Ozil).
As a side note, how well has October treated Mourinho? If his team beats Real Sociedad on Saturday, he'll be undefeated in the month for the seventh consecutive year. Madrid also has a chance to have its best run in October in 23 years since it won seven games in the 1988-89 season.
3. Kaka's resurgence
OK, he's not back to the level of his AC Milan days, but after a poor 2010-11 season he has started to show signs of his former self, principally through his pace if not his finishing. In the past few games, Kaka has blown past players in the midfield, linked play and helped jump-start attacks. Villarreal had to resort to a bit of kicking out to try and stop him at one point in Wednesday's game. While two assists and three goals in the league are hardly the statistics of a world-beater, Kaka is at least giving Mourinho more to think about when he configures his midfield.
4. Strong at the back
Real's back line is settled and imposing, with Ramos filling in at center back for the injured Ricardo Carvalho. Indeed, Ramos has looked a natural in the role; will Mourinho keep him there for the long haul? Perhaps more important, Khedira and Xabi Alonso are providing a Death Star-worthy shield in front of defense. As EPL fans have seen with Manchester City, the role of the two deep-lying midfielders cannot be underestimated. Alonso, in particular, flashed his skill against Villarreal, breaking up plays but also launching perfectly weighted passes long and short. Going into the match, he was third in La Liga with the most completed passes, 596, behind only Barca's Xavi (926) and Thiago (684).
5. Lethal in attack
Whether it's Ronaldo scoring a hat trick (three in the league this season so far), Benzema poaching or Di Maria -- arguably the hottest player of all -- wreaking havoc from the right side, Real Madrid can find different ways to pick apart a defense. Heading into the match against Villarreal, Ronaldo and Ozil had both created 11 chances for teammates, with Di Maria one behind at 10. It's a give-and-go attack, with no one being too selfish (well, Alvaro Arbeloa could have been a bit less greedy toward the end against Villarreal, but that's nitpicking). Inevitably, Mourinho's tactics will be compared to those of Barcelona's, and right now Los Blancos are showing more versatility and producing better results. Sure, Pep Guardiola's team has four players in the top 10 among most passes completed in the final third, while Real has none. Which is to say that one team tries to pass the ball into the back of the net, while the other attempts to be more efficient. We know which side is winning that battle at the moment.
Form is fleeting, of course, and all eyes will be trained on the Clasico, tentatively slated for Dec. 11 at the Bernabeu (though it may need to be moved depending on Barca's role in the Club World Cup). It will only be then, when that rush of blood under the intense pressure returns to Mourinho's head, that we'll know whether this Real side can hold up under the most stressful of circumstances. If the match ends with Mourinho's players, and not Mourinho himself, making the headlines for the football on the pitch, it will be the ultimate testament to the Special One's success in Spain thus far.