The Gunners are on the move
October, 29, 2011
10/29/11
10:22
AM ET
[+] Enlarge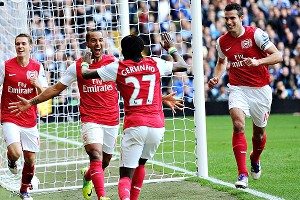 Stuart MacFarlane/Getty ImagesGunners for glory: Arsenal has won eight of nine matches in all competitions.
Footballing pyrotechnics are supposed to happen on the pitch. But in the past week, it's been off-the-field battles that have consumed Chelsea and Arsenal.
Blues owner Roman Abramovich suffered an embarrassing setback in his plans to build a new stadium when fans, represented by the Chelsea Pitch Owners company, rejected a proposal to buy back the land upon which Stamford Bridge is built. It was said to be a testy general meeting. Meanwhile, the FA is still considering whether to take any action against Chelsea's manager, Andre Villas-Boas, for his accusations about poor refereeing after the loss to QPR, while John Terry remains embroiled in an alleged racist incident with Anton Ferdinand.
As for Arsenal, Arsene Wenger spoke at his club's annual general meeting, an equally feisty state of the union during which the manager insisted the team could compete against the Prem's big spenders if only it sticks to his doctrinaire approach: smart, if parsimonious, transfer dealings and youth-first policies. Later, Wenger went so far as to suggest that his players have been brainwashed by one of the media's favorite pastimes, bashing Arsenal.
So it must have been a relief when the two teams stepped out on the pitch at Stamford Bridge on Saturday. Arsenal had won seven of eight matches in all competitions, and there was a sense that Chelsea was finding its form after an indifferent start to the season. Yet what followed was every bit as chaotic -- a frenetic game of blown chances, defensive blunders and goals aplenty, with Arsenal coming out on top 5-3.
It was a roller-coaster game that had supporters of both clubs reaching for their Dramamine. Arsenal was behind 2-1 at halftime, but Wenger's men came out in the second half and not only scored four times but defended much better than Chelsea. The match ended on an emphatic note when Robin Van Persie completed his hat trick. If ever there was a team dependent on one player, it's Arsenal's reliance on RvP, who has scored at least two goals in his past three matches and 28 goals in his past 27 Premier League games, statistics that would flatter Cristiano Ronaldo and Lionel Messi. What's even more amazing is that the notoriously fragile Dutchman has remained healthy for the season so far, all the more reason for Wenger to invest heavily in bubble wrap to protect his talismanic striker. The question of whether RvP signs a new contract -- he has 18 months left on his current one -- will no doubt consume the club and its fans.
It's hard to parse a match like this; so many talking points, so many moments of sheer madness. For one thing, both Chelsea's Jose Bosingwa and Arsenal's Andre Santos demonstrated yet again that they know all too well about getting forward, often at the expense of shirking their defensive obligations. Gervinho tormented Bosingwa for much of the game, and Santos was complicit in the Gunners' defense failing at times. In the 14th minute, for example, Juan Mata too easily pushed the Brazilian aside as if he were a little kid to fling in a cross to Frank Lampard. Per Mertesacker made like a spasmodic ballet dancer in his attempt to intercept the ball, and Chelsea's leading scorer made no mistake with his header.
Santos might also claim that he was fouled when Romelu Lukaku brushed him aside in the 80th minute, though again it appeared that he went down all too easily -- and as a result, Mata found himself in acres of space to blast a beautiful swerving shot with his left foot into the back of the net.
[+] Enlarge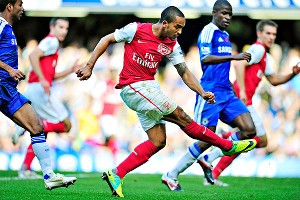 Glyn Kirk/AFP/Getty ImagesTheo Walcott had one of his best games for Arsenal against Chelsea.
But the coup de grace of gaffes came in the 85th minute. With the score knotted at 3-3, Florent Malouda's backpass near the halfway mark caught Terry unaware, and when the embattled Chelsea captain -- who had scored earlier in the game off a set piece by beating Mertesacker in the box -- slipped and fell, Van Persie latched onto the ball. All that was left was an empty pitch and a hapless Petr Cech, who anticipated that RvP would take the shot on his favored left foot. Instead, the Arsenal man jinked to his right and coolly put Arsenal ahead for good.
Perhaps the strangest of goals was Theo Walcott's. With England manager Fabio Capello on hand to watch the wild game, Walcott was brilliant on the right-hand side, easily putting in one of his best performances for Arsenal. In the 12th minute, for example, he made the speedy Ashley Cole look as if he was wearing clodhoppers, not boots, as he blew by him and crossed the ball into the box, only for Gervinho to miss an open net. In the 56th minute, Walcott was taking on Chelsea defenders when he tripped and hit the turf. The ball rolled on, with Terry and Branislav Ivanovic doing their best impressions of lampposts. Walcott dusted himself off, got the ball, jetted through on goal and rocketed a shot past Cech.
Abject defending barely begins to describe Chelsea's performance. Unable to keep a clean sheet in the league since their opening match, the Blues did something that many probably didn't think possible -- they made the Gunners' defense look better, at least in the second half when Alex Song dropped back to add cover. Villas-Boas has talked about wanting to play free-flowing football, something coveted by Abramovich, and has clearly favored the likes of Bosingwa (at home, he and Cole function as much as wingers as they do defenders), but at some point he is going to have to batten down the back if he hopes his side can make a realistic challenge for the title. Then again, going forward Fernando Torres was sluggish (perhaps showing signs of his three-game league suspension) and Daniel Sturridge had a pretty poor match, too, blowing chances. But teams that score three times should win. Having been compared to former Chelsea boss Jose Mourinho since arriving at Stamford Bridge this summer, Villas-Boas won't be matching the Special One in at least one category -- his team has conceded 15 league goals so far this season, the same number Chelsea allowed during the entire EPL season in Mourinho's first year in charge.
Arsenal, meanwhile, is suddenly on fire in the Premier League. All the media criticism has failed to derail the side, which now sits just three points behind Chelsea. After Wenger's "Churchill moment" this week, telling his players to stand by him, that all will work out in the end if they believe, Van Persie & Co. repaid the favor with a gutsy, purposeful second half. There are still plenty of questions surrounding the Gunners' backline, which typically seems one mistake away from losing the plot. Not this time. After losing to Liverpool, United and Spurs so far this season, Arsenal finally notched an important victory over one of its top rivals.
Like Wenger said this week, "We have to show we are united because that is the only way to survive at the top. If you are not united, you have no chance."
At Stamford Bridge in the second half, Arsenal proved just that.