Spurs deliver entertainment with wins
November, 8, 2011
11/08/11
3:24
PM ET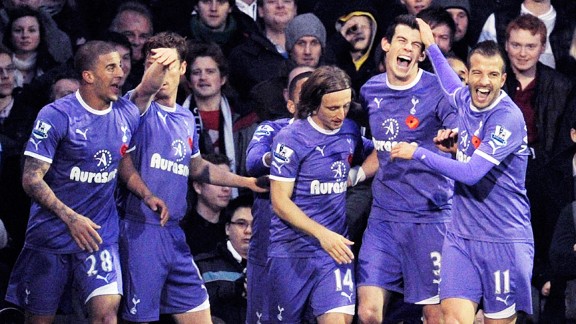 AP Photo/Tom HeveziTottenham is the most entertaining team in the Prem. They're winning matches, too, so any team (that's you, Arsenal) with designs on fourth place will have to go through them.
Another international break is upon us. Instead of those dark days in October, which could have pushed even a prohibitionist to the demon bottle to pass the time, this one should be a bit more interesting. Euro 2012 playoffs get under way (you can watch the matches, including Ireland's tilt against Estonia and Cristiano Ronaldo's Portugal against Bosnia, on ESPN3.com) while the U.S. faces its strongest opponent, France, under Jurgen Klinsmann (also on ESPN3 and ESPN2 at 3 p.m. ET Friday for those looking to get an early start to their weekend).
Then again, some of us may do our best Ron Burgundy and reach for three (or more) fingers of Glenlivet to help tune out Terry-gate, which unfortunately gained momentum after the English FA fool-heartedly called the skipper into the national team ahead of Saturday's friendly against Spain. That's Fabio Capello's headache at the moment.
The Italian taskmaster plans to leave his gig after Poland and Ukraine next summer, at which point the odds-on favorite to take the thankless job of England manager is Harry Redknapp. He's definitely the sentimental favorite, a man renowned as much for his ability for speaking the language of his players as he is for supposedly lacking in a strong tactical knowledge of the game. Perhaps, though, Redknapp hasn't received his just due as Tottenham Hotspur manager for not only holding onto a key player, Luka Modric, but strengthening his side in the offseason with the additions of Brad Friedel, Scott Parker, and Emmanuel Adebayor. These moves may prove more important than any X's and O's Redknapp will whiteboard during the season.
Redknapp is on the sidelines at the moment as he recovers from an operation to unblock coronary arteries. The 64-year-old won't return to work until mid-December. How will this affect Tottenham as it continues to push for a fourth-place finish and a place in next season's Champions League?
Spurs sit fifth in the table, level on points with Chelsea but with a game in hand. From a neutral's perspective, Redknapp's team has delivered the most entertainment value of any EPL team this season, a collection of skilled players who kill opponents with pace and power, spirit, and a bit of luck, as Fulham fans will attest. This past weekend, Kyle Walker did everything but autograph the ball in the penalty area in the dying minutes of a stirring match at Craven Cottage without being called for a handball. How Tottenham even won is a bit of a mystery -- it had nine shots (five on goal) to Fulham's 31 shots (13 on goal), yet came away with a 3-1 victory.
From Nov. 21 to Dec. 18 -- roughly the time Redknapp will leave the managerial duties to the likes of assistant manager Kevin Bond and Clive shake-my-hand-or-be-damned Allen -- Spurs face an intriguing fixture list: home to Villa, away to West Brom, home to Bolton, away to Stoke City and home to Sunderland. This is an opportunity to gain ground, especially when Newcastle, No. 3, will likely drop points after matches against City, United and Chelsea. For a side like Tottenham, which is putting its entire emphasis into its Premier League campaign and playing its scrubs in the Europa League (no offense, Pavy), the next few weeks will be critical. The race for the fourth place is shaping up to be intense, especially with archrival Arsenal rounding into form.
What have been the keys to Tottenham's success so far? On paper, it has the best starting XI outside of Manchester (City, that is), and it is squarely focused on success in the Prem (unlike, say, Stoke, which has so far paid the price for its involvement in Europe this campaign). Aside from expected losses to City and United in its first two games, Tottenham has won seven and drawn one, lending credence to Ledley King's hope that "we can become the biggest challenger to the Manchester teams."
Here are a few other notable reasons Redknapp's men are playing winning, and wildly entertaining, football:
[+] Enlarge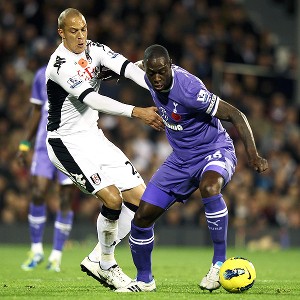 Bryn Lennon/Getty ImagesLedley King is invaluable to Tottenham's defense.
King is king
Tottenham's backline has often been a liability, and much of that has been a result of injuries. One player who knows this all too well is King, an exceptional center back who can't play twice in one week and has seen his international career curtailed due to injuries. So you cannot understate how fortunate Spurs have been that King has been able to start seven league games this season (in 2010-11 he played all of six league matches). He is the epitome of what a strong central defender should be, organizing the players around him and reading the game, even if he's only got one good knee on which to do it.
The statistics demonstrate King's value. In the 13 league games he has played in the past two seasons, Tottenham is 10-1-2, winning 82 percent of possible points, allowing 10 goals (.77 per game). In 48 league games without him, Tottenham is 23-10-15, taking 58 percent of points, allowing 51 goals in 35 games (1.46 per game). No wonder Spurs fans let out an audible gasp when King came off in the 30th minute against Newcastle. They must hope beyond hope that he stays healthy.
There are still concerns for the Tottenham defense. Michael Dawson is out with no set return date. And 12 of the 15 goals the team has conceded this season have come in the second half. King, no doubt, will play a key part in trying to improve Spurs' performance as the minutes wind down.
Intangibles
Tottenham is playing with what football managers love to call "spirit." You saw that against Fulham. Modric had, by his standards, a poor game. But there he was in stoppage time, planted at the far post, where he kicked the ball away after Friedel bobbled the ball. Adebayor, a player rejuvenated under Redknapp, headed balls out of Spurs' penalty box. And when Walker was unable to clear a ball in the danger area in the 87th minute, it was a bloodied Parker -- a player who must lead the league in media praise and man-crushes -- there to see away the threat. It's the kind of stuff that doesn't show up on the box score that Tottenham is doing well right now.
[+] Enlarge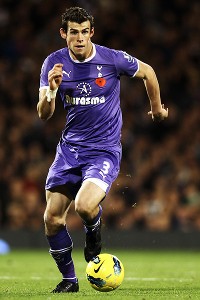 Bryn Lennon/Getty ImagesBale epitomizes Tottenham's pace, but there's plenty of other speed merchants on the team.
Speed kills
You won't find a more explosive side on the counterattack than Spurs. Gareth Bale came into his own last season, but this campaign he isn't the only one who's breaking land-speed records. Aaron Lennon, Walker and Benoit Assou-Ekotto can all terrorize defenders. What's more, there's versatility in their mix. Against QPR, right-sided winger Lennon ran across the width of the pitch and found an open Bale for a goal. Against Fulham, after a quick give-and-go with Bale, Lennon blazed down the left side and scored a brilliant individual goal. In the same match, Bale was tucked more inside than his customary left wing, and his reward was also a goal -- his third in two matches, to bring his league tally to four (he scored seven all of last season).
Tottenham is just one seeing-eye Modric pass away from launching a blazing counter. Add to that the fine touch and finishing ability of Rafael Van der Vaart -- it's worth the price of admission alone to watch him point for the ball, wave for the ball and admonish his teammates when he doesn't get the ball -- and players like Sandro who add depth in the holding role behind Parker, and Spurs should make a strong push for fourth place or higher. No wonder Redknapp can't wait to get back to work.