Liverpool beats Chelsea at the Bridge
November, 20, 2011
11/20/11
1:48
PM ET
[+] Enlarge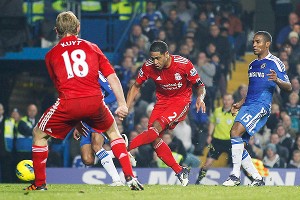 Ian Kington/AFP/Getty ImagesGlen Johnson won the game for Liverpool with his brilliant goal in the 87th minute.
Andre Villas-Boas insisted there were no questions about his team's defensive organization heading into Chelsea's clash with Liverpool at Stamford Bridge. This despite the fact the Blues hadn't kept a clean sheet at home in the league this season. They also were thrashed 5-3 by Arsenal and gave up another three to Manchester United. But the manager, who wants to play an up-tempo, pressing style that he used so effectively with Porto despite the inherent risks, exuded confidence about his side.
It only took the first half against Liverpool, however, for Chelsea's defensive frailties to be exposed again. And while AVB's men rallied nicely for much of the second half, they ultimately found themselves on the losing end of a 2-1 match that was relentlessly frantic, full of pace and always bubbling without boiling over into ugliness. It was one of the best matches of the season so far, and an important one at that.
Plenty of questions will be asked about Chelsea's first-half performance. First off, the goal it conceded in the 33rd minute. Keeper Petr Cech played a poor ball out from goal to John Obi Mikel outside the box. Charlie Adam stole possession, played the ball to Craig Bellamy, who, after a quick one-two with Luis Suarez, slotted a pass to Maxi Rodriguez, who coolly put the ball into the back of the net.
It was Rodriguez's first start for Liverpool this season (and only his second appearance), but he's certainly become a good omen for the team. It has won all seven previous Premier League fixtures in which he has scored.
[+] Enlarge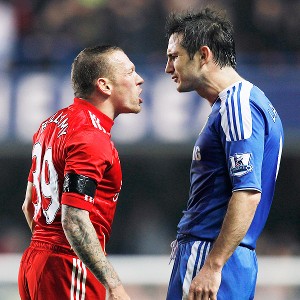 Ian Kington/AFP/Getty ImagesCraig Bellamy had a go at Frank Lampard in an enthralling match that was on the brink of boiling over.
Of course, Rodriguez's goal was made possible by Mikel's dawdling on the ball. It wasn't Chelsea's only blunder in the first half. In the 28th minute, embattled captain John Terry charged after a hospital ball, with Dirk Kuyt coming from the other direction. At the last moment, Terry pulled out of the tackle and found himself woefully out of position in the center of the pitch. He raced back, and if not for a poor pass from Suarez inside the box, which went straight to David Luiz, Chelsea could have found itself down two goals.
Ah, yes, Luiz, the center forward masquerading as a center back. As commentator Gary Neville hilariously said of Luiz's penchant for getting forward, "At times when I watch him, I wonder if he's being controlled by an 8-year-old in the crowd with a PlayStation console."
It looked that way when, in the 41st minute, Luiz tried to dribble his way out of trouble in his own third with three Liverpool players around him instead of clearing his lines. The poor decision led to Luiz fouling Adam, though again Liverpool let Chelsea off the hook on the free kick.
Chelsea has been searching for the ideal partner for Terry in the center of defense. It's a bit of a revolving door, with Branislav Ivanovic, Luiz and Alex all trying out for the role, and it's a worry that AVB -- regardless of what he's saying to the press -- needs to sort out. Based on past performances, Alex would seem to provide the most cohesion and solidity in the back, but he wasn't even on the bench Sunday.
The biggest omission in the match was Fernando Torres, as Villas-Boas went with Didier Drogba up top. After seeing red against QPR for a rash tackle that had some asking what Drogba's future would be with the club, the Ivorian was once again front and center. He had a decent game, just missed a goal on a free kick and gave his team the added dimension of a target in the final third. Besides, since February, Chelsea has won 50 percent of its EPL matches with Torres starting (1.7 goals per game) versus 75 percent without him (2.3 goals per game). El Nino did come on, replacing Drogba in the 84th minute, but it was the sucker punch that happened three minutes later that sealed the Blues' fate.
Adam hit a wonderful cross-field ball to pick out Glen Johnson on the right-hand side. After nutmegging Ashley Cole, Johnson charged into the box and used his left foot to finish inside the far post. In a match during which we thought an ex-Red might beat Liverpool, it was an ex-Blue who stuck the dagger into the heart of Chelsea's defense. AVB's side is now tied for most goals conceded, six, in the last 10 minutes of EPL matches this season.
It was a cruel twist, as Chelsea dominated the second half. In-form Daniel Sturridge came on for Mikel, and suddenly the Blues were reborn. They were winning the midfield battles, Juan Mata and Ramires had more time on the ball, all the while Liverpool stopped pressing. Kenny Dalglish's side appeared tired, uninspired and unable to stem wave after wave of Chelsea attacks. The equalizer came in the 55th minute. Ivanovic, who had a solid game at right back, crossed the ball to Malouda at the far post. His shanked shot turned into an ideal low cross, and Sturridge heeled the ball into the back of the net.
Villas-Boas was on the touchline, no longer in his worrying crouch but standing tall and clapping. This, no doubt, is how he envisions his side playing. Fast and frenetic rather than measured and labored.
But there was no accounting for Johnson's individual brilliance, a goal that now leaves Liverpool level on points with Chelsea. It's Chelsea's third loss in its past four Prem matches, with four teams level on points -- Spurs (with two games in hand), Chelsea, Liverpool and Arsenal. The battle for fourth, and a spot in the Champions League next season, is shaping up quite nicely.
The timing couldn't be much worse for Villas-Boas. "It's a bad blow for us in the Premiership. It's a big blow," he told the media after the match. "We have a home game with Wolves next, before Newcastle and then the leaders and we have to try and win those games, as difficult as they are." Indeed, as we head into the crowded holiday fixture period, and with both Liverpool and Chelsea preparing for matches against unbeaten Manchester City, Sunday's result at Stamford Bridge may loom large.