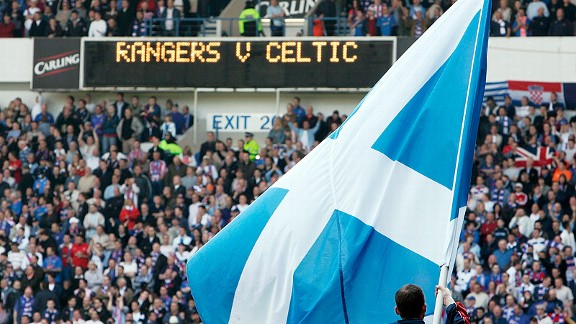 Christopher Furlong/Getty ImagesThe Old Firm is one of the matches you'll want to experience in your lifetime.
"It's going to be massive." How many times have you caught yourself saying that about an upcoming football match? For most of us, the Next Big Game is only a few days away. Hours, even. EPL, La Liga, Champions League, MLS, league cup, FA Cup -- there's always something to get you fired up.
You also have plenty of war stories to share, no doubt. Like when you ditched that presentation at work to catch a World Cup qualifier. And not even for the team you "officially" support. Like when you turned off all manner of communications for the day so no one could spoil a result to a match you'd be watching on DVR that night -- an experience that compelled you to walk by a pub on the streets of New York with your eyes closed and hands over your ears, and later to shout "No, no, NO!" to a stranger on a commuter train who started to bring up the match with his mate. Like when you abandoned your family get-together to find a TV to watch the "Big Game," forgetting that you took the only credit card with you. Or like the way you schedule your vacations around matches, only to serendipitously find yourself at the right place at the right time. "Hey, this restaurant seems quite nice for lunch. Hold on -- United-Chelsea are playing. You wouldn't mind if we caught a bit, would you? We're here anyway."
I'm speaking in generalities, of course.
Football does that to you, finding new ways to ensnare your mind and senses in its seductive grip. Just ask John Anthony Portsmouth Football Club Westwood -- except for holding down his day job, he's placed football ahead of everything else, including his first (and only) wife.
It all got me to thinking about a football bucket list -- the matches and experiences you have to check off firsthand before you check out. What's on your list? A pilgrimage to Old Trafford? Taking in a derby between Milan and Inter, or Fenerbahce and Galatasaray? A trip to Blackburn to chant "Kean Out"? OK, maybe not the last one (that would be truly sad). At any rate, I decided to ask a few of ESPN's and Press Pass' contributors to see what would make their bucket list. Here's a sampling:
Alexi Lalas, ESPN
World Cup: I don't care how you get there, just get there. It's the biggest party in the world and it will affect you forever. I promise.
USA vs. Mexico: Something will happen on and off the field that you will forever be telling your kids about.
Pickup game with strangers in a strange land: Soccer is the universal language. Seek out a game and it will often lead to more than simply kicking the ball.
Tim Vickery, BBC, ESPN
Site of the first World Cup: No doubt about it, anyone with the slightest interest in the game's history has to go to the Centenario Stadium in Montevideo, Uruguay -- preferably on a summer evening. You can walk from the city center, up the main drag (18 de Julho) and then through a pleasant little park to find a footballing landmark, the ground where the first World Cup final took place. The Centenario was hurriedly built for the 1930 World Cup, which in itself was a celebration and a consequence of Uruguay's gold medals in the Paris and Amsterdam Olympics of 1924 and 28 -- events which set off a fever for the global game. This is history, of the living, breathing kind, where epic chapters have been written and more are being prepared.
Gab Marcotti, Press Pass
The Old Firm: Still the most intense sporting event (let alone football match) I've been to. You can cut the air with a knife.
The annual Festa dell Dea organized by Atalanta fans. Basically, a big outdoor concert/event which really brings home the club's community spirit. Proceeds go to charity, ex-players are invited, it's all arranged by the fans and some of the stuff they do is really breathtaking. Here's a video which also includes the legendary day the Atalanta Ultras decided to go to the San Siro on their scooters, blocking the highway and, ultimately, leading to the famous "scooter-off-the-stands" incident.
The Kop. 'Nuff said.
Shaka Hislop, Press Pass
Watch a Clasico at Camp Nou: I'm a huge fan of Barcelona as a football club -- what it means to the Catalan people, their Johan Cruyff-inspired playing philosophy, and the way they embrace community and style. It's what every football club should aspire to. There is no bigger league game than the Clasico. Need I say more?
Watch a Brazil game at the Maracana: I'm West Indian, which means I'm a Brazil fan. It'd be great to share in the atmosphere of the world's most famous stadium, watching the world's favorite team, alongside the world's favorite fans.
Ian Darke, ESPN
Stand with the crazy fans at a Boca Juniors-River Plate derby in Buenos Aires, which I imagine to be a scary but unforgettably turbo-charged experience. (The Old Firm game in Glasgow is amazing, but has religious overtones I really do not care for.)
It won't happen, but to be a fly on the wall at a Sir Alex Ferguson team talk either pre- or postmatch (depending on the result) against Liverpool or Manchester City.
The FA Cup final. To watch my hometown team Portsmouth win the FA Cup at Wembley, which brought tears to my eyes in 2008. Never thought I would see the day.
Tommy Smyth, Press Pass
I think one must see an Old Firm game sometime in life to see what soccer can mean to people. In my case, I would be going to Parkhead for very obvious reasons.
Taking a daily tour of the Santiago Bernabeu is a must. Soaking up Real Madrid's storied history and seeing the changing rooms, player tunnels, the trophy room and all those European Cups -- it's a time when those little hairs on the back of your neck stand to attention.
So, what's on your list?