Premier League table-nomics
December, 1, 2011
12/01/11
8:18
AM ET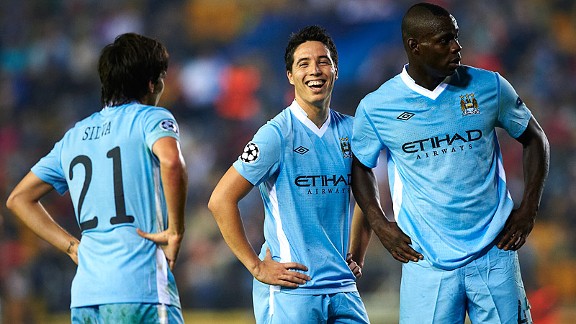 Manuel Queimadelos Alonso/Getty ImagesMManchester City is on top at the start of December, when the table begins to take on added gravitas, but will the Sky Blues be smiling in the end?
Here we are, Dec. 1, the beginning of a celebrated turning point in the Premier League season. This, managers like Sir Alex Ferguson tell us, is when the table starts to take on added gravitas. The days of dismissing results because it's "early doors" are supposedly over. In December, when teams are facing a glut of fixtures around the festive season, the table crystallizes into something more meaningful. Making up ground becomes increasingly difficult, six-pointers can cripple a team's title ambitions and clubs in the relegation zone start to panic. That is, unless you're Roberto Martinez or Owen Coyle -- then it's jolly all the way.
So how are things looking? Grim if you're Blackburn, Wigan and Bolton propping up the table. Though Wolves and Sunderland aren't inspiring confidence just outside the relegation zone. Mick McCarthy's side played like a beaten team against Chelsea last weekend right from the first whistle, unwilling (or unable) to attempt to press a low-on-confidence Blues. McCarthy should make all his players watch Getafe's inspiring display against Barcelona this past weekend. Yes, it parked the bus, but also expended maximum effort to rob the Catalans of time and space.
Sunderland should get in on that action, too, as it dropped all three points after cheaply conceding a stoppage-time goal to bottom-of-the-table Wigan last weekend. The home crowd then turned on manager Steve Bruce, a venomous response reflective of a team that, despite adding 10 new players this summer (and one on loan, Nicklas Bendtner, who -- surprise -- isn't scoring for the Black Cats, either) is tanking. The inevitable happened when Bruce was sacked Wednesday, and now the club must regroup for two relegation-style fixtures, against Wolves and Blackburn. If it's cold, here's some suggested head attire for supporters who are either optimistic or pessimistic.
Up at the top, we're anticipating an ultra-competitive scrap for Champions League qualification, with spots No. 2 through No. 7 separated by seven points, and spots No. 3 through No. 7 only five points apart. Spurs are closing in on United (two points back and a game in hand), while it's been accepted among many that Manchester City is the Premier League champion-elect. The Sky Blues are five points clear of the Red Devils. Undefeated in 13 matches (11 wins, two draws), Roberto Mancini's men have scored 43 and conceded 12 for a massive goal difference of 31 and a depth in talent that is unmatched by its closest rivals.
You know Liam Gallagher is working on a celebratory ditty already.
But maybe he should hold off. Liverpool, for one, showed that City isn't invincible in the league, clogging the midfield and securing a draw when it should have won. (It's also playing well against other top teams, but that's another blog for another day.)
[+] Enlarge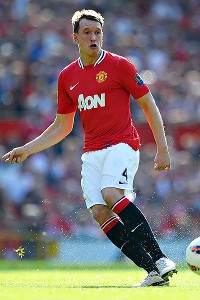 Laurence Griffiths/Getty ImagesPhil Jones thinks there's a good chance City will slip up. Plus, United does tend to save its best for the second half of the season.
And what about the "December theory"? Let's put it to the test. In the past eight Premier League seasons, five teams that were atop the table with 13 games played ended up finishing the campaign with champagne. (Note: As teams play uneven schedules, there is an odd game off here and there, but it's otherwise an apples-to-apples comparison.) The past four seasons, though, have been more unpredictable: Only once, Chelsea in 2009-10, did a club go on to Premier League glory.
What about the 1990s? In seven seasons, from the Premier League's first in 1992-93 to 1998-99, only once -- Manchester United in 1993-94 -- did a team leading at this stage of the campaign eventually win it all. And as an interesting aside, in 1998-99, the season United won the treble, it was Aston Villa on top.
It's a less optimistic forecast for the third-place team at this stage of the season. Sorry, Harry, but only three times in the Premier League's existence has the third-place team gone on to finish first: United last season (aided by Chelsea collapsing in the fall and Arsenal nose-diving after the league cup final), United again in 2008-09 and Arsenal in 2001-02. In the same time frame, no fourth-place club has ended up lifting the trophy.
What conclusions can we draw? The Premier League has become more predictable at the top over the past decade. And the odds -- whatever they are worth -- are in City's favor. But statistical trends probably shouldn't be taken any more seriously than Steve Kean's rhetoric. They're a laugh, and at times offer insight. But they don't take into account other possibilities, like Mario Balotelli burning down a pitch; Robin van Persie getting injured (he is in the "red zone," after all); and Fernando Torres claiming his scoring boots from the lost and found.
Beyond the numbers, City faces some daunting fixtures: home to a plucky Norwich on Saturday, away to Chelsea on Dec. 12 and home against Arsenal on Dec. 18. That's before playing four matches in about two weeks during the holidays.
Plenty of banana peels to navigate. Manchester United's Phil Jones, he of many positions and of a growing list of defensive gaffes, thinks opportunity will knock for the Red Devils. "City have done fantastically this season," Jones told the media. "I am not taking anything away from them. But they do have some tough games coming up.
"I don't care how good you are, teams can be put under pressure," Jones added. "This is a difficult league to be in. It would be nice to reach top spot by Christmas. But it is not essential. Don't be writing us off if we are not there by January."
[+] Enlarge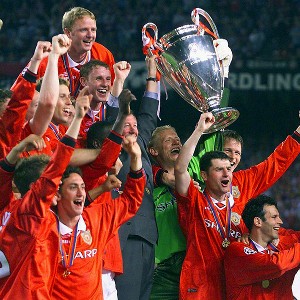 Eric Cabanis/Getty ImagesWhen United won the treble, in 1999, Aston Villa was atop the table in December.
Fair point, but it's not just about whether City will stumble. It's whether United can continue to keep winning and hold off Spurs. Since that match on Oct. 23, Ferguson's side has won three league matches by identical 1-0 scorelines, and also drew 1-1 against Newcastle. Against the Toon, Ferguson's side created tons of chances, but couldn't finish them. In the other matches, they've played overly cautiously -- call it the Ferguson knock-on effect of a team too afraid to concede and incur the hair-dryer treatment from its manager.
Another bit to consider: United should qualify for the Champions League; City probably won't. If that happens, the Sky Blues can focus their attention on the EPL. Advantage, City. And the Red Devils still need to sort out more issues than their crosstown rival. They are a team without a good link between defense and attack, with apparent savior Tom Cleverley not due back until Christmastime. In the meantime, it'll be a mix-and-match midfield with the likes of Darren Fletcher, a deeper-lying Wayne Rooney, Ryan Giggs, Park Ji-Sung and Michael Carrick, who last week in the 78th minute against Benfica demonstrated yet again that his synapses misfire when someone closes him down.
Then again, there's another trend United fans know quite well -- that the Red Devils tend so save their best for the second half of the season. They've been a bit lucky at times (against Swansea and Norwich, for example) during the 2011-12 campaign, but also can lay claim to a statistic that will be in the back of both Ferguson's and Mancini's minds: Of United's 12 titles in the Premier League era, nine of them came when Ferguson's side was not leading at this stage of the season. It's a weaker team than many of those previous iterations, but Fergie -- and the institutional memory he's created at Old Trafford -- counts for something. It's the kind of asset City doesn't have, and so desperately wants to start building.
For now, though, it's Mancini's title to lose and Ferguson's to try to grab back. It should be one hell of a month.