Talking the Clasico with Gol's Phil Schoen
December, 6, 2011
12/06/11
4:40
PM ET
Jorge Guerrero/Getty Images"Messi the Octopus" predicted Barcelona would win the Clasico this week. We decided to go to a more objective source, Gol's Phil Schoen.
With the season's first league Clasico approaching, I had the pleasure and privilege of chatting with Phil Schoen, who covers La Liga for Gol TV with Ray Hudson.
Before we talk Clasico, let's start with the Ballon d'Or short list: Xavi, Lionel Messi and Cristiano Ronaldo. Where do you cast your vote?
PS: There are some arguments that Ronaldo may not even be the best player on Real Madrid at the moment given the way Angel di Maria is playing. But when you consider what Ronaldo can do when he focuses, he's got more skill than anyone. What Messi has are efficient and effective skills. It's the speed of thought, speed of his feet and his ability to do it even when you know it's coming. That's the difference, and why I would put Messi above Ronaldo by a hair.
Those two players are probably more than a few heads of hair above whoever might come in at No. 3. However, Xavi is in a different class by himself. In the past two or three years, and arguably even this year, what Xavi has done for both club and country, it's hard to match. I think if you're a coach, you'd have a really hard time taking anyone over Xavi, because while Messi works well with others, Xavi makes everyone around him better.
Overall, though, I think Messi's going to win it and join that historic club to become the fourth three-time winner.
Something else Messi will want to win, of course, is the match against Real Madrid on Saturday. There's been a lot of criticism that the Catalans haven't been up to their normal standard -- especially away from home where they've drawn three and lost one. What's your take on Barca's form?
Even with their struggles, they still have the best defense in La Liga. But once again, as it has been for the past five or six years -- even dating back to the [Frank] Rijkaard era -- you look at their central defense, and it's not so much the individual talent or even the tandems, it's just the accumulation of games, injuries and age that has been a bit of an issue for players like Carles Puyol.
[+] Enlarge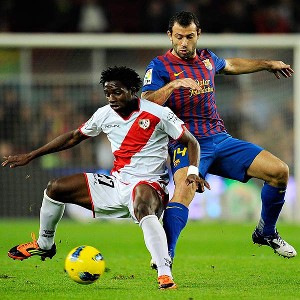 Lluis Gene/Getty ImagesJavier Mascherano's move into the center of defense has been "amazing and almost revolutionary," Schoen says.
And it's required some mixing and matching, like putting Javier Mascherano in the center of defense.
I think the emergence of Mascherano has been amazing and almost revolutionary when you look at what he's been able to do. And now Argentina is considering pretty much the same thing. You're talking about a guy who's 5-foot-9 and putting him in at center back, where it seems every coach around the world is trying to find out if 6-foot-3 is tall enough.
But when you look at Barcelona's record and see that their struggles tend to come away from home, it is cause for a bit of concern, especially since they're heading into their toughest road match of the season at the Bernabeu. In my mind, they are still the champion. And until Real Madrid knocks Barcelona down twice -- in this match and the return one at Camp Nou later this season, getting at least a win and a draw -- I'm going to pick Barcelona as the team to beat.
And what about Puyol, who left this past weekend's game early after a head collision with Arouna Kone?
Barcelona has had some success dropping Sergio Busquets and especially Mascherano back, pinching Abidal to the inside. Maxwell has been outstanding this year, perhaps playing the best soccer for Barcelona since he joined them. Alves is Alves. But at same time, these are the types of matches that, no matter how good Mascherano has been playing and mimicking Puyol, you need the real thing. If he doesn't play, it'll force Gerard Pique to be a little more cautious. That's a problem for Barcelona. You listen to [assistant coach] Tito Vilanova, who says Pique is the key to the Barcelona side for his ability to be a rock in defense, to have those passes that Rafael Marquez used to be known for, and also for his ability to take the ball upfield. Barcelona's creativity starts with Gerard Pique.
With Barcelona dropping points, Pep Guardiola's side has more pressure on it this time around, whereas Real Madrid could put a firm hand around the La Liga title. How do you see this going?
This weekend is such a culmination of possibilities. If Barcelona loses, they will find themselves arguably nine points back (Real Madrid has a game in hand, which you expect them to win). That would be three games. Even if Barcelona won the return match at Camp Nou, that's only chopping off three points. The question is, does this Mourinho squad stumble two or three more times down the stretch? On the other hand, if Real Madrid loses, it's down to three points and Barcelona has the home match coming up, so all of a sudden even though Real will still be first in the table, the momentum switches.
To the question you brought up: Will Real stumble down the stretch?
I don't think it's going to be lights out for Barcelona [in the league] if Real wins [on Saturday] because La Liga has too much quality, even some surprising teams like a Betis or a Levante at times, now a resurgent Athletic, Osasuna and Atletico. I think there are too many pitfalls for Real Madrid to be perfect for the rest of the way. But this is definitely one of those sliding-door moments in the season when Mourinho can start to close the door.
[+] Enlarge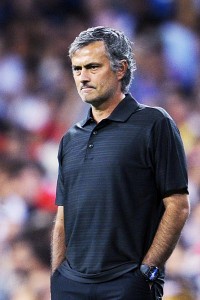 Pierre-Philippe Marcou/AFP/Getty ImagesThe master manipulator: Mourinho has Real Madrid cruising along, but will his team keep its cool on Saturday?
What has impressed you most about Mourinho's team this season?
What Mourinho has done is guide president Florentino Perez's efforts in a winning direction. They still have the star-studded moments, the new version of the Galacticos, but what he's done is go younger, go more position-specific with depth. And while Pep Guardiola is basically rotating players, trying to keep some players healthy and trying to give some kids a chance to prove they deserve more minutes, Mourinho is using the carrot and the stick -- as a reward to keep you in there, and as a threat that if you don't perform you'll be on the outside looking in, since he has so much depth with the likes of Fabio Coentrao, Kaka, Gonzalo Higuain and Nuri Sahin. All the pieces of the puzzle appear to fit, but we'll find out if that's an illusion on Saturday.
That's a key question, isn't it? Real has looked superb this season. Yet watching the testiness of its match against Sporting Gijon this past weekend, with Jose Maria Callejon getting a yellow card from the bench and a fitness coach being sent to the stands, the fire is there below the surface. Players like Pepe, Marcelo -- can they keep their cool when tested by Barcelona's wily ways?
We saw what happened in the Supercup. For all the prettiness and mastery we're seeing from Real Madrid, they were pretty much forced to go to back-alley [tactics]. Do they do that again? Remember Alfredo Di Stefano saying it was anti-football? And he wasn't the only one. But Jose Mourinho couldn't care about what others think.
We'll know after the first five or 10 minutes how this game is going to progress, and if it's a battle of attrition or a showcase for the ages.
I think Pepe has matured tremendously to the point where he's arguably the best defender on the planet; if not, it might be Pique. Marcelo is arguably the best left back. But you're looking at two key players for Real Madrid just one touch away from getting a red card or surrendering a penalty. They've matured, but they haven't really been tested as they will in this match. I have a feeling that Mourinho, being the master manipulator, realizes this and won't try to wind them up as much as you might in a one-match, win-all situation.
And I don't think we're going to see situations like Busquets doing his best Brad Pitt impressions. As we've seen a few times this season, Busquets is getting a bit of a reputation [for diving]. He has gotten fouled but Barcelona isn't getting the calls. So hopefully he's learned a little bit.
I really hope it's all down to the play on the field, so we can all just enjoy the majesty.
Where do you see the key tactical battles taking place?
If it's Alvaro Arbeloa and not Sergio Ramos on the right-hand side, how will Barcelona try to exploit that? I think it's important that they expose that flank a bit through Alexis Sanchez or David Villa, and through Maxwell or Eric Abidal -- whoever it is on that side -- basically used to keep Di Maria in check. So many times you go into a match to try to shut down Di Maria, you blink and next thing you know he's in the box getting ready to cross or, as he did this past weekend, he sneaks in a shot. That whole flank is where this match will be won or lost.
Sanchez has returned from injury and has looked great for Barcelona, whereas Villa has struggled a bit -- five league goals so far -- so Guardiola may have a choice there. Isaac Cuenca, though young, has been a revelation. How do you see things lining up?
Every time you think you have Pep Guardiola nailed down, he'll do something to surprise you. If he goes out there with 10 midfielders, they'd still have a good chance of getting it done.
Villa started well enough for Barcelona when he first arrived, but on the goal-scoring side of things, he seems to have hit a rough patch. He's scoring for Spain, but Spain plays a slightly different system, more of a Real Madrid 4-4-2 instead of the 4-3-3 of Barcelona. He has a slightly different role with Spain where he seems more comfortable.
So Barcelona went out and got the best player in Serie A, Sanchez, who can fit in with the Barcelona system. At the same time, he can lower his head and sprint toward goal. When he went down injured earlier this season, I think that really put a crimp in Guardiola's plans. But now he's healthy right before the biggest club game of his career. I sense Sanchez will start, with Villa on the bench. But I'm not sure Guardiola will start Cuenca. Although he's gotten a lot more time than some of the other youngsters in recent memory, I feel we'll see Cuenca and Thiago and some of those guys on the bench, with Pedro, who's more of a support player, in there.
OK, last -- and easiest -- question: Which team will win?
I wouldn't be surprised if it ended in a draw. I don't think Real Madrid in my lifetime has had as good of a team as they do right now. I think you have to go back to the 1950s before you even come close. But Barcelona seems to have Real Madrid's number, and it'll be interesting to see if they can keep it. If Barcelona is healthy, Puyol is out there, I think they can come away with a draw. If not, and Real scores early, this could get ugly. But I think there will be a feeling-out period in this match, Barcelona will maintain most of the possession and … I'll go with a 1-1 draw.