United crashes out of Europe
December, 7, 2011
12/07/11
4:28
PM ET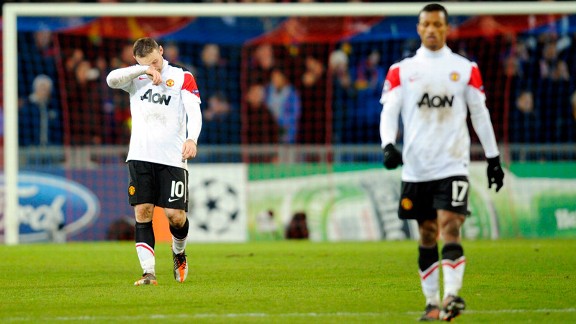 Valeriano Di Domenico/Getty ImagesAll Manchester United needed was a draw. But the Red Devils spectacularly crashed out of the Champions League group stage after losing to Basel 2-1.
In the buildup to United's Champions League clash against Basel, the conventional wisdom was that the Red Devils would do the business. Basel couldn't win the match and send the England giant out of the competition, right? United needed a draw, after all, to advance to the knockout stages -- a most attainable goal. The Swiss even said before the first whistle that United was taking its opponent lightly. That probably wasn't the case, given the way Sir Alex Ferguson's side came out and attacked in the first half, but the result can't be that surprising, can it? Not after a sluggish, sloppy and somnolent campaign that will be remembered for defensive gaffes, mental lapses and only two wins in the group stage, home and away, against Otelul Galati.
And so it was that Ferguson's side went crashing out of the group stage of the European Cup for the first time since 2005-06, when it finished dead last with six points behind Villarreal, Benfica and Lille.
United dominated the first five or so minutes, maintaining possession, before the players again were found lacking in defense. A lack of communication saw Chris Smalling collide with Nemanja Vidic and hit the pitch. United players around them, including Phil Jones, were slow to react to get into the box to help out. Then, inexplicably, David De Gea seemed to forget that he is allowed to use his hands (that's what the gloves are for, David) and attempted to clear the ball with his foot, a feeble attempt that Marco Streller volleyed past a ball-watching Patrice Evra and into the net in the ninth minute. (Vidic would later go off with a knee injury, an ominous sign that darker days are ahead for his team's defense.)
From there, the teams settled into a pattern that was at once effective for Basel and frustrating for United. Ferguson's players pressed, trying to use their width in Ashley Young, Park Ji-Sung and Nani to fling in crosses. When Basel lost possession, it retreated into the box, forming two banks of players to clog the middle and forcing United to swing balls into the crowded middle. The visitors almost had a breakthrough, their best chance coming in the 30th minute when Nani -- United's best player along with Ryan Giggs on the night -- swung in a beautiful cross that both Wayne Rooney and Park contrived to butcher.
There were some other chances: Giggs played in Rooney in the 49th minute; Smalling also got the ball to Rooney leading the line in the 72nd minute but was called offside on his attempted header. Basel, meanwhile, defended well, with one exception: Markus Steinhofer volleyed another Nani cross that smashed against his own crossbar, a "miss" that would have been one of the more emphatically spectacular own goals you'd have ever seen. Instead, Basel escaped and even came close to scoring after Jones, deployed in midfield, gave away a foul and free kick about 20 yards out in the 54th minute. Alexander Frei blasted a free kick, and De Gea redeemed himself by tipping the swerving rocket over the crossbar.
Throughout the second half, United tried to attack in a game reminiscent of its futile efforts and bad luck against Newcastle -- the ball just wouldn't go in. Commentator Steve McClaren chirped on about how this "wasn't classic United," clearly demonstrating that he hasn't seen much of Ferguson's side this season, especially in Europe.
Remember, this is the same team that went up 2-0 against Basel at Old Trafford before conceding three goals -- two to Alex Frei and one to Fabian Frei -- that left United's defense in a shambolic state. Only Young's stoppage-time heroics saved a draw.
This is the same side that went ahead 2-1 against Benfica only to give the goal back seconds later when an ill-advised back pass by Jones and De Gea, then passing the ball to Bruno Cesar, combined to see a shot bounce off Rio Ferdinand and drop to the feet of Pablo Aimar, who made no mistake. Then there's been Ferdinand throughout the season, a player whose mind still might be able but whose body has betrayed him -- and the former beast of a central defender has yet to crack the code on how to adjust his game. He might never.
Basel showed a lot of spirit in this game -- Xherdan Shaqiri was immense in the middle of the park and drifting off to the wing for the crosses that created both goals, linking play. Even when they could have stopped attacking, the Swiss charged ahead in the second half, eventually getting the killer second goal in the 84th minute. No surprise that it was Frei damning United again. Shaqiri put in a terrific cross that bounced in the penalty area. Smalling failed to spot the danger and close down space, and Alexander Frei headed the ball from 2 yards out.
Ferguson, who brought on two strikers in Federico Macheda and Danny Welbeck to try to get back into the game, could only rue the chances his side squandered. Jones did get one goal back in the 89th minute after a goal-line scramble on the back of a concentrated spell of pressure, but the magic of United, which McClaren started conjuring in the dying seconds, wasn't enough to tie the game and stave off elimination in the Champions League.
Now United must concentrate on its domestic campaign, where it's five points adrift of Manchester City -- also eliminated from Europe on Wednesday -- and the purgatory that is the Europa League. Ferguson's season is in tatters, no doubt, with an ominous FA Cup third-round match against City in January. So it could get worse before it gets better. What went wrong? Defensive mistakes: check. Failure to score enough goals also played a big part. The Red Devils have tallied one goal in their past four matches and six times in their past seven. One goal was enough for three wins and a draw. But it wasn't enough against Crystal Palace. And it wasn't enough against Basel.
Ferguson is a master at rejuvenating sides, so if history is any indication, this poor run of form is a mere blip for his team. But it's an increasingly tough one to watch.