The Premier League's real crisis team
December, 14, 2011
12/14/11
2:47
PM ET
[+] Enlarge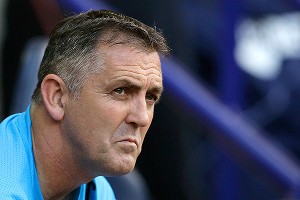 AP Photo/Jon SuperThe thousand-yard stare: Owen Coyle has limited options to save Bolton from relegation this season.
The word "crisis" gets thrown around far too liberally in football. Since the beginning of the season, at least a half-dozen clubs have been at the height of hysteria, one loss away from imploding like the Death Star. Or so we were told. Arsenal kicked it off, followed by the likes of Chelsea and United. In the less rarefied air, teams such as Wigan and Blackburn have gotten plenty of bad publicity, and rightly so, for poor results and managers seemingly out of their depth. But if you want to see a team that is in a real crisis, one for which the fans should be hitting the panic button, look no farther than Bolton Wanderers.
This is a side on a slippery slope to relegation. Check out some of the numbers -- and be forewarned, if you're squeamish when presented with gory statistics, please, turn away.
Owen Coyle's side has lost its past four Premier League games, and six of its past eight. Lowlights so far this season include a 5-0 loss at home to Manchester United and 3-0 away defeats at Arsenal and Spurs. At one point, Bolton dropped six matches on the trot. Overall, the bottom-of-the-table team has three wins, zero draws and 12 losses for nine points and a goal difference of minus-16.
Bolton's home form has been particularly poor, with performances that reflect a dispirited team low on confidence and endeavor. One sore spot is in the middle of the pitch, where Coyle's midfielders rank second in failed passes and rank first (surely the only time they'll be No. 1 in anything this season) in failed aerial challenges and failed tackles.
Beyond the numbers, it's the manner in which Coyle's men are dropping points. This past weekend, they managed to do the unthinkable: allow an Alex McLeish team, in this case Aston Villa, to boss the match for long spells, primarily because Bolton failed to press on defense and show any belief in front of goal. There were occasional bright spots in the second half, including the combination play of Ivan Klasnic and Tuncay Sanli up top and Chris Eagles out on the right side of midfield, but overall the side was lost. Playing a high line that allowed Villa to get in behind time and again without any course correction boggled the mind. Was Coyle not watching the same match as the home supporters? Then again, where was the marking in and around the box? Even the game's only Bolton goal, by Klasnic, came after he could have been called for handball, but even the Villa players didn't try to kick a team while it was down.
[+] Enlarge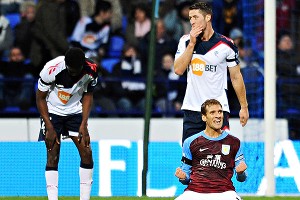 Chris Brunskill/Getty ImagesVilla's Stiliyan Petrov celebrates scoring as Bolton's Gary Cahill looks on in disbelief.
Remember, Bolton was an on-the-rise side when Coyle came to town from Burnley with the mission of trying to move the team away from the Route One approach of his predecessors, Sam Allardyce and Gary Megson. And last season's performances were encouraging. Forward Johan Elmander's game was revitalized under Coyle, and Martin Petrov and Lee Chung-Yong were providing pace and width from the midfield.
Bolton finished last season 14th, with 46 points. This time last year, it already had 23 points. That means Coyle has 14 games left to earn 37 points to equal the haul from 2010-11. Frankly, the 45-year-old manager, who doesn't drink and never has, will be lucky to reach 30 points.
The slide began at the end of the last season, when Bolton lost its final five games. Since then, injuries and player departures have conspired to send the team into freefall. You can imagine what Coyle must think when he hears talk of "crisis" at the bigger clubs. Crisis? The manager, who has seen his once-promising reputation plummet, knows crisis.
During the summer, Elmander went to Galatasaray, Matt Taylor to West Ham and Ali Al-Habsi to Wigan. Lee broke his leg at the beginning of the season and probably won't return before May, while Stuart Holden has yet to recover from the horror tackle he suffered last season at the feet of United's Jonny Evans. And if any player is asked to play right back for Coyle, he should run far, far away -- the position seems oddly jinxed, with new arrival from Burnley Tyrone Mears breaking his leg in August, less than a week after joining the club, and fullback Sam Ricketts still recovering from an injury from February. David Wheater has been an emergency fill-in for the position, but he's serving a suspension for his straight red card for a challenge on Diniyar Bilyaletdinov and isn't due back until Dec. 26.
Meanwhile, midfielder Nigel Reo-Coker is out with a hamstring injury (due back Dec. 17) and Klasnic, the club's leading goal-scorer with seven, limped off the pitch against Villa with a knee injury. Coyle also has lost key loan players, including Chelsea's Daniel Sturridge, who contributed eight goals in 12 games last season.
Yet strangely, there haven't been the same cries for blood to sack Coyle as there have been for, say, Blackburn's Steve Kean. No planes flying over the Reebok. No riled-up fans with placards demanding his ouster, though the rumblings have begun. Even Soccernet's Bolton blog has given up hope, for the time being, with the most recent post in October by blogger Neil McSkimming announcing the writer's strike of sorts. "I have a proclivity toward ignoring the grim, and this is exactly the tried and tested method I'm sticking to during this loathsome period, I shall simply assume that eventually our poor run will just disappear …" he wrote.
It won't.
Coyle has spoken about the next five key fixtures for his club: Fulham and Blackburn away and defensively shattered Newcastle and Wolves at home and Everton away. If Coyle fails to pick up any points in these matches, he faces a triple-barrel execution in the form of United, Liverpool and Arsenal. If that isn't enough to drive him to drink, nothing will.
Poor Bent
Among players who have appeared in 14 matches, Darren Bent has the second-fewest touches in the EPL, with 469. He is still ahead of the low man, Grant Holt (447), but Holt has mostly come off the bench, while Bent has been a starter in all 14 matches. If Villa doesn't want to get sucked back down in the relegation battle, with McLeish basement-dwelling with Coyle, it must find a way to improve the link play between midfield and up top.
[+] Enlarge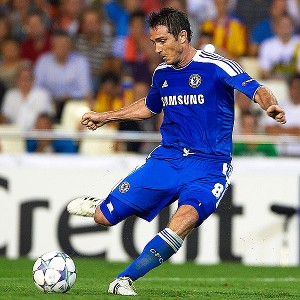 Manuel Queimadelos Alonso/Getty ImagesDespite his protests of being benched, Frank Lampard has started 12 league games this season.
Lampard lights the way?
Frank Lampard says he wants to be a regular starter again for Chelsea and doesn't understand why Andre Villas-Boas hasn't given him an explanation as to why he has found himself riding the pine. It's an odious sense of entitlement that we also see from his teammate, Mr. Chelsea, John Terry. To hear Lampard tell it, you'd think he hadn't started a single match, when he has started 12 of 15 EPL games and been used as a substitute in two others, and he started half of Chelsea's group-stage Champions League matches. Funny how the facts can get in the way of a good story.
Lampard's pronouncement that he's going nowhere is yet another warning sign for the young AVB that the veteran players do not like change at Stamford Bridge and are still struggling to accept that Villas-Boas is reinventing the side. It's a power struggle, make no mistake, and one that Villas-Boas will need to win for the long-term good of the club. There are exciting things going on at Chelsea -- Juan Mata has been brilliant; Sturridge has provided plenty of energy down the right, if he is at times too keen on taking shots from poor angles; and Oriol Romeu has already settled into the holding midfield role. For AVB's vision to be fully realized, he must stick to his guns in using the 33-year-old Lampard where and when it makes the most sense for the team -- or send him packing, much the way Fernando Torres is rumored to be for sale for 20 million pounds.
In the end, with Chelsea closing the gap to seven points with Manchester City, it will be fascinating to see if Villas-Boas can succeed, or if Stamford Bridge will once again go back to being run by the inmates.