Law and disorder in the Prem
January, 5, 2012
01/05/12
7:22
PM ET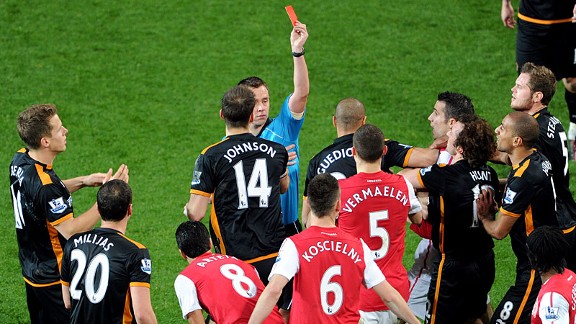 David Price/Getty ImagesThere's been plenty of controversy in the Prem this season, including Stuart Attwell sending off Nenad Milijas, so we decided to get ex-referee Graham Poll's take on the state of officiating.
If there's one thing the Premier League hasn't lacked this season, it's controversy. Whether it's Yohan Cabaye and Frank Lampard getting away with leg-breaking-type tackles, or players like Joey Barton tweeting up a storm about favoritism among the men in black, poor and inconsistent refereeing appears to be a growing concern. To get an expert take on recent developments, we rang up ex-Premier League referee Graham Poll. With his officiating experience -- he presided over 329 Premier League matches and represented England at two World Cups and a European championship, as well as authoring two books, "Seeing Red" and "Geoff Hurst, the Hand of God and the Biggest Rows in World Football" -- Poll didn't mince his words.
There's complaining every season about bad or inconsistent calls, that refs are trying to take tackling out of the game -- but it seems to have reached a fever pitch of late. What's your take on the state of officiating this season now that we're at the halfway mark?
Graham Poll: To be fair, it's been disappointing. There is more analysis [available to fans and the media] than ever before, and once one or two decisions go wrong, the scrutiny becomes ever greater. Every mistake gets highlighted, which makes it appear worse than it really is. Having said that, [the officiating] is rather disappointing. There have been too many decisions that have been wrong and have appeared to affect the outcome of matches. That, I think, is what is starting to concern people.
To what do you attribute to this? Bad luck, referees out of position?
GP: Well, I've always said that you have runs of games where nothing seems to go wrong, and then you have a run of games where nothing seems to go right. We can all make one wrong call. That's acceptable. You're a human being.
Take our top referee here -- World Cup final referee, Champions League final referee, Howard Webb. He made a call up at Sunderland against Everton, giving a penalty late on, when the player, Leon Osman, actually caught his toe in the ground and fell over. And Howard gave the penalty. We look back in slow motion and we go, "OK, it's obviously not a penalty, there was no contact by Lee Cattermole from behind." But at full speed, the way [Osman] goes down, it looks like he's been contacted. So you go, "Well, fair enough, Howard was in a reasonable position and made a mistake, but he's a great referee."
You then look at the game with Newcastle and Manchester United and there's a penalty which Webb hasn't given after Rio Ferdinand tangles with Demba Ba. And you start to go, "Now that's two penalty decisions within 10 days of each other -- that's not right." I used to believe that one mistake is understandable, two becomes a little bit worrying, and three is too many. You start to go, "There's a trend here, and I've got to get things right in the future."
Lee Probert did the same. He missed a clear penalty at Swansea, against QPR, for Swansea … and he missed another one at Fulham against Arsenal.
These penalty decisions seem to be very difficult for referees at the moment. What they're not doing, for me -- and I still talk to a lot of the guys -- is even acknowledging there's a problem, because if you're ever going to cure a problem, you have to acknowledge there is one first. … There's a bit of a siege mentality going on, where they're going, "The media are picking on us, but hopefully they'll go away. If we just hunker down, we'll ride out the storm and we'll be fine." But it won't be fine. If you keep making these mistakes, the pressure will keep building, and that makes your officiating on the pitch more difficult. Because that pressure does permeate through your defenses.
The players don't make life easy on referees, though.
GP: That's the other thing we have to take into account -- the actions of players make referees' decisions far more difficult than it was five and 10 years ago. You look at a big, strong athlete like Yaya Toure, who can burst through tackles, knock people over for fun. And this superb athlete finds himself moving into a penalty area at Liverpool and the faintest of touches causes him to go down. And you think, "Well, hang on, this is a guy in midfield who drives through people like a tank, yet when he's in the box and someone barely touches him, he falls over." That becomes a very difficult call -- is that a penalty, is that not a penalty? Then add to that, "If I give a penalty, I should be sending the opponent off." That is a massive, massive call.
[+] Enlarge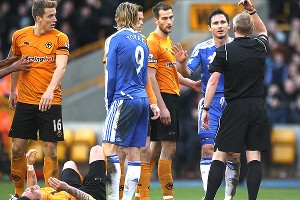 Press Association/AP ImagesEven Frank Lampard admitted he was lucky to not be sent off against Wolves.
Is the only way to stamp out simulation by issuing more yellow cards?
GP: Well, it would be but if you actually go down the technical side of the law, it says that when there is contact and it's not fair contact, it's a foul, however minor. So that touch on Yaya Toure -- which was an illegal touch, because the guy has put his arm on his shoulder -- was a foul and a penalty, if you want to go on pure law. But then, as part of your first question, you take physical contact and tackling out of the game -- that's your problem.
What's happened over the years is that FIFA or the IFAB, International Football Association Board, who are lawmakers, have become more and more proscriptive in order to try and get consistency, so they say, "If X happens, you must do Y," and that takes away discretion from a referee, and that's what you need to have -- an understanding of the nuances of the game. Sometimes, there's contact outside the penalty area which, because the game is getting out of control, you give a little free kick for. The same contact in the penalty area isn't a penalty kick. But some people go, "No, that's wrong. If there's contact and it's a free kick wherever it is on the pitch, whatever the score, whatever the teams, it's a foul, a foul, a foul." But trust me, if you did that, the game as we know it would be over. It would be so stop-start people will stop watching.
On another topic: Yohan Cabaye commits a leg-breaking tackle on Jay Spearing and there's no call. Frank Lampard only gets a yellow for a terrible tackle on Wolves' Adam Hammill. What's a red card these days?
GP: I have no idea, just like the managers and players don't. Some of these decisions are mind-blowing. The [Nenad] Milijas one shouldn't have been a red card. I can understand, as I think [Wolves manager] Mick McCarthy can, that the referee, Stuart Attwell -- when viewing the play at full speed, under pressure, in a big stadium with a massive crowd -- got the call wrong, seeing the tackle as a more severe challenge than it was and therefore sending Milijas off.
[+] Enlarge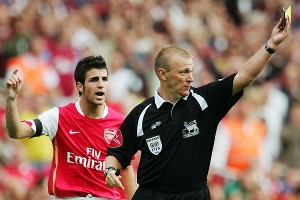 Phil Cole/Getty ImagesGraham Poll was no stranger to making tough decisions in a career that spanned 27 years.
Then, as you say, you compare Frank Lampard's challenge, and he isn't sent off, that's crazy. The lawmakers say that because the referees saw it and took action, giving a yellow card, we cannot upgrade that to a red card and ban Lampard for three matches. That, to me, is crazy; that's the bit you look at and think, "This game of football that we love is wrong because there doesn't seem to be a sense of natural justice."
Andre Villas-Boas talked about this and said the referee took into account Lampard's character, and Joey Barton has been making this case -- incessantly, unfortunately -- on Twitter that referees are making decisions based on the character of the player, rather than the act itself. Barton has a point, no?
GP: It shouldn't happen. Of course, you should view situations on their merits and say, "That's a red card and I'm going to send the player off." But what you've got to take into account is the human nature of people. I'm not defending it -- it was a red card and he should have been sent off, no question -- but Lampard has been very clever. Because he's genuinely a very nice guy (even though that shouldn't matter) his actions after the foul helped him. He immediately checked on the welfare of the opponent, apologized to the referee, stood there to accept his punishment. He didn't mean any damage -- though, again, intent doesn't matter, it's what you actually do, not what you mean to do -- but his actions helped him.
He was lucky in the referee he had, because Peter Walton is one of the understanding or tolerant referees. Another referee, a Mike Dean, a Howard Webb, a Phil Dowd, I don't think would have hesitated in sending him off.
Do you hold out hope that the FA will eventually allow for appeals even if a yellow card has been issued during a match, instead of saying its hands are tied?
GP: You have to hope, because it's the most sensible thing to happen. You want to see some natural justice. Otherwise, you're left with this feeling that there's favoritism going on. … [As a referee] you try to treat all players the same, because you should -- and the law insists that you are -- but in reality, if you look at the stats, they tend to suggest that while referees try and do that, they don't always succeed. So the bigger-named players at the bigger clubs tend to get the benefit of the doubt.
Like Robin van Persie, if you take Neil Warnock's view.
GP: That's Neil for you. He was saying that in that game there were six or seven clear fouls that van Persie committed that weren't given. So you're saying all four match officials chose to ignore six or seven fouls by one player -- that doesn't make sense. It's just another manager using something to hide his own team's inadequacies.