No way out for Jose Mourinho
January, 24, 2012
01/24/12
4:20
PM ET
[+] Enlarge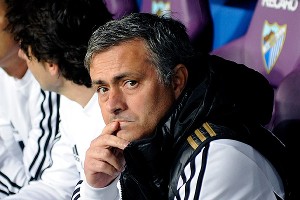 Cristina Quicler/AFP/Getty ImagesJose Mourinho might not defeat Barcelona head-to-head, but Real Madrid is still the favorite to win La Liga.
The ever-profound Karl Pilkington spoke about happiness during the premier episode of "An Idiot Abroad 2" this past week. The "round-headed buffoon," as Ricky Gervais affectionately calls his colleague, waxed philosophical on a near-deserted island. "Happiness is like a cake," he said. "Have too much of it, you get sick of it."
It's precisely that feeling that seemed to pervade football last week. Before the Copa del Rey quarterfinal first-leg between Real Madrid and Barcelona, news spread of "Clasico fatigue," an insidious illness that drains your desire to watch two of the best teams in the world face off, presumably because they've done so too many times in the past year.
But then, per usual, La Liga's giants put on a memorable display of passing and pyrotechnics. Really, would people rather be watching Stoke on a rainy Wednesday night? One person who wouldn't is GOL TV's Ray Hudson, who stopped by to chat about the return at Camp Nou, which Barcelona leads by a 2-1 aggregate score. (You can watch it on ESPN3 starting at 4 p.m. ET.)
Before we get into Wednesday's Clasico at Camp Nou, let's briefly revisit the Pepe issue. What does Mourninho and Real Madrid do with the player going forward?
Ray Hudson: Even a blind man on a galloping horse through a thick fog could see that what Pepe did was intentional. … For me, it would be "off with his head." And remember, this isn't a one-time thing; this has happened before with Pepe.
You've also got to remember that this isn't just any club that can tolerate the antics or stupidity of a particular player. That [bad behavior] happens at every club, but this is Real Madrid. They have one of the most prestigious club names in the world. Added to the fact that their reputation has been tarnished in a multitude of ways up to this point, then you throw onto the fire that Pepe has this reputation of having these flashpoints, and then you add in the ingredient of his coach, who is his countryman, and it's a very, very difficult set of circumstances for the Real Madrid hierarchy to address.
What's going on with Real's players? Against Barcelona, they have proven that they can come out guns blazing. Then Barcelona gets back into the game, scores the go-ahead goal and Mourinho's men lose their minds. Every minor foul becomes an epic argument or controversy.
RH: It's an ongoing nightmare for Real Madrid. They've tried everything. They've tried leaning on the referees. They've tried stating that Barcelona are cheats. There's been hue and cry over every little situation where Barcelona's got the benefit. Real Madrid have tried all sorts of formations. They've thrown the kitchen sink, the refrigerator and every other appliance you can think of at them, and Barcelona is still standing tall. Mourinho has mixed up his team, played defensive situations and attacking situations differently. They've taken the lead twice against Barca -- at home, at the Bernabeu. They got the crowd into it. [Last week], they were giving out the white flags before the game. They should have saved them for the end of the game, of course, but that's another story.
Real were playing brilliantly coming into the game. Barcelona were on the other side of the spectrum, not playing too well. But when it's Armageddon time, and it's the Clasico, Barcelona toy with Real Madrid. Truly, they came back and dominated that game. After the first 25 minutes I thought Real Madrid had found the formula. Barcelona had been playing confidently, but they couldn't contain Cristiano Ronaldo, and that came down to a goalkeeping error. After that, Pinto barely got tested.
So where do Real turn now?
RH: I haven't got a clue. And I'm sure Mourinho doesn't. Real Madrid has tried kicking them off the field, they've tried the intimidation, they have been vicious -- remember that tackle Marcelo put in against Cesc Fabregas -- and still Barcelona rise above them. It's intriguing stuff, and now the Pepe situation has added more vitriol to it all. You just hope someone isn't going to get hurt -- I mean, really hurt.
Then there's Barca, struggling against the likes of Betis and Espanyol, yet playing the role of world-beater against Madrid.
RH: Against Barcelona, both Betis and Espaynol came out with a real aggression -- they played a high line, pushed the defense, crowded the midfield with numbers, taking players from the back into the midfield and running the risk of leaving that space behind them to be exploited. And when they did get possession, because of the complete suffocation of the midfield they had the numbers in attack to trouble Barcelona. I think that was the intention of Real Madrid going in, and it did work for a good part of the game. But Barcelona came back -- it shows the character of the team. You don't think this beautiful spider's web of football should hang together, but it does.
I picked Real Madrid to win La Liga at the start of the season. I don't think Barcelona can maintain this operatic high note. They're going to drop their guard, and that's what's happened. And they've done it in the same way Real Madrid did it last year where they dropped points against the lesser teams. Now with the calamity they suffered against Barcelona yet again, Real's intention of winning La Liga will be even stronger.
So you're sticking with your pick?
RH: I am. I say that with a big apple in my throat, because it wouldn't surprise anyone if this Barcelona team came back and won the league. But they've got bigger fish to fry. They want to crown themselves kings of Europe again and put to rest these small, bickering arguments that they might be the greatest club team in the world. For me, they are.
Much has been made about Barcelona not having a Plan B when its possession-based game doesn't work, but we've seen some diversity with Alexis Sanchez, who allows the team to play more directly. He linked up brilliantly with Fabregas last week and yet he still fits into the system unlike, say, Zlatan Ibrahimovic.
"

We should call them Barca-Lego -- because no matter how you put it together, it's still going to work.

"

-- Ray Hudson
RH: It's a wonderful variation on Barcelona's main theme, which is -- and always will be -- possession. But the late-arriving runs of Fabregas are tough to contain, especially when combined with the jack-rabbit pace of Alexis. He's got that wonderful directness to him. And I think Guardiola knew he needed that. Teams started to try and figure out what this elusive equation is to beat Barcelona, and even if they didn't quite crack the code, they were getting closer.
Sanchez can play pretty much anywhere up front.
RH: He's just like all of them, really. We should call them Barca-Lego -- because no matter how you put it together, it's still going to work.
But the ranks are thin. That's another aspect. How the hell has this team won with such a small squad? If you do any research and you look at the size of teams' squads -- especially the Italian teams, AC and Inter -- and it's like 50 players to choose from. But come to Barcelona, it's such a small group. It never ceases to amaze me. When it was 1-1 [last week], you look at the bench. They're little cherubs waiting to get into the game. They're not wrecking machines, but young bucks from the academy. Barcelona have always done it their way, they always will.
Quite in contrast to the EPL, where there's so much talk about squad rotation. Yet when it comes to Barcelona, you rarely get a surprise when the starting XI is announced. There's some rotation, but it's minimal.
RH: Absolutely, you're dead right. And let's talk about the greatest player on God's green earth, because you can never get tired of talking about him. When is the last time Messi got substituted? [Editor's note: Messi has started every La Liga game so far this season without being substituted; click here for a closer look at his appearances.] When Barcelona are four, five, six goals up, Pep keeps Messi in the game. He comes back from World Cup trips from Argentina on a Wednesday, and on a Saturday afternoon, he's playing.
So what's your call for the return leg at Camp Nou?
[+] Enlarge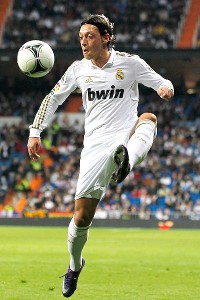 Angel Martinez/Getty ImagesWill Mesut Ozil, one of Real's most creative players, get the start at Camp Nou?
RH: I thought Mourinho got so much wrong as that game went on against Barcelona. He should have brought in Mesut Ozil -- who I absolutely adore as a player -- from the get-go, where Ozil can get into a rhythm of a game and dictate play. Marcelo is another one I would have loved to have seen Real Madrid play in that situation.
I think this time, Mourinho may go hell for leather, just damn the torpedoes and play the most attacking team he can. I'd think Marcelo will be in. But what the hell has happen to Nuri Sahin this season? Best player in the Bundesliga last season, big signing for Real Madrid, and he hasn't had the lickings of a dog for Real Madrid. Where he is? They desperately miss Angel Di Maria, a player who wasn't getting the full credit he deserves from the Madrid press. But once he's not there, it's very obvious.
But no matter what Mourinho does, it seems he's up against a brick wall. He needs luck. I don't think it's beyond Real Madrid, I truly don't, and I think they're capable, but they will need monumental performances again from the likes of Ronaldo and Karim Benzema. Remember that header Benzema missed in the first leg? They can't afford those types of misses again.
Would be great to see Ozil play. Mourinho seems to treat him with kid gloves, taking him off the field early if he starts, or resting him until later in a game. It's a bit perplexing given his talents.
RH: I agree, Ozil is a very subtle and shrewd architect. But you'll never get the impact of a player like that as a substitute. As critical of Kaka as I've been since he got to Real Madrid, he's the type I'd have brought off the bench last week given his experience and talent. That's the situation with Ozil: Mourinho has got to start him so he can integrate with Xabi Alonso and whomever else, whether it's Lassana Diarra or Fabio Coentrao. Any of those players will fit into a combative midfield for Real Madrid.
So now it's down to Mourinho to come up with another formula. Poor guy. There's no way out for him. The only way for him to come clean is to beat Barcelona. He hasn't been able to do it one-on-one, so he's trying to do it in a larger context by beating up on the lesser teams to win the league. If he lifts the La Liga title, he will have achieved something that hasn't been done in a long, long time and they'll love him for that.