Liverpool lands sucker punch vs. United
January, 28, 2012
01/28/12
10:20
AM ET
[+] Enlarge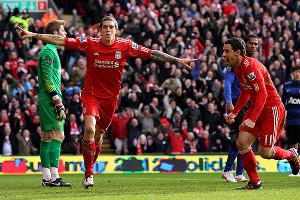 Alex Livesey/Getty ImagesDaniel Agger celebrates after heading home Liverpool's first goal.
Tensions were high heading into Saturday's Liverpool-United FA Cup fourth-round clash. Supporters and players called for calm in the first meeting between the two sides since the ugly incident between Luis Suarez and Patrice Evra. Suarez was in the stands, looking prim and proper in a tie, while Evra was on the pitch, his every touch greeted by a chorus of boos. That said, the warnings seemed to have worked: In a matchup that has seen seven red cards in the past 11 meetings, referee Mark Halsey only brandished one card, a yellow to right back Rafael de Silva.
But this isn't to say that the game failed to live up to its billing. On the contrary, it was a pulsating 90 minutes of parry and thrust, of full-bodied English football high on energy, if not the most technically brilliant display you'll ever see. Manchester United dominated most of the match with 62 percent possession, but it was the simplest of long balls that turned the tide at the end, giving Liverpool a 2-1 win over its archrival and sending the Reds into the FA Cup fifth round. United has only lost two of its past 17 FA Cup matches away from home -- and guess where? Anfield, where the Reds remain undefeated this season.
When the starting lineups were announced, United fans were no doubt interested to see the return of David De Gea in goal. After all, there were suggestions that the Spanish player needed surgery to correct a condition in one of his eyes that affects his long-range vision. But after conceding the first goal off a set piece in the 21st minute, it was plain to see that what really ails the keeper is a lack of backbone, as De Gea turned in another anxious performance. With Andy Carroll and Martin Kelly in front of him, and Jonny Evans and Antonio Valencia on each side, De Gea was completely boxed out. It was like watching a scene from "Diary of a Wimpy Kid," with the keeper jumping up in the back so he wasn't completely invisible in the class picture. The ensuing free kick saw Daniel Agger time his header to perfection for the go-ahead goal. And while Michael Carrick was also complicit with his lack of covering, De Gea was completely overrun by the situation. He didn't barge out in front of the players; he was more spectator than participant.
[+] Enlarge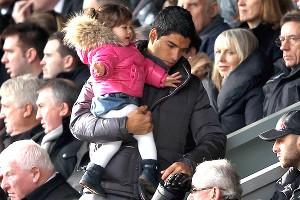 Alex Livesey/Getty ImagesLuis Suarez watched from the stands with his daughter Delfina. The striker will be available when the two teams meet in the league on Feb. 11.
In a bizarre scene, after the goal United's backup keeper, Anders Lindegaard, started to warm up on the touchline. Was that on Sir Alex Ferguson's orders, or was it Lindegaard's way of saying, "Hey, over here -- I'm better"? The Dane hasn't exactly covered himself in glory this season, but does seem to offer a more commanding presence.
There would be more shaky moments for De Gea, including failing to catch a cross from Charlie Adam in the 64th minute that led to a corner. He also was hesitant on a couple of back passes, including one in the 55th minute in which he stupidly turned the ball over to Stewart Downing all of a few yards away from the goalmouth. At one point, in the 68th minute, Carroll bumped into De Gea, who bobbled but ultimately held onto the ball, and the keeper then had words with the striker, as if the young Spaniard feels he shouldn't be so much as brushed up against in the crucible of competition. Until De Gea learns to control his area, and to give as well as he receives, United will continue to be vulnerable at the back.
Liverpool, however, gave up control of the match shortly after the first goal, with Paul Scholes sitting deep and distributing passes with efficiency and vision. Indeed, those who mocked Ferguson's decision to bring the "old man" out of retirement could only marvel as he helped United control the midfield. In the first half alone, Scholes made 75 passes, completing 73 of them.
In the 39th minute, Rafael -- who had a terrific game on both sides of the ball -- made an excellent overlapping run to get on the end of a Valencia backheel. Jose Enrique made a poor challenge, and Rafael burst to the byline where he cut it back for Park Ji-Sung. The South Korean, always a man for the big occasion, thumped the ball past Pepe Reina at the near post.
Through all this, and well into the second half, Carroll was ineffective in the extreme, more albatross than aggressor -- his touches let him down, he failed to hold up play, his work rate was subpar and he was consistently beaten on headers by the likes of Evans and Chris Smalling. In other words, same old story.
But football isn't always a fair game, and while United fans will feel that their team didn't deserve to lose, it certainly got beaten by the most direct of plays. Reina hit a long ball and Carroll -- finally -- contributed in a significant way, flicking on a perfect header that landed at the feet of Dirk Kuyt, who had entered the fray in the 63rd minute. A consummate professional -- and a player who hasn't scored all season -- Kuyt never allows his intensity to waver. And so it was that he, too, had his best moment this season, beating De Gea at the near post.
Fingers won't be pointed at De Gea in this situation, but at Evra. The Frenchman, fresh off his player-of-the-match performance last week against Arsenal, had a subdued game. And it was his lack of covering for his center backs that allowed Liverpool to land the sucker punch.
Kenny Dalglish and Suarez were both rapturous in reaction after that bit of shock and awe left United reeling. Soon after, Carroll hit the crossbar with a header, and Kuyt had another chance as well.
We really can't say we learned anything new from this match. Liverpool continues to desperately need an out-and-out winger in the mold of Macca or, before him, John Barnes. And when Carroll is the lone striker, he fails to deliver pace and endeavor, though Dalglish's substitution of the always-up-for-it Craig Bellamy made a big difference. With Scholes going off and the Welshman coming on, Liverpool was able to control more of the match toward the end.
United, on the other hand, is fine out wide, as Valencia once again put in a strong shift, though it wasn't his best game by any stretch. The Red Devils were actually decent in their weakest spot, the middle of the pitch, thanks to Scholes, who looked absolutely shattered when he came off in the 76th minute. But long-term, Ferguson continues to look for solutions there. And on Saturday, his side also struggled in front of goal, with players often failing to link up with Danny Welbeck. On a few occasions, the striker would make a run behind the defense while the likes of Scholes and Carrick made passes that required Welbeck to stay put. Bringing on Chicharito late to help Welbeck didn't get United back in sync, either.
For now, Ferguson's faith in De Gea must be at an all-time low. He may be the team's keeper of the future, but it's the present that matters, with United trailing City by three points in the league. That and the Europa League are the only two competitions left for Ferguson to try to win.
As for Liverpool, critics may have thought the Reds would have an emotional letdown after defeating Manchester City in the Carling Cup on Wednesday to book their first appearance at Wembley in 16 years -- a result that left the normally stoic Dalglish holding back tears. But the manager's stinging criticism of his squad after an abject 3-1 loss to Bolton on Jan. 21 seems to have done the trick for now. In the meantime, we can wait for these two teams to meet again, on Feb. 11 at Old Trafford, when Suarez will be available and, in all likelihood, will be on the pitch instead of the bench.