Tale of the tape: City vs. United
February, 2, 2012
02/02/12
5:29
PM ET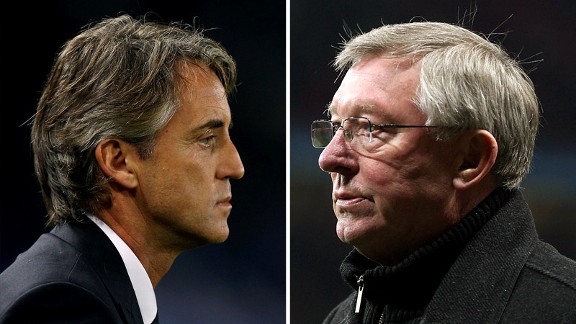 Getty ImagesRoberto Mancini and Alex Ferguson are both trying to close in on the Prem title. Who has the advantage?
Sometimes, you have to leave home to be fully appreciated. That's what we learned this week.
Toward the end of the Manchester United versus Stoke City tilt Tuesday, the Old Trafford faithful started to sing Darron Gibson's name. "There's only one Darron Gibson," the refrain went, as the delighted crowd relished the Irishman's goal from distance (can he hit them any other way?). It was his most famous tally for the United cause, one that could prove pivotal in the title race, and it came with Gibson wearing the blue of Merseyside. In the 60th minute, Gibson -- who left United for Everton only a couple of weeks ago -- lashed a shot past City keeper Joe Hart for the game's only goal. "There's only one Darron Gibson" indeed. This was the player who earlier in the season had to pull down his Twitter account in the first two hours because a vociferous faction of the United faithful decided to vent their frustrations over the 99 percent of those speculative shots that never found their mark.
But all was forgiven on a cold night up north. After the match, Sir Alex Ferguson was holding court on TV. He was asked about Gibson's goal. "All part of the plan," the manager said, unable to suppress a grin.
[+] Enlarge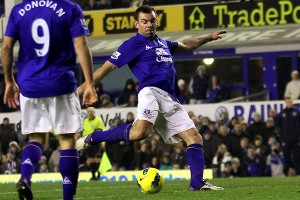 Cal Sport Media/AP ImagesDarron Gibson's long-range effort helped United draw even on points with City.
If this were a Hollywood script, critics would pan it for being hackneyed. But the moment was to be savored by United supporters and neutrals alike, because the league title race is well and truly back on as Ferguson's crew drew level on points with league leader Manchester City.
For all their talent, for all the talk that they would run away with the Prem title, the Sky Blues find themselves in a scrap. There are those who will tell you they knew it all along -- that Ferguson's side would be there, or thereabouts, right to the death. But many observers, even United fans, will tell you (if they're honest) that they tipped City to run away with the title. And, of course, Roberto Mancini's team may still finish atop the table.
It's still all to play for at this point, with City ahead on goal difference and 15 fixtures remaining. With pressure building for each side, when every kick of the ball (and opponent) will be under an unrelenting and unforgiving media microscope, let's take a look at how City and United stack up heading into the run-in.
Fixtures
Manchester United is in the middle of a tough run of matches. It defeated Arsenal 2-1 on Jan. 22 to kick it off, and on Sunday it faces Chelsea at Stamford Bridge. The Blues continue to cope with their own issues -- when Jose Bosingwa is the player salvaging a draw in stoppage time against Swansea, you know Andre Villas-Boas is still a country mile away from fine-tuning what he calls his "project" -- and have scored two goals in their past three league matches. Still, a trip to the Bridge is no guarantee of three points. After that, Wayne Rooney & Co. host Liverpool, which is enjoying its best string of results in a long time, including defeating United in the FA Cup last week. A clash at White Hart Lane on March 4 ends this particularly tough patch.
Manchester City, on the other hand, has a relatively easy time through this same period, with matches against Fulham at home, Aston Villa away, Blackburn at home, Bolton at home and Swansea away. If we've learned anything this season, we know that sides will stumble when you least expect it, but on paper City should bank maximum points, or close to it.
Timing could be key: After March 10, United's schedule eases up (again, on paper) and City's becomes more challenging. The Sky Blues host Chelsea on March 19, then travel to the bizarro world of the Britannia, where fouls are considered an art form and Peter Crouch is king. The Emirates beckons on April 7. (OK, based on Arsenal's latest display, Stoke may be the tougher challenge.)
As player-turned-pundit Gary Neville has said, City needs to start bagging points now to hold off United later. "And though Roberto Mancini … thinks the clash between the two on April 28 will be the D-Day that decides the title," Neville wrote, "I think D-Day is actually March 3. That's when United play Tottenham at White Hart Lane and it will be the end of a particularly tricky run of fixtures in the next two months of the season for United, in which they have to face Arsenal away, Chelsea away and Liverpool at home."
Advantage: City ... but stay tuned.
Pressure
This all comes down to the manager, and can there really be any debate here? Like him or loathe him, Ferguson's ability to get his side into top form down the stretch is legendary. He's been fairly quiet on the mind games this season, content to ride City's coattails. It's also familiar territory for SAF: In the past 11 seasons, United has been either first or second with 23 matches played in all but one season (2004-05). When in second -- which the side technically is now, based on goal difference -- it ended up finishing second twice and winning it twice. When United has been in first with 23 played, which accounts for six times during this span, it has failed to win the league only twice, in 2003-04 and 2001-02.
Stats aside, Ferguson is the master of "squeaky bum time." While he's made his share of mistakes this campaign -- in an attempt to paper over a slew of injuries, he's played certain players out of position and in too many different positions; dropped players out of anger (Rooney) or mystery (Nemanja Vidic for one particular game, opting for Jonny Evans instead); and his choices and tactics in the Champions League perhaps betrayed an arrogance that he believed qualification to the knockout stages was never in doubt. On the flip side, Ferguson has managed to get by despite missing key players, and he's taken some gambles (Paul Scholes, anyone?) that have so far paid dividends.
[+] Enlarge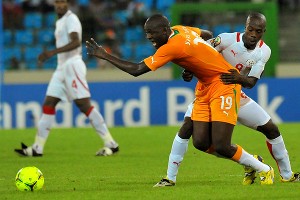 Alexander Joe/AFP/Getty ImagesMan City will receive a huge boost when Yaya Toure returns from the African Cup of Nations.
SAF's counterpart is showing troubling signs that the pressure is getting to him. In some ways, Mancini is in a no-win situation: If he loses the league, there's a sense that he will be sacked in the aftermath of owner Sheikh Mansour's rage that millions of dollars in investment didn't yield Prem bling. Or so goes the theory. If Mancini wins, some will say he was supposed to win with such a deep, talented squad.
More worrying for City fans is Mancini's reaction after the loss at Goodison Park on Tuesday. It might not be the cauldron of other grounds, but it's well known as a "tough place to play," yet the Italian inexplicably seemed not to know this. "We didn't prepare properly for this game," Mancini said. "Maybe I thought it would be easier against Everton than it was. I should have known it is never easy coming here."
For a manager of Mancini's stature, at a club of City's size, to say "we didn't prepare" is a shocking admission. Maybe the manager will be proved correct that the "defeat is not important." Maybe the loss will prevent future faulty assumptions. But statements like that don't inspire confidence in the players around you.
Advantage: United
Field players
United's physios and physicians have no doubt worked overtime this season, with so many players going down to injury. But the Red Devils are set to get a boost, because Nani, Rooney, Tom Cleverley and Ashley Young will all be available, at least on the bench, for Sunday's match. Meanwhile, Phil Jones, Anders Lindegaard (out for four to six weeks) and David De Gea are all nursing injuries. Rio Ferdinand is back, but for how long before his pesky back returns him to the sidelines alongside Vidic, who's out for the season? Yet other players have raised their game. Scholes has been brilliant (how long he can stay sharp is the big question for him), Michael Carrick has impressed (he has the best pass completion percentage on United overall at 90.3 percent and inside the final third) and Antonio Valencia is the most in-form player in the EPL. Since Dec. 1, he has completed the third-most crosses in the EPL, 32, behind only Juan Mata (48) and Matthew Etherington (34).
Also of note: This campaign's squad has 54 points, three better than United had at this stage last season. If it weren't for City's blazing progress, people would be critiquing United in a different light.
For City, there can be no question that it has the greatest depth and breadth of talent. But it has struggled of late, especially in breaking down stubborn defenses. Sergio Aguero and Edin Dzeko seemed to get in each other's way too often, and while Samir Nasri has had his moments, overall it's been an average season for him. Earlier in the season, City started games slow but finished with a flourish. Can it get the spark back?
Influential defender Vincent Kompany is back from suspension, and Yaya Toure will soon return from the African Cup of Nations. The powerhouse of a midfielder -- who can tackle, make deep runs from midfield and hold the ball up -- still leads the EPL in passes completed despite not playing a match since Jan. 3. And he not only passes in bulk, but in quality. Among the 55 EPL players who have attempted at least 1,000 passes this season, Yaya is third in completion rate at 89.7 percent, and City scores plus-1.9 goals per 90 minutes with him on the pitch. When he returns, others like David Silva won't have to drop back as far, and the Sky Blues could return to their champagne football.
If anything, man management will be Mancini's burden: Competing only in the league and the Europa League, which no one really cares about, he'll have more players seeing less playing time. Keeping them content and focused will be harder than ever. But winning is the best balm for anyone riding the bench.
Advantage: City
January transfers
Scholes came back into the side for United to rave reviews, and his inclusion in the side allows Carrick to concentrate on the more mundane (but no less important) midfield duties. Otherwise, Ferguson will rely on the same players who have taken him this far. City brought in Roma's David Pizarro, a veteran of the midfield with a history of knee problems as a result of 13 seasons in Serie A (you can read Michael Cox's piece on him here). He also hasn't played since October, though he'll be yet another player at Mancini's disposal, even if it's off the bench.
Advantage: City
Between the sticks
Simple, this. Hart is one of the Prem's best keepers, with excellent reflexes, positioning and an extraordinary ability to make himself "big" in one-on-one situations. United relied on third-string Ben Amos against Stoke on Tuesday. If the Potters weren't so poor, we might have gotten a better look at young Ben's skills. And even when De Gea returns from injury (or sickness, or whatever the story is, as it changes seemingly daily), United's last man of defense is a liability.
Advantage: City
Other competitions
Both clubs are out of the Carling Cup and FA Cup, as well as the Champions League. All that remains is the Europa League and those dreaded Thursday night fixtures followed by Sunday league matches. It will be like Dolby stereo with Ferguson and Mancini both complaining, but ultimately they will prioritize the EPL. Indeed, perhaps the worst thing for either side would be, ironically, a winning streak in Europe. With each passing round, the Europa League would take on added significance and force the hand of each manager to treat it with something that most clubs refuse to give it -- respect.
Advantage: Even.
X factor
Two words: Mario Balotelli. You never know what the wildly entertaining, arrogant yet likable striker will do next. He's as prone to take a sublime penalty kick as he is to be sent off for an act of rash stupidity. And then there is the player who shall not be named, in exile in Argentina. So far Mancini deserves credit for his handling of the situation, but could it become a major distraction again? At Old Trafford there seems less chance for any controversy to dust up, so long as Rooney keeps his after-hours activities in check and Neville doesn't decide to come out of retirement to join Scholes.
Advantage: United