United stages thrilling comeback vs. Chelsea
February, 5, 2012
02/05/12
2:02
PM ET
[+] Enlarge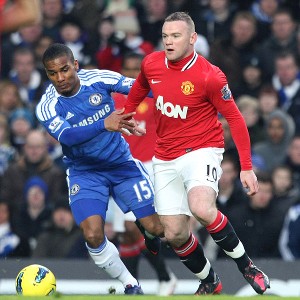 John Peters/Man Utd/Getty ImagesWayne Rooney was instrumental in United's comeback from three goals down.
Manchester United was unable to end a decade-long futility Sunday at Stamford Bridge, a ground where it had failed to win since April 2002, when Ryan Giggs and Paul Scholes led the Red Devils to a 3-0 victory. The two players were involved again (Giggs as a starter and Scholes a second-half substitution), and the Red Devils ended up again scoring three times. But it was the manner at which the final score line was arrived -- United trailed by three before leveling with five minutes remaining -- to give Sir Alex Ferguson's side a morale-boosting draw, perhaps sending a message to league leader Manchester City that you can never count United out.
But no matter the spirit in United's comeback; the headlines will be equally dominated by the all-too-familiar refrain we hear after thrilling matches these days -- poor refereeing. Let's review.
In the first half, Chelsea turned in a strong performance, although it had only one goal to show for it. In the 36th minute, Daniel Sturridge juked past Patrice Evra on the left -- a recurring sight throughout the match, as these two had one of the more intriguing one-on-one battles -- and closed in on goal. The former Manchester City player took a shot; keeper David de Gea stuck out his foot to block the ball, which ricocheted off Jonny Evans for an own goal. Bit of luck, true, but the Blues were creating plenty of opportunities with their energetic play.
[+] Enlarge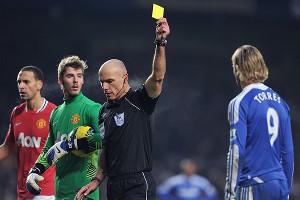 Darren Walsh/Chelsea FC/Getty ImagesReferee Howard Webb once again found himself at the center of the storm for his decisions on fouls and penalties.
It was an ironic moment, to boot. This past week, Darron Gibson, a former United player, scored against City; now Ferguson's team was on the receiving end.
Fernando Torres, it must be said, showed a lot of energy as he hurried and harassed United's players; knowing, surely, that if you're not going to score, you'd better contribute in other ways. But he's also not the only one who seems to have lost his way. Howard Webb, the game referee, again had another clunker. Opinion has been divided for some time on the big-game whistle-blower: Some call him "England's best referee," others see him as a stooge and, in particular, a stooge in Red Devil red. Although in the 11th minute, Webb got one wrong in favor of Chelsea. Giggs slipped the ball through the middle to Danny Welbeck, whose touch took him away from Gary Cahill. Playing in place of the injured John Terry, Cahill slid to tackle, missed the ball and took out Welbeck. Penalty, and a possible red card, as Welbeck would have had a clear goal-scoring opportunity, but Webb made no call and waved play on, leaving Ferguson frothing on the sideline.
Webb also inexplicably carded Branislav Ivanovic right before the first half ended, even though the player got the ball when tackling Evra. It wouldn't be the last time Webb factored into the game.
At the start of the second half, Torres made his best contribution to the proceedings -- a sublime cross from the right-hand side toward Juan Mata. As right back Rafael moved toward the center to help cover, Mata found himself wide-open. His thunderous volley was almost as impressive as Robin van Persie's from earlier this season; the ball smashed into the roof of the net. De Gea had some limp-wrist, anxiety-ridden moments until then, but on this strike there was nothing he could have done.
Mata was involved in the next goal, too, a few minutes later. After Sturridge earned a free kick from an Evra foul, Mata swung the ball into the box. David Luiz rose to the ball without challenge, and his ensuing header -- which looked as though it might have gone wide -- hit off Rio Ferdinand's shoulder and ended up in the back of the net.
It's at this point you reckoned United was going to come unraveled, as shades of the City thrashing must have haunted players, supporters and Sir Alex alike. In that match, after going down 4-1, Ferguson's side continued to attack and was cut wide-open. But on Sunday, United was awarded two penalties in 11 minutes to turn the tide: one that seemed legitimate and one that seemed a bit harsh. The first involved the game's two most frequent combatants, Evra and Sturridge, as the Chelsea striker clumsily crashed into Evra in the box -- ironically, this happened seconds after Sky Sports reported that manager Andre Villas-Boas was yelling at Sturridge for not tracking back and helping with the defense. Wayne Rooney, who was United's most consistent player on the day, hit an unstoppable penalty into the upper left. 3-1.
The second penalty was a bit more dubious. Rooney slipped a through ball to Javier Hernandez. With three defenders chasing him, Chicharito stopped, pivoted and played the ball to Welbeck in the box. Ivanovic lunged for the ball and made contact, sending Welbeck to the floor. Another penalty, although based on the replay it looked as though Welbeck placed his foot into Ivanovic to draw the call. Again, Rooney assumed the spot and scored. 3-2.
Chelsea may have a right to be angry over that call, but Villas-Boas & Co. can have no complaints about the third United tally. In the 84th minute, in a full-field attack started by Ferdinand near United's goal, Valencia passed the ball to Evra, who crossed it into the box for Rooney. His ensuing shot was parried away by Petr Cech, but Giggs was there to regain control. The Welshman put the ball back into the box, and Chicharito came storming in. No one, especially Cahill, marked him, giving Little Pea the easiest of headers.
Webb's calls aside, Chelsea should have added at least a fourth goal in the 77th minute when Mata lofted a ball to Torres. El Nino (can we really even call him that anymore?) brought the ball under control with his chest and moved around Evans toward the right. He had a clear shot on goal 7 yards out. But instead of taking the shot, the dangerously low-on-confidence striker stopped and cut back inside, allowing Antonio Valencia to steal possession. That, along with a wayward shot in the first half, summed up Torres' attempts on goal -- sadly pathetic, as he now has more yellow cards (four) in a Chelsea shirt than he does Premier League goals (three).
Chelsea had two more clear chances. In stoppage time, Mata curled a beautiful ball off a free kick that was heading for the upper-right corner, but United's much-maligned keeper made a tremendous stop. He also was called into service a minute later when he stopped a rifled-from-distance shot by Michael Essien, proving yet again that de Gea is at his best when he only has to react rather than think.
But all that will undoubtedly be overshadowed by Chelsea fans' anger toward Webb, the so-called United stooge, and the fact that United has now been awarded four penalties in two games. In fact, United has been awarded more penalties -- seven -- than any other EPL team this season. But that should not detract from the fact that Ferguson's side could well, and easily, have given up after falling down by three goals. Instead, his players staged a rousing comeback in a thrilling game that included its share of dodgy calls.
"It's two points lost," Rooney told the media afterward. "We understand that, but after being 3-0 down -- the City players watching at home won't have enjoyed the way we fought back. A lot of teams might have put their heads down and accepted defeat, but we never put our heads down."
Chelsea will feel hard done by, no doubt, but the Blues have plenty of reason to be optimistic, too: Mata was excellent, as usual; Cahill now provides added depth at the back; Torres had his moments, albeit not in front of goal; and the team overall should have won without Terry, Ashley Cole or Didier Drogba starting. But all that might be little solace to a team that, like United, will feel that it dropped two points, as it now clings to a one-point lead in fourth place ahead of Newcastle and the final Champions League spot. On the other hand, giving up a three-goal lead, regardless of dubious decisions, will raise plenty of questions, too.
Just when you thought the run-in couldn't get any more intriguing.