Troubling times for English football
February, 9, 2012
02/09/12
8:13
AM ET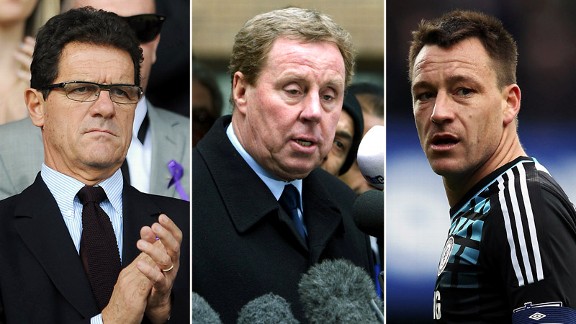 Icon SMI/AP Photo/Getty ImagesFrom Fabio Capello's resignation to Harry Redknapp's trial and John Terry's controversy, English football has taken a troubling turn this season.
Among the major allures of the English Premier League are the various distractions and dramas off the pitch -- the transfers, the gossip, the training bust-ups. We enjoy Joey Barton's Twitter martyrdom, or when managers come unhinged on camera (see: Roy Hodgson's head-banging antics) or, like Ian Holloway, give alarmingly honest answers in normally mundane postgame chat.
Then there are the really special times, those premeditated news conferences managers use to wage war. Sir Alex Ferguson is the master, though the funniest one of the past few years had to be Rafa Benitez's "facts" rant. The game around the game is always worth a chuckle; it lures you in. Mario Balotelli's antics and growing urban legend; Monday-morning debates about what is, and isn't, a penalty -- it all keeps things lively.
But there's also no question that English football has taken on a troubling, foreboding tone this season. A pall has been cast, and it shows no sign of going away any time soon.
The latest images along these lines could be seen Wednesday night, when pictures of Fabio Capello driving off after resigning as England manager hit the wire. The Don of the Zoo, Capello shockingly tendered his resignation. He'd simply had enough.
Ordinarily, someone leaving his post as the Three Lions coach isn't anything unusual -- the position has a unique impossibility to it, given the media and pressure, leading some to brand it a poisoned chalice -- but there's an added twist to this drama. Capello quit over the Football Association's decision to strip John Terry of his captain's armband until a court of law decides whether he is indeed guilty of racially abusing QPR's Anton Ferdinand. "Innocent until proven guilty" was the message Capello was sending. Whichever side you agree with, the tumult served to highlight a footballing culture embroiled in unfortunate and ugly controversies that are dominating the news cycle.
In this past week alone, we were bombarded with depressing stories about racism, tax evasion, homophobia, ignorance and ineptitude. Beyond the Luis Suarez affair, as well as the Terry-Ferdinand row and its Capello tie-in, you'll find more. Two teenagers who racially abused Newcastle's Sammy Ameobi on Twitter were given final warnings by police. Plymouth Argyle has launched an investigation into allegations that a Southend player was racially abused by a spectator during the League Two match between the teams this past Saturday. A retired Notts County striker entered a not guilty plea on sexual assault charges. Former United midfielder Ravel Morrison, who signed with West Ham in January, is facing censure for posting a homophobic tweet. And a Manchester United fan who shouted racist abuse at a black player during the Stoke City-United match on Jan. 31 was fined 200 pounds and banned from football matches for three years this week. All separate incidents, yet all of them feel tied together with an unfortunate bond.
On the plus side, action has been taken in some of these cases -- authorities are trying to clamp down and demonstrate that such behavior cannot be tolerated, but the FA is clearly struggling to figure out its own responses and punishments. It's canceling the prematch handshakes for the QPR-Chelsea match, purportedly to save Terry and Anton Ferdinand (and you, the viewer) from an awkward moment, though some could see this particular FA decision as an act of cowardice.
Then again, the powers that be did an about-face this week: For Saturday's highly charged Liverpool-United league match, the FA insists that the teams should come out to shake hands, reminiscent of FIFA's Sepp Blatter telling us that what happens on the pitch should be settled with a handshake. It's a sentiment echoed by Suarez, who told Uruguayan media this week: "I knew what I did and there is a kind of football law that says: 'What happens on the pitch, stays on the pitch and that's the end of the story.'"
What did Bill Maher say recently? Ah, yes: "Denying racism is the new racism."
At least the FA has taken action -- sometimes thoughtful, but sometimes seemingly rash. It meted out Suarez's eight-game ban, which has led many to wonder what will happen if Terry is similarly found guilty in a court of law -- a decision that has stupidly been postponed until after Euro 2012, so the cloud of the case can loom over football for many more months. In this highly toxic atmosphere, the FA decided it was best to strip Terry of the captaincy even though his innocence or guilt has yet to be proved, which in turn led Capello to break ranks, feeling that his authority had been irreparably undermined. Last straw, camel's back and all that. All the while Harry Redknapp has been cleared of tax evasion and is the odds-on favorite to become the next full-time don of England, while Stuart Pearce takes charge for the team's friendly against the Netherlands on Feb. 29. (A decision Barry Fry is clearly not happy with -- or the idea of bringing in another foreign manager.)
Head spinning yet?
Sadly, these spectacles seem to be playing out on a daily basis. Watching Andre Villas-Boas squirm in his seat when asked, after Chelsea's 3-3 draw with United this past weekend, what he thought of Blues fans booing Rio Ferdinand (brother of Anton) should make us all uncomfortable. (He may have squirmed even more if pressed about how those boos also rained down on Patrice Evra.) But it's something that needs to be discussed in the open. Maybe Capello's decision to leave England will help further the dialogue. As AVB essentially said, light needs to be shone on actions that should not be tolerated. Other managers, such as Ferguson, have come out to strongly condemn racism. At least one high-profile manager has not.
We get mixed messages from sporting bodies, all while some fans and players continue to act -- or are accused of acting -- like Neanderthals.
Strong characters on and off the pitch are needed, that much seems certain.
In the meantime, folks will debate the importance of a piece of fabric around a man's arm. Arguments will ignite about which manager is best suited (and crazy enough) to sit on the England throne, and how all this will help, or hinder, the team's chances in Poland and Ukraine.
But let's not lose sight of why Capello left in the first place, and what's been plaguing the game for too many months now. It's enough to make many of us yearn for the days when the controversy du jour involved Balotelli and some fireworks.