AVB not to blame for Chelsea's latest loss
February, 21, 2012
02/21/12
5:09
PM ET
[+] Enlarge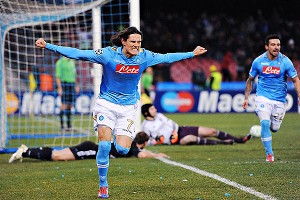 Andreas Solaro/AFP/Getty ImagesNapoli left Chelsea in its dust, but at 3-1 down the Blues are still well in the tie for the return leg at Stamford Bridge.
The sharks will continue to circle Andre Villas-Boas after Chelsea's 3-1 loss to Napoli in the first leg of the Champions League tie at the Stadio San Paolo. More questions, more criticism. Sitting Ashley Cole in favor of playing Jose Bosingwa out of position at left back? Leaving the experience of Frank Lampard, the team's co-leading scorer with nine league goals, on the bench when another veteran, John Terry, is out injured? About the only move most would agree with is leaving Fernando Torres out of the starting XI.
But no formation, lineup or tactic can atone for the players' lack of basic application. Take issue with AVB's team selection if you must, but there are certain expectations many of his players are not meeting.
Consider Napoli's three goals. In the 38th minute, the Italian side's best player, Ezequiel Lavezzi, found himself in open space about 20 yards away from goal. Instead of closing him down, Raul Meireles looked helpless as Lavezzi strolled past him to fire the ball with his right foot to the far post, past Petr Cech (who had, up until then, made a couple of brilliant saves). Ramires also failed to cover himself in glory on the sequence.
In first-half stoppage time, the second head of Napoli's three-headed attack, Edinson Cavani, made it 2-1. Gokhan Inler lofted a cross into the box, the ball bouncing between Branislav Ivanovic -- a player clearly shorn of confidence -- and Gary Cahill. On replay, it appeared that when the ball bounced up, Cavani helped it along with his arm, though there were no complaints from the Blues. There was also no captain Terry to help marshal the troops or plead their case. Either way, Ivanovic failed miserably to defend.
The third Napoli goal came from an even more nothing ball. David Luiz, no stranger to defensive blunders, was unable to deal with a Hugo Armando Campagnaro through-ball; commentator Gary Neville speculated that Luiz was trying to pass to Cole, but regardless of his intentions, Luiz should have just put his boot through it. You'd think, after so many shaky moments at the back, that he'd show more signs of learning his trade in crunch moments. Instead, as Cech came way off his line into no man's land, Cavani passed to Lavezzi, who fired the ball into the back of the net.
If not for an excellent clearance off the line by Cole in the 80th minute to deny Christian Maggio and Lavezzi missing a one-on-one with Cech in the 54th minute, Napoli could have had five. Then again, Chelsea should have ended the match with more than one goal, which came in the 38th minute on Napoli's biggest defensive blunder of the match. With AVB's men flooding forward, Daniel Sturridge's pass was sent toward Paolo Cannavaro. Instead of clearing the danger, he miskicked the ball, which fell to the feet of Chelsea's most consistent player, Juan Mata, who won't miss many of those chances.
Chelsea also dominated large portions of the second half and created plenty of chances, as the match was played with an open, attacking spirit. Hearing commentator Neville call it, you'd think he was misty-eyed for the typically more cagey, tactical, first-leg European affairs. Catenaccio this was not. Instead, we got an entertaining match with shockingly poor defending -- perhaps the worst you'll see in Europe, certainly for the Champions League knockout stage. Chelsea, for all their woes at the back, are still well in this tie when they return to Stamford Bridge as they have the critical away goal. And so is Napoli.
But if the match is played in the same open fashion, the Italian side clearly has more attacking threat at the moment. Even early in the match, Napoli was able to get in behind the defense with ease as Ivanovic and Cole (who came on for the injured Bosingwa in the 12th minute) got forward but failed to track back quickly enough and tuck inside. Cole also looked out of shape, it must be said, when Maggio ran inside him in the 28th minute and took a shot on goal that Cech saved. Maybe it wasn't a simple matter of player politics that kept Cole out to begin with. Who knows?
For Chelsea, what is needed is an old-fashioned, Jose Mourinho-style approach, but whether AVB has the will -- or the willing players -- at this juncture remains to be seen.
Cech & Co. must improve the most basic of things -- like keeping a clean sheet. Based on today's performance, the Blues won't be able to do that. Based on today's performance, can you really blame the manager for that?