United hands Spurs tough defeat
March, 4, 2012
03/04/12
2:05
PM ET
[+] Enlarge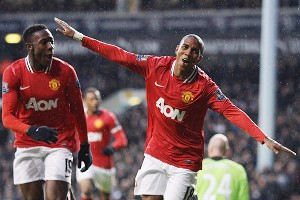 John Peters/Man Utd/Getty ImagesAshley Young celebrates his United's third goal -- and his second -- against Spurs at White Hart Lane to help give his side the win and keep pressure on league-leader Man City.
Maybe Alex Ferguson is cribbing notes from Arsene Wenger's playbook these days. Just as Arsenal held on against a more dominant Liverpool side yesterday, only to steal a 2-1 win in stoppage time at Anfield, United was outclassed by Tottenham Hotspur for the entire first half on Sunday, only to sneak into halftime up 1-0 and then finish the match 3-1 in what turned out to be a big win for the Red Devils at White Hart Lane.
This fixture hasn't been kind to Spurs: Winless against United since 2001 in all competitions -- and where their last victory was a rather meaningless match on the final day of the season, this game was anything but. United was trying to keep pace with league-leader City, which defeated abject Bolton on Saturday, while Spurs were looking uneasily over their shoulder at a resurgent Arsenal, which not only sucker punched Liverpool but came from behind to defeat Spurs last weekend in a match Harry Redknapp & Co. would like to erase from their minds.
Funny thing, tension. As we enter the business end of the season, in which title contenders rise to the pressure, the top of the table has become tense and complex. The start of the United-Spurs match demonstrated exactly that, with a cautious, often turgid first-half affair. It was never going to be as explosive as neutrals would have hoped, of course, as Tottenham was missing Scott Parker (suspended) and Gareth Bale (injured), which forced Redknapp to move Luka Modric from his preferred spot to the left of midfield, and use Sandro and Jake Livermore in the middle of the park.
The duo did have their way with United's counterparts in the center of the pitch, Paul Scholes and Michael Carrick, as Tottenham saw virtually all the meaningful possession in the first half. At times, Spurs were all too content to past the ball laterally around their defensive third, but were creating half chances here and there as well. United, on the other hand, rarely got into Spurs' half and, indeed, didn't even earn its first corner until the 36th minute.
United keeper David de Gea wasn't called on for a meaningful save until the 19th minute, when Emmanuel Adebayor side-footed the ball to the right, with the keeper diving to see away the danger. Fine save, though Scholes, Carrick and the United defense were caught out -- and it wouldn't be the first time, either.
[+] Enlarge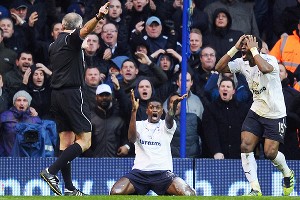 Mike Hewitt/Getty ImagesEmmanuel Adebayor falls to his knees, upset, after his back-heel goal is disallowed for handball.
The big talking point came right after United's first corner. Receiving the ball from Livermore, Benoit Assou-Ekotto fed the ball to Lennon down the left. The speeding winger all too easily rounded Phil Jones, whose challenge was poor, and continued his run along the byline before whipping a low cross into the box. De Gea palmed out the ball straight to Louis Saha. With a gaping opening to his right, the striker instead shot directly at Adebayor. And while the Togolese striker was able to then back heel the ball into the net, referee Martin Atkinson disallowed the goal for a hand ball. On replay, the ball clearly bounced off Adebayor's hand. The striker didn't seem to know much about it (only he knows whether there was intent) but his arm helped him control the ball, and as such Atkinson probably made the correct call. (It was further bad luck for Spurs; in their 0-0 draw against Stevenage in the FA Cup a couple of weeks ago, the linesman flagged Parker for offside after the ball touched him on the goal line on what would have been the game winner.)
Still, it was all Tottenham until United struck against the run of play -- a sucker punch on the verge of halftime. On a nice pacy corner from Young, Wayne Rooney, back after a two-week rest due to illness, dashed through the crowd and ahead of his marker, Kyle Walker, to head the ball into the back of the net. Brad Friedel could do little, as Jones was blocking him from being able to come out and make a play. The crowd, in turn, began to sing, "One nil to the referee," in reference to the disallowed goal. But the home fans should have been equally upset at Saha for his poor attempt.
In all, one goal in a half that Tottenham dominated. But if we've learned anything from this season, it was that there would be more goals. Coming into this game between the current top-five teams, there were 68 goals in 14 games, an average of almost five per game. What's more, there have been only two clean sheets from a possible 28 in their Premier League meetings.
As the second half kicked off, Spurs started on the front foot and looked the side that would add to the tally. In the 52nd minute, Livermore blasted a worm-burner between Rio Ferdinand's legs that then deflected off Saha. But a wrong-footed De Gea still managed to dive to his right to make an excellent reflex save. More luck for United, too, because the ball could have bounced anywhere, including toward an on-rushing Adebayor; instead, it fell to Jonny Evans, who cleared the danger. Credit, once again, though, to De Gea. Since Anders Lindegaard went down to injury, the Spanish keeper has put in a string of strong performances, though you could see that his teammates still know he has the wobbles on set pieces and on balls flung into the box -- evidenced by the way Rooney and Danny Welbeck each took turns all but taking the ball out of the keeper's hands.
In the 58th minute, after Patrice Evra conceded a free kick for fouling Modric, Assou-Ekotto's curving free kick hit off the crossbar, though De Gea appeared to have it covered as well.
In the ensuing United attack, Carrick hit a ball over the top to Welbeck, who did a superb job beating Assou-Ekotto to his right and Younes Kaboul to his left. Kaboul gamely forced Welbeck into the right corner, but the striker earned a throw-in. From there, Tottenham's defense hit the snooze button, as Jones' throw-in bounced between Assou-Ekotto and Modric and found Nani lurking. Not one of his most explosive games, but the Portuguese winger had his best moment of the game when he whizzed the ball across the face of goal, and three other Spurs defenders failed to stop the danger. The ball went through the legs of Kaboul. In an attempt to clear the ball, King deflected it right toward Young, who returned the ball across the face to goal for United's second tally.
Atrocious defending, but a great finish from Young, leading one of the announcers to term the spectacle a "daylight burglary."
Sucked of their usual spirit, Spurs were punished again when they failed to close down Young atop the 18-yard box, and the winger beautifully curved his shot past a diving Friedel and into the upper right corner of the net. The shot was much like Seydou Keita's for Barcelona yesterday, albeit from the opposite side. At 3-0, United could afford to play some keep ball while Spurs were left to rue poor defending in a game they had otherwise dominated in large swaths.
Jermain Defoe, who came on in the 80th minute for Saha, earned his side a consolation goal, intercepting a slack pass from Ryan Giggs (on for Scholes in the 61st minute) to easily thump the ball from about 25 yards out past a stranded Ferdinand, though by then hordes of Spurs fans had already filed out of the Lane in disgust.
Bottom line: United was outplayed for large bits, but Young's two brilliant goals and corner kick -- along with scrappy defending, especially from Ferdinand and Evans -- was enough for Ferguson's side to bag all three points.
Tottenham, meanwhile, has conceded three-plus goals in five league matches this season -- twice to Man City, twice to Manchester United and once to Arsenal. And ever since the talk of Redknapp for England manager has cropped up, Spurs have had a bit of a bobble, with the disaster against Arsenal and now this. Indeed, Redknapp's side is now only four points clear of the Gunners, meaning that Tottenham finishing in third is by no means a forgone conclusion.
And neither, for that matter, is City winning the league. This match against Spurs ended what was considered the Red Devils' most difficult stretch of fixtures after the New Year in which they defeated Arsenal 2-1 at the Emirates, won 2-0 at home against Stoke, earned a come from behind 3-3 tie against Chelsea at Stamford Bridge that felt like a win, won 2-1 over Liverpool at Old Trafford and captured this victory over Spurs. United's next bunch of matches are, on paper, all eminently winnable: West Brom, Wolves, Fulham, Blackburn, QPR, Wigan, Aston Villa and Everton before facing Manchester City at the Etihad.
On the flip side, City now begins a more difficult run of games which includes hosting Chelsea, albeit a side in turmoil, before travelling to the Britannia to face Stoke and the Emirates to challenge Arsenal. Two points now stand between City and United.
Which is all to say, mark your calendars for April 30, when United travels to Etihad Stadium. Who knows what the table will look like then, but it's shaping up to be the one fixture that could justify the hype and even decide the Premier League title.