Picking the Dream Team, 2011-12 edition
April, 12, 2012
04/12/12
5:33
PM ET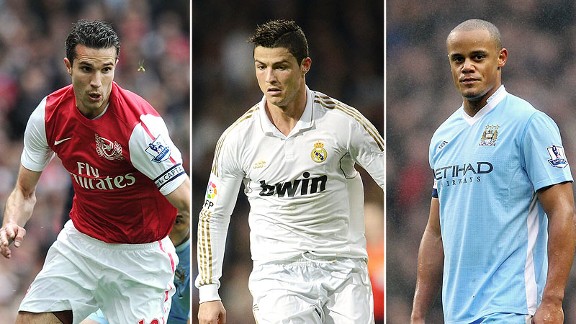 Getty ImagesPop quiz: Which players would make your best starting XI in Europe? Before you answer, here's a caveat -- you can pick only one player per team to avoid a Barca/Real love-fest.
From the sublime to the ridiculous -- which is to say, from Lionel Messi to Mario Balotelli -- we've been mightily entertained this European season as it winds down across the continent. So what better time to engage in that time-honored (and, if you're at work, time-wasting) tradition of picking your best starting XI?
But let's not take the path of least resistance and select anyone we want. Do that, and most of us will end up with a mutant hybrid of Barcelona and Real Madrid, perhaps with a token player from further afield -- best get your boots on and join us, Peter Crouch, for your wonder goal this season.
Instead, taking a look at the best or most promising players throughout Europe, pick your dream team with the caveat that you're allowed only one player per team. It's an exercise that sends your mind into paroxysms of paranoia. Because the moment you decide on, say, Messi, you immediately rule out Xavi, Andres Iniesta and any other Barca player you covet. The dominoes fall and you begin to wonder, Wait, was this the right choice? Should I start by picking the best midfielder, and go from there? Work from the back?
You're at war with yourself, leaving you to lament that the Bad Brains never recorded "I Against I … the Football Edition."
In the end, as any devotee of Football Manager will know, concessions must be made, and some positions won't necessarily be filled with your first-choice player. It's all about taking calculated risks based on your preferred system, stats, observations and a good old hunch to put together a group of players who could be the ultimate world beaters.
So who are you going with? (Aside: If anyone knows how to code the formations more accurately, please let me know.)
If you go the tried-and-true 4-4-2 route, try this XI for size:
Up top: The man who all but ended Manchester City's dreams of reaching the knockout stage of the Champions League this season by scoring a brace, Cavani has been the most dynamic player of Napoli's three-headed attack. He terrorizes defenses with his movement and finishing ability, and as the City match demonstrated, he can raise his game for the big occasion. "Cavani is a good player, a good striker, he scores goals and works for the team," Roberto Mancini said after that fateful match. El Matador has 19 goals and three assists in the league so far this season, and will be one of the most coveted transfer targets this summer.
Slightly behind him is Robin van Persie. The best striker in England, RvP -- 27 goals and 10 assists in the Prem so far -- is the main reason Arsenal is in contention for a Champions League spot next season (the Gunners can even dare to dream of third place) and is not imploding amid fans baying for Arsene Wenger's blood.
Together, Cavani and RvP could wreak havoc up top, executing runs off the ball and finishing from all angles to leave defenses in a befuddled heap.
In the midfield, it has to be Xavi. Yes, that means no Messi, but with the Spaniard, you're talking about the most creative force in world football. Xavi pulls off passes that mere mortals can't execute in "FIFA Soccer 12," his head always moving left and right like a mechanical turret searching for its target (you half expect it to unscrew and fly away).
Whom do you pair him with? Given that this is an attacking lineup, safety first should be the policy -- a player who cleans up the messes others leave behind. Bayern's Bastian Schweinsteiger would be a welcome addition to any midfield, but knowing the right-back position will be Lahm, another solution is needed. His name: Scott Parker. He's not going to turn heads or create many goal-scoring chances, but you won't find a more prolific tackler or someone more willing to put his body on the line for the cause.
On either side of Xavi and Parker you've got the out-and-out winger Valencia, arguably Manchester United's most important player of the season, and Real's Ronaldo, who takes a backseat to only one player on this planet and who, it might be added, has netted 40 goals and 11 assists of his own in La Liga so far. His performances have been so outrageously good that Jose Mourinho has said that wherever he goes next, he wants Ronaldo to come with him.
Anchoring the center of defense is Kompany, one of City's most consistent and consistently superb players who has competed with his head held high while others have divided the dressing room. Last season, he was on the PFA Premier League Team of the Year, and should be on it again. From tackling and heading to knowing when to play the ball out of the back versus controlling with his feet, Kompany is money. Joining him is Bilbao's Martinez. He's a defensive midfielder with excellent ball skills, and some may argue that long-term he's wasted at the back, but mad scientist Marcelo Bielsa converted him from defensive mid to center back this season with great fanfare -- and great results. So for now, Martinez stays at the back on this team.
At right back is Lahm, Bayern's versatile fullback who can play on either flank. Possessed of excellent pace in the attack and ball-controlling skills for passing and clearing, Lahm is one of those constants when the lineup is made. And, at 28 years old, he possesses a wealth of experience for both club and country.
The clamors for Ashley Cole at left back will no doubt be loud from EPL fans, but the Chelsea player has had a down season. Leighton Baines is perhaps one of the most underrated in the position with his ability to get forward and send in the crosses, though his positional awareness (as we saw even this past weekend) continues to be suspect. Lyon's Aly Cissokho is tempting -- he's been a reported target for both Liverpool and Arsenal -- but having not seen enough of him, the choice is the powerful Taiwo. He was having trouble getting regular starts at AC Milan, but the talented defender is finding his groove on loan at QPR, where he's netted one goal and two assists in 10 league matches.
Between the sticks: An oldie, Buffon, where at a resurgent Juve this season he has made 76 saves and kept 17 clean sheets in 30 league matches.
So there you go, a dream starting XI.
But if you want to throw a wrinkle into the equation, let's go with a more attacking formation -- 4-1-3-2. We can keep many of the same players, with some tweaks.
                    Gianluigi Buffon

Maxi Pereira    Vincent Kompnay  Javi Martinez    Taye Taiwo

                      Bastian Schweinsteiger  

    Luka Modric    Xavi    Cristiano Ronaldo 

                    Edinson Cavani      Robin van Persie 

Here, due to the lack of natural width, any attacks would be routed primarily through the center of the pitch. Therefore, the addition of Benfica wing back Pereira on the right would provide some attacking skills from deep to keep defenses honest, while Bayern's midfield general Schweinsteiger would provide steel and skill in an otherwise stacked side, allowing Modric and Xavi to be the principal playmakers.
Ah, but no Messi. So far, Xavi has been the choice from Barcelona. That said, if we want to include the Wee One, let's go with a 4-1-2-3, a system Messi can thrive in (OK, he'd probably be the world's best in a 9-0-1). Bringing in Messi means adios to Xavi. We'd also take out one Bilbao player, Martinez, and bring in an even more dynamic one, Iker Muniain, who has excelled on the left wing of a front three this season. In the middle: City's David Silva and Real Madrid's "Avatar Eyes" Mesut Ozil controlling the game's pace and unlocking defenses. Joining them would be Andrea Pirlo, the deep-lying midfielder who has proved (along with Paul Scholes) to be one of the smartest signings of the season, in his case for Juve.
To accommodate this world-class defensive midfielder, we'd have to lose Buffon and in his place would be Bayern's Neuer. At 25, he's already the best keeper in Germany, and this season he has 54 saves and 16 clean sheets in 30 league games. Beyond the stats, he's handled his move to his new club this season with aplomb.
                              Manuel Neuer

Maxi Pereira    Thiago Silva  Neven Subotic    Gareth Bale

                               Andrea Pirlo

                      David Silva        Mesut Ozil      

       Lionel Messi     Robin van Persie      Iker Muniain 

At the back, Pereira would be joined by AC Milan's Thiago Silva. He's currently out with an injury to his right thigh, and hasn't been helped this season playing in so many different pairings -- including Alessandro Nesta, Daniele Bonera, old man Mario Yepes and Philippe Mexes -- but the Brazilian, who is sought by Barcelona, would be a terrific defensive anchor on any team. Joining him? Why not a bit of youth, and quite possibly the game's next Nemanja Vidic (out for the season), Serbia defender Neven Subotic. The 6-foot-3, 23-year-old Borussia Dortmund center back shows the kind of body-on-the-line defending that has made him a favorite of, among others, Sir Alex Ferguson.
At left back, to spice things up, let's go with Gareth Bale at the position where he started his career at Southampton. But, in practice, he'd be more of a wing back here -- think the Dani Alves of the left -- who'd rush down the flanks to link up with Messi.
Three options, and yet plenty of great players left out (to all you Arjen Robben fans), and making those highly subjective decisions the stuff of, well, dreams.