Penalty kicks seal Real's fate
April, 25, 2012
04/25/12
6:08
PM ET
When is the last time you can remember Jose Mourinho brought down to his knees, succumbed to the gravitas of the occasion? Yet there he was, at the Santiago Bernabeu, kneeling pitchside as Sergio Ramos was about to take his penalty kick in extra time. Real Madrid had missed its first two attempts -- more on that in a bit -- and yet Bayern Munich had then also missed two of their own. But Ramos stuttered in the buildup, and his kick flew about 10 yards over the crossbar -- a shot that made even John Terry's famous miss, or even Roberto Baggio's in the 1994 World Cup, pale in comparison. (And at least Terry had a soggy pitch to blame.)
A few moments later, Bastian Schweinsteiger sealed Madrid's fate: Bayern Munich went through 3-1 on penalties after tying 3-3 on aggregate to reach the Champions League final.
It was a thrilling match, one of many differing rhythms; full-out attack in the first half, followed by a more conservative second half and an exhaustive extra-time period in which both sides looked weary in mind and body. Now, we wait as Bayern gets to host the final in Munich against Chelsea on May 19 in the hopes of winning its fifth European Cup (the side last won the competition in 2001), while Real Madrid will have to be content with winning La Liga over its bitter rival Barcelona -- and that's about it. Los Blancos have been eliminated from Europe's premier competition in 2006, '08, '09, '10, '11 and '12 after a first-leg defeat. When does a pattern become a curse? Madridistas must be asking themselves that question.
[+] Enlarge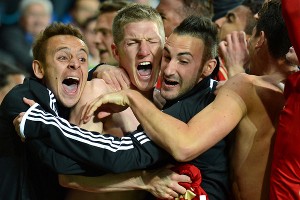 Christof Stache/AFP/Getty ImagesBastian Schweinsteiger and Bayern Munich celebrate an epic win over Real Madrid.
Tale of two halves
The first half was brilliant stuff, with both sides going all out. Mourniho said prematch that Bayern would attack, and it did, adding to the spectacle. Real Madrid had two early chances and took both of them. In the fifth minute, Marcelo -- who, it must be said, had a more than commendable game in winning balls, getting forward and being one of the few players who had enough gas left in the tank in extra time -- hit a cross-field ball to Angel di Maria, whose volley struck David Alaba on the hand. It didn't look intentional and it was at close range to boot. But referee Viktor Kassai, perhaps swayed by Di Maria's and the crowd's partisan reaction, awarded a dubious penalty, which Ronaldo slotted home.
Even more dubious was Bayern's back line when, in the 14th minute, Mesut Ozil played in Ronaldo between Philipp Lahm (who was on a walkabout) and Luis Gustavo Dias for an easy score.
Two chances, two goals. Bayern, meanwhile, didn't take full advantage of their chances: Arjen Robben had an awful miss in front of goal; Mario Gomez, maybe thinking he was offside, didn't put enough mustard on a close-range shot that was saved by Iker Casillas; and Franck Ribery saw his attempt blocked by a scrambling Sami Khedira. It wasn't until the 27th minute that the German side got back into the match when Pepe was penalized in the box for pushing Gomez. Was it a harsh call? Let's just say it'll be filed under the category of "soft penalty," though Madrid supporters may have more creative ways to describe it. The penalty, taken by Robben, came moments after Karim Benzema failed to take advantage of more poor Bayern defending with what should have been a routine poke home from a Ronaldo cross.
At halftime, you can only imagine that Mourinho and Jupp Heynckes reminded their players what, exactly, was at stake. Because, from then on, as the prospect of the Champions League final became more palpable and fatigue set in, the match started to gradually grind to a safety-first approach. There were chances, of course, including one by Gomez late in the second half, but the sense of a penalty shootout loomed large -- as did the inevitability of the German side's superiority in such a contest. In the end, Madrid, which had to play the Clasico this past Saturday, seemed to wear down a bit more while Bayern was able to rest players over the weekend. That showed torward the end, with Bayern creating more chances and deservedly going through.
UEFA's rules need addressing
FIFA changed its rules so that players who accrue yellow cards in the semifinals aren't suspended for the big show. It's time UEFA does the same. The Champions League final is the crown jewel of club football, so why deprive fans of the chance to watch each team's best players. We will be without Chelsea's John Terry, Ramires, Branislav Ivanovic and Raul Meireles. And Bayern, which had six players on the precipice in Wednesday's match, will be without Holger Badstuber, David Alaba and Luis Gustavo
Don't underestimate motivation
Heading into the semifinals, most people had already penciled in another Clasico. But Chelsea rode its luck and showed great heart to knock off the defending champion. And Bayern? It could have easily been rattled after giving up two quick goals at Madrid -- especially after the handball call -- but it remained composed, maybe got a bit of luck of its own, tightened up its defense by closing down spaces behind the full backs and saw the match through. Hosting a Champions League final is a special moment, something Heynckes' side never lost sight of.
Heartbreak for C-Ron and Special One
United fans will remember Ronaldo's missed penalty in the shootout against Chelsea in the 2008 Champions League final. And he missed another one on this day, a rather poor attempt low to the left. Manuel Neuer made a good save, but for someone who had converted his last 25 from the spot, Ronaldo should have done better. Oddly, though, the next Real penalty taker, Kaka, hit the ball in almost the exact spot, with the exact same result. And even though Toni Kroos and Lahm then missed Bayern's next two attempts, both of which were also sub-par, Ronaldo's miss will be the one most people remember. He didn't play well in the first leg, then rebounded to net the winner in the Clasico. But against Bayern, he missed when it mattered most. Then again, Lionel Messi came up short on the spot yesterday, surprising for the game's two best players in such quick succession.
It was also heartbreak for Mourinho, who vanished almost immediately after the final whistle. In the buildup to the clash, he had talked about how his team has had bad luck, about the off-side not given in the first leg and all his usual mind games. Yet, again, we'll remember him on his knees, trying to will the ball into the net when Ramos addressed it. For as good a tactician and motivator the Special One undoubtedly is, the luck and fortune of a penalty shoot-out is the one element of the game he simply can't control.
Will the season be regarded as a success for Mourinho? Winning the league over a Barcelona side that lacked depth and motivation for the fight -- especially on the road this season -- is an achievement given Barca's recent dominance, but it's the European Cup that Mourinho was ultimately brought on board to win, and he has come up short yet again in the final four. He has pledged his future to the Madridistas, and vice versa, but in this fickle world of football, the Special One will have to wait another season to try to become the first manager to win the Champions League with three different clubs.
Meanwhile Heynckes, who won a European title with Real Madrid in 1997-98, now gets a chance for his second.