City's table-turning win over United
April, 30, 2012
04/30/12
5:35
PM ET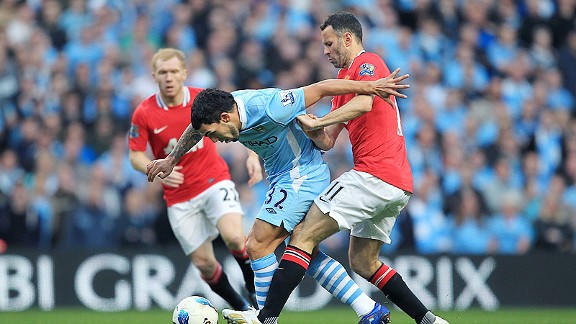 AP Photo/Press AssociationCarlos Tevez and the Sky Blues defeated United 1-0 to go atop the Premier League table with just two league games remaining.
If you were to play a drinking game a few hours before the start of the United-City derby, whereby you had to take a shot of your chosen poison every time someone said "massive," you'd have been absolutely hammered well before kickoff. But, in truth, this was the one match where the hype was justified. At one juncture not too long ago, United was eight points clear of its noisy neighbors, but going into the clash at Etihad Stadium, its lead was down to three. Roberto Mancini had been spending most of the past couple weeks telling everyone that the league was all but lost and that there was no chance of catching United, while Sir Alex Ferguson remained cagey in his comments.
Well, Mancini can stop the rhetoric, because after a 1-0 win at home, City is atop the table on goal difference. Then again, Vincent Kompany, who scored that significant goal, told Sky right after the match, "We've been waiting for it, but it's definitely not over yet."
So in the meantime, what have we -- some 650 million viewers from around the world -- learned from this "massive" match? Well, United's dominance on Monday nights is over: Since 2007-08, the Red Devils have won all eight of their Monday evening encounters.
Ferguson has also met his match in Mancini, who has now outwitted the Scot in both league encounters. The Italian was also only too happy to get into a war of words on the touchline after Nigel de Jong fouled Danny Welbeck. With the dapper Mancini motioning with his hand to suggest that Ferguson was running his mouth to get the Dutchman red-carded, Ferguson -- unaccustomed of late to having his authority challenged -- shot back. The two still shook hands at the end, but it was a scene that will live long in the memories of both sets of fans.
But it's the future where this match's significance really lies. If City does go on to win the league, it could be the equivalent of plate tectonics, a fundamental shift in the balance of power in which the Sky Blues come to dominate the Premier League for the foreseeable future. That's what former United legend Gary Neville was suggesting in the buildup to the match.
That's down the road, of course. For now, here are three thoughts from this match.
1. You could see this coming
Given the way United set up, with Wayne Rooney alone up top and Ryan Giggs, Park Ji-Sung, Paul Scholes and Nani across the midfield (from left to right), Ferguson clogged the center of the pitch. It's the tried-and-true formation used by the gaffer in Europe this season, and we all know how well United's Champions League and Europa League campaigns turned out. The script was written from there: City would wage most attacks and dominate on the ball, Rooney would inexorably drift into midfield to get possession, his frustration building, and United would fail to create many chances.
But formations aside, what's even more baffling is Ferguson's decision to start Park -- his first start since January. It's well-known that the manager has long relied on Park on the big nights, but the South Korean hasn't had a strong campaign and couldn't be considered match sharp or fit. At what point does habit become half-witted? That's one of the questions United fans will be asking themselves, knowing that Park's inclusion meant the exclusion of Antonio Valencia, the pacy right winger who could have helped trouble Gael Clichy a bit more and stop him from getting forward, not to mention provide more service into the box. Then again, that was never United's game plan. Even on breaks, there weren't enough players to support Rooney or whomever else was fortunate enough to get forward and trouble Joe Hart.
2. It's the simple things
Read any football book, and one of the golden rules is don't be beaten during stoppages of play -- free kicks, throw-ins, after injuries are treated and, of course, the most basic of plays, corner kicks. And so it was that in stoppage time in the first half, David Silva swung the ball into the box. Rio Ferdinand was ball-watching and Chris Smalling -- who did defend well on the night -- lost his mark, Kompany, who made no mistake on his free header. With the net bulging, City's hopes were on the rise.
And, point of fact, Mancini's men played the better match. United had a few spells here and there (especially at the very start of the game and pockets in the second half) but found themselves defending for their lives toward the end of the match, lucky at that point that Samir Nasri didn't add a second goal. Carlos Tevez didn't make all of United supporters' worst nightmares come true by scoring against his former team, but he was still influential -- and physical, very, very physical -- in the attack. And with his father-in-law Diego Maradona in the stands, Sergio Aguero was threatening throughout the match, while Clichy and Pablo Zabaleta gave City width it usually lacks, while United, which typically depends on its wing play, looked like a narrow and dull arrow. For that, blame Fergie.
3. Advantage, City
The Sky Blues haven't won their first league title since 1968 just yet, but with two games to play they are primed for the (OK, let's say it) massive breakthrough. First, they are away to Newcastle, and then home to QPR. The Newcastle match is supposed to be the final difficult hurdle, though the way the Magpies were thrashed by Wigan this past weekend, don't be so sure they'll stop City. Ironically, though, the last time City clinched the top-flight league, in '68, was after a 4-3 win against Newcastle.
United, meanwhile, are home to Swansea City and away to Sunderland.
But Mancini's men are now the odds-on favorite to win the league, which conjures a scene telecast on Sky Sports before the match when a United supporter, drinking a pint, was asked how he'd feel if City won the league. "Worst day of my life," he said.
The reverse will be true among the blues of Manchester.