Turning points in Prem title race
May, 11, 2012
05/11/12
7:39
AM ET
So it's down to this, the final day of the 2011-12 Premier League season Sunday. We've seen it all -- as Fugazi once sang, "Tell me something I don't know, is there anything left to know?"
A few things, actually -- a final relegation spot still beckons for one unfortunate side, while qualification for the Champions League is still up for grabs, as Arsenal, Tottenham and Newcastle battle for two spots (or one, if Chelsea wins the Champions League final). At the top, based on the reactions of pundits and over-the-blue-moon supporters this past weekend at Etihad Stadium, Manchester City is already champion for the first time since 1968.
While Roberto Mancini's team has dominated for large stretches of the season, the lead atop the table among various teams has changed 11 times. Will there be one more twist?
Until we get closure on City versus QPR and United versus Sunderland, let's take a look back at some key turning points and talking points that have gotten us to where we are now, in no particular order.
[+] Enlarge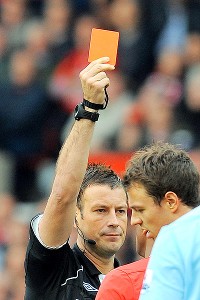 Andrew Yates/Getty ImagesReferee Mark Clattenburg showed Jonny Evans red, but the 10-man United kept attacking City -- which led to the 6-1 drubbing in October.
1. Game of goal difference
In "The Italian Job," Gianluca Vialli points out that in Italy when a team is losing by a couple of goals or more, it sets up shop in damage-limitation mode. As for England? Sir Alex Ferguson said it best: "We always try to come back. We don't have that rational way of thinking you have in France and Italy. It's not our way."
Indeed -- live by the sword, good knight. After falling behind 1-0 to City at Old Trafford in October after a first-half Mario Balotelli goal, Jonny Evans started the second half by pulling Balotelli down just outside the 18-yard box. Straight red, but the 10-men Red Devils kept attacking. "It was hard to believe we were 1-0 down, but that's retrievable," Ferguson said afterward. "The sending off was the killer blow. After that, we kept attacking. It's all right playing the history books, but common sense has to come into it. When we went to 3-1, 4-1 we should have settled for that. We kept attacking … that was suicidal, crazy."
More than anyone could know at the time. The 6-1 match represented a goal-difference swing of 10 that is roughly equivalent to United's deficit in the GD column. Mancini's postmatch words have turned out to be even more eerie: "But in the end there are only three points -- we don't take six points." True; this massive result may have taken much, much more.
2. Stomach for the fight
This isn't a single turning point, per se, but a troubling trend for United. The Red Devils failed to win a single match after conceding the first goal: 1-1 away to Liverpool; 1-6 home to City; 2-3 home to Blackburn; 0-3 away to Newcastle; 3-3 away to Chelsea; 0-1 away to Wigan; 4-4 home to Everton; and 0-1 away to City. Three points from a possible 24.
Compare that to City's efforts from losing positions. On March 22, at the Britannia Stadium, Peter Crouch went all Papiss Demba Cisse on Mancini's side, striking one of the season's wonder goals, which you can relive here, or the absolutely hilarious "FIFA 12" version in which Martin Tyler's screamo rendition almost tops Gary Neville's real-time, real-match reaction to that Fernando Torres goal that potentially threw light on Neville's (shall we say) private side. The scoring sequence was incredible, kicked off by Asmir Begovic hoofing the ball upfield; it never touched the grass before landing on Crouch's foot. Crushing blow, but City was saved by the man who has become synonymous with being the team's big-game savior, after Yaya Toure unleashed a bomb from 30 yards out -- yes, it look a wicked deflection off Ryan Shawcross, but there was no mistaking the big man's intent.
[+] Enlarge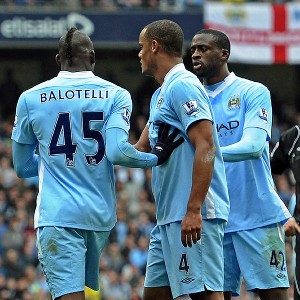 Paul Ellis/AFP/Getty ImagesCity players haven't always gotten on -- there have been training-ground bust-ups and this, an argument between Mario Balotelli and Yaya Toure. But it hasn't stopped them from winning.
Less than a week later, at Etihad Stadium, City once again fell behind 2-1 to Sunderland (and then, with less than a half-hour to go, 3-1) after Sebastian Larsson and Nicklas Bendtner scored in the first half. City appeared to be falling to bits: Balotelli and Toure got into a heated discussion while Micah Richards was being treated for an injury. Deep into the second half, after Aleksandar Kolarov won a free kick, why-always-him Balotelli and the left back were in each other's grills, with Vincent Kompany (aka the mature one) pushing Balotelli away. But the frustrations galvanized City, because Balotelli would strike in the 85th minute and Kolarov in the 86th minute, proving once again that a team doesn't have to get along to win.
Given that we head into this weekend with City and United tied on points, these two matches represent key results (and crucial points) for Mancini -- and the kind of fight back that United is typically known for.
3. Out of Europa League
Yes, we know -- no one cares about the Europa League (well, try telling that to Atletico Madrid), and certainly United and City didn't seem to prioritize it. Still, it was a dark day in March when both City and United were eliminated from the competition: Ferguson's side lost 5-3 on aggregate to Athletic Bilbao and Mancini's side on away goals with a 3-3 aggregate score to Sporting Lisbon. City showed more passion for the (ultimately losing) fight, but what about the fallout? Not being in Bucharest was no biggie, but you could make the argument that being out of the tournament was quite critical for the Premier League title race. After all, both United and City were eliminated from the FA Cup and Carling Cup (oh, the humanity) and were long booted from the Champions League. That left one trophy to play for -- and on that score, City held a decided advantage given the depth of talent on its squad.
In 2012, United had to bring back Paul Scholes to help beef up the team, and the old veteran was brilliant -- heading into the final weekend, he was fourth in the league in passes completed in the attacking half of the field. But Ferguson's side was always going to be up against it when City could pour all of its prodigious resources into the Prem.
4. Addition by subtraction
On April 8, against Arsenal, Balotelli was sent off for collecting two yellow cards, thus incurring a three-game suspension -- though it could have been more had the FA decided to mete out further punishment for a reckless tackle on Alex Song. It was perhaps the nadir for City, as the 1-0 loss to the Gunners saw Mancini's side fall eight points behind United on Easter weekend, prompting what became a mantra for the Italian -- the title is lost. He also suggested Balotelli was finished at the club: "With Mario, it's always a big risk. Every time we risk one [man] being sent off, even if he can also score in the last minute."
But losing Super Mario turned out to be a blessing in disguise because it opened the door for want-away Carlos Tevez. Having spent a chunk of the season on holiday in Argentina after that night in Munich, he had found himself back into the side from March 21 to April 8, serving out his purgatory as a late-game substitute and trying to regain his fitness. But with Balotelli gone, Mancini brought Tevez back into the starting XI -- and hasn't looked back since. Munich row? What row? Tevez scored in a 4-0 win over the Baggies, delivered a hat trick and assist in a 6-1 rout of Norwich and had an assist in a business-like 2-0 victory over Wolves.
Balotelli was back on the bench for the United match as an unused substitute, and wasn't even on the bench against Newcastle in the vital win at St James' Park.
Mancini came into the season trying to sell Tevez, and looks to be ending it with the Argentine as a key component rather than a throwaway. In the end, Balotelli turned out to be the bigger risk.
[+] Enlarge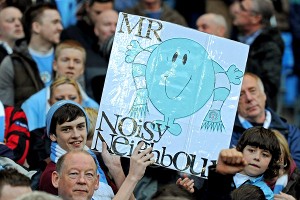 Michael Regan/Getty ImagesCity fans show their support against United on April 30, a 1-0 win for Roberto Mancini's side.
5. Eight wasn't enough
United's eight-point lead vanished in about four weeks, an epic slide. Of course, every match counts the same over the course of the season, but two during this period stick out. One was the 1-0 loss to Wigan, the first time the club avoid defeat in 15 meetings with its northwest neighbors. If not for referee Phil Down mysteriously disallowing a Victor Moses goal, the far-superior Latics -- who have done their best to personify Barcelona of late -- would have heaped more embarrassment against Ferguson's side.
Then, two matches later, came the inconceivable: United threw away a two-goal lead in the final seven minutes against Everton at Old Trafford.
6. The substitution
Mancini has been raked over the proverbial coals for his often conservative substitutions. Because he has so much attacking flair in the side this season, however, we've seen more champagne football than last season -- for players such as Sergio Aguero, David Silva and Balotelli, attacking is in their DNA.
But during the spring, City did hit a tough patch and struggled to create goals. So when the dapper Italian took out Samir Nasri for Nigel de Jong in the 62nd minute at St James' Park, you could practically hear the groans from critics -- yet as we all saw, it was precisely this move that freed up Toure to play more aggressively and score twice in a match that was billed as the one that would win or lose City the title.
Now it's up to Mancini & Co. to do United one better one more time, on Sunday against QPR before this wild ride comes to an end. Then, the victor can celebrate and the loser can see where it all went wrong. Put another way, since we started with a bit of Fugazi, "Provisional":
"Somewhere in these prying hearts
Conflicting histories tear us apart
And we hope we don't get what we deserve,
Hide behind the targets in front of all the people we serve
Now lie in it."