Title drought is over for City
May, 13, 2012
05/13/12
12:53
PM ET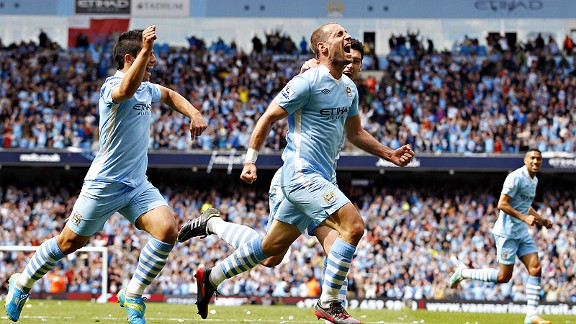 AP Photo/Dave ThompsonManchester City won its first league title in 44 years.
The result was what everyone expected, but the way in which Manchester City won the Premier League title -- its first in 44 years -- could never have been scripted. Well, it could have, but the script would have been thrown out of any Hollywood studio for being unbelievable, ridiculous even. You're having a laugh? Win the Premier League title in the fourth minute of stoppage time after throwing away a 1-0 lead in what was shaping up to be a monumental choke job? Get out of here. But that's exactly what Roberto Mancini's side did in beating a 10-man QPR team 3-2 in what was the most exciting finish to the league title race perhaps ever, and certainly since Liverpool versus Arsenal in 1989.
The surreal scenes that played out at Etihad Stadium were a microcosm of this crazy, oft-times inexplicable campaign that, as ESPN's Steve McManaman correctly pointed out, keeps making fools of all of us. Predictions? Good luck with that.
At Etihad Stadium, the team with the best home record in the league was going up against the team with the worst away record -- so, naturally, when Pablo Zabaleta scored his first goal of the season in the 39th minute to put City ahead 1-0, you assumed that it would be all academic from there. Riiiight.
But the Sky Blues started to choke, no two ways about it. In the 48th minute, ex-City man Shaun Wright-Phillips lofted a ball forward. Joleon Lescott, who had a subpar game and clearly a brain cramp in this instance, saw Djibril Cisse making a run off him and so headed the ball … right into the path of Cisse, who promptly blasted a volley past keeper Joe Hart.
[+] Enlarge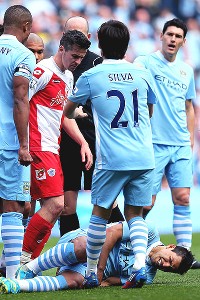 Alex Livesey/Getty ImagesJoey Barton went mental in the match, first elbowing Carlos Tevez to earn a straight red card, then attacking Sergio Aguero.
The plot thickened when Joey Barton went postal in the 55th minute. Yes, Carlos Tevez took a swipe, but the notorious anger-management candidate then elbowed the Argentine in the face. The linesman saw the infraction, giving referee Mike Dean no choice -- straight red. Barton proceeded to chop down Sergio Aguero from behind and almost threw down with Mario Balotelli, who came out from the sidelines to join the fracas. The pinched-up, weasel-like face Barton made when he brought down Kun showed that no matter how deep down you lock your demons, they never truly go away.
Down to 10 men, though, QPR defended amazingly well. It'll be lost in City's miracle on grass, but the likes of Clint Hill, Anton Ferdinand, Taye Taiwo, keeper Patrick Kenny and Shaun Derry were all among the heroes, with the zero of Barton thrown in for good measure.
One of the key turning points in the match was when Yaya Toure came off at the end of the first half due to injury, replaced by Nigel de Jong. Mancini's men sorely missed the leadership and explosive game-changing runs of the Ivorian, and continued to show signs that they were snatching defeat from the claws of victory when, in the 66th minute, an unmarked Jamie Mackie got on the end of an Armand Traore cross. From there, City was in meltdown mode: Mancini was crouching on the sidelines a la Andre Villas-Boas, the horrors playing out in front of him. Missed chances, players snatching at balls, some bad luck -- all while United clung to a 1-0 lead at Sunderland.
This, truly, was what picture-in-picture was invented for.
Was this to be another United day to remember? Before the day's fixtures, Sir Alex Ferguson had hoped that something "stupid" would happen -- and it did, twice, for City by conceding two poor goals for a side that boasts the best defense in the league. And by the time it was announced that there would be five minutes of stoppage time, that had to be it, didn't it? Five minutes of funeral procession. City fans were in shock; some took out their frustrations on whatever they could grab (one young man laid the beatdown on his shirt a few times) while others stood there, silent.
But then Balotelli just missed a header on a cross, Kenny making another of the many top-class saves of the game, before Edin Dzeko, brought on shortly after QPR's second goal, headed home on another corner. The emotion in Etihad Stadium turned from dread to hope, as City restarted as quickly as possible. Then, in Minute 4 of stoppage time, Aguero wrote himself into the team's history books by winning the Premier League title. Thankfully, given the way QPR fought, clawed and grinded out on the pitch, Mark Hughes' side, while gutted, was not relegated. The "honor" went to Bolton.
The number of emotional twists and turns in this match were absurd. United fans' hopes were dashed, then buoyed -- after throwing away an eight-point lead on Easter weekend, the Red Devils looked to improbably, impossibly nip the title in the end -- and finally, crushed. Stomach-wrenching stuff, and City fans felt the same for most of the match. Fans needed Dramamine to get through the ups and downs.
The last time the Sky Blues won, in 1968, they entered the final match day tied on points (56) with Manchester United before besting their rival. And no one, really, can argue that they were the better team for this season, a more powerful, dynamic side. At the same time, no one can really argue that Ferguson got the most out of his players, who were well below vintage United and will have to do some fairly considerable rebuilding for next season.
In the mind games heading into Sunday's matches, Ferguson warned that if City threw away this opportunity to win the league, it would end up haunting the club for ages, undoing all the good that some 800 million pounds of investment has done to rebuild this team. And for 94 minutes, SAF was getting his wish. But as the United players milled about the pitch at Sunderland, waiting for the result in Manchester, City staged a comeback for the ages. It had 81 percent possession to QPR's 19 percent; 19 corners to zero. But it's only the three goals that matter.
Check that, the number 44 matters most -- to City fans, anyway, while United supporters seethe at what almost was, and what may not be for a long time as the Sky Blues build toward a dynasty rich in talent and British pounds.
Now, after weeks of saying United were the favorites to win the title, Mancini can finally ditch his poker face and revel in a truly monumental achievement.