Robin van Persie -- for love or trophies?
July, 5, 2012
07/05/12
4:20
PM ET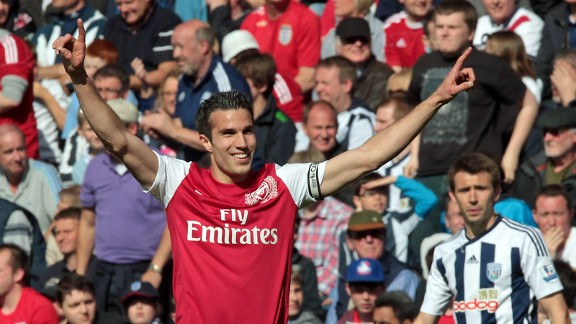 Ross Kinnaird/Getty ImagesRobin van Persie is headed toward the exit at the Emirates.
There are a few topics you shouldn't discuss at a fancy dinner party lest you be branded a rabble-rouser. Politics in general, and the Obama administration in particular. Religion is another no-no, a conversation starter that will end with recriminations (sorry, Gram). But perhaps the worst subject to bring up amid the fine china is Arsenal.
Ah, the Gunners. It's the north London club that keeps on giving ... controversies, infighting, false hope and a religion of its own, with Apostle Arsene Wenger leading the charge amid the Emirates' acolytes. The latest bit, of course, comes with Robin van Persie announcing to his fans that he has decided not to extend his contract with Arsenal (he has one year left) after he was unable to come to an agreement with Wenger and American majority owner Stan Kroenke.
This, in turn, has led to what the British media has branded an internal civil war. Arsenal stakeholders Alisher Usmanov and Farhad Moshiri -- who, through their investment company Red & White, own just under 30 percent of the club -- wrote an "open letter" to The Associated Press blasting Kroenke for letting Van Persie walk out of the Emirates.
This soap opera, in which there appears to be no winner, will continue to unfold in the coming days. In the meantime, some thoughts ...
1. The RvP of last season is not replaceable
Wenger has brought in some new guns, Germany striker Lukas Podolski and France forward Olivier Giroud, players, presumably, who would help fill the void when RvP takes his boots elsewhere. Now, we all know that Van Persie has all the durability of Elijah Price, the bad guy in "Unbreakable" whose bones were made of glass. But the Dutchman had an atypical 2011-12 season, one in which Gooners held their breath every time he kicked a ball or was tackled by a defender. After starting the season in disastrous form, Arsenal finished in third (still a remarkable achievement when you think about it) and RvP was a huge reason for this.
The man played all 38 matches (37 started) and scored a league-leading 30 goals from 174 shots (76 of which were on target), logging 3,576 minutes in the process, the 10th most in the Prem. Of the players ranked Nos. 1-9 in minutes played, only three were outfield players -- the rest were keepers.
Besides banging home the goals, RvP was a provider, too: He was fourth best in the Prem last season for that much-coveted stat "chances created" (passes that lead directly to a shot) with 92, behind only Luka Modric (95), Juan Mata (102) and David Silva (104).
No one is going to fill that hole -- and, frankly, it's doubtful even RvP could.
2. Which is why the time to sell is now
As much as RvP's 2011-12 season was amazing (those two volley goals remain fixed on the highlight reel) it is obvious that you will never get this kind of production out of the Dutchman again. In 2010-11, he started 19 games and scored 18 times; 2009-10, 14 games started, nine goals; 2008-09, 24 games started, 11 goals. You get the picture.
RvP is turning 29 in August, with the clock ticking down on his contract. With each passing day, Arsenal will have less leverage to cash in -- and we all know Wenger is an expert in two things: spotting young talent and getting rid of players the moment they're past their prime.
But the gaffer's influence and control on these type of situations isn't as strong as it used to be (is it for any manager?) -- the money pouring in from Etihad Stadium left him powerless with both Samir Nasri and Gael Clichy. As long as Van Persie is healthy enough to put pen to paper -- and if there's someone who could contrive to break his hand minutes before finalizing a deal, it's the Dutchman -- it's smart business for him to leave. But it's also smart business for Arsenal as long as they reinvest properly.
At all costs, they need to avoid the last-minute shopping they did in haste in the transfer window last August. Not that the players they bought were terrible -- Mikel Arteta acquitted himself well in the midfield, playing a deeper role than the player he ostensibly replaced, Cesc Fabregas. And, in fact, Arsenal didn't win a Premier League match without Arteta until the final game of the season.
Chelsea's Yossi Benayoun worked out fine but was a loanee. Left back Andre Santos came in from Fenerbahce, living up to the Brazilian stereotype that he won't let playing defense get in his way of a labored run down the flank. Per Mertesacker -- not bad, but not a first choice in the center of an already mentally fragile defense.
The die seems to be cast anyway: Podolski and Giroud have been brought in as players of their own right, not to complement RvP. And while more will be needed, Arsenal can hope that Jack Wilshere has a strong comeback season and Aaron Ramsey recuperates after being overused last season as a result of Wilshere's absence. But it should worry Arsenal fans greatly that the club has, once again, let a player get toward the end of his contract, which leaves the Gunners in a weakened business position. It happened with Nasri, and now it appears to be happening with RvP. Such business "strategy" will undermine the club's quest for trophies, and in this regard Usmanov and Moshiri have a strong point.
So now Arsenal fans can hope. Hope, because that's what Arsenal fans do best.
3. Not a black-and-white issue
RvP's statement about wanting to leave Arsenal to win trophies is the all-too-familiar refrain of players who want a bigger payday -- and it's one that is turning the Gunners into a glorified feeder club. But few teams are immune to this. Remember that Wayne Rooney wanted to leave for greener grass because United wasn't matching his "ambition" before doing an about-face which no doubt included a few pounds.
On the one hand, Van Persie is simply the latest case of a player engaged in subterfuge so transparent you'd think someone would have the good sense to tell him to zip it in statements. Instead, the striker released a statement implying that his own teammates aren't up to scratch. We'll hear that again and again, no doubt -- though if Theo Walcott starts spewing this nonsense (his contract is up at the end of the upcoming season) after what will surely be another season of unfulfilled potential, we may all as well pack it in.
On the other hand, injuries aside, Van Persie has played hard for the Gunners since joining in 2004, and he has just one proper title to show for it: the 2005 FA Cup (for those truly desperate, go ahead and count the Community Shield). Thierry Henry, the club's living legend, decamped in 2007 after an almost-decade stint with the Gunners and caused minimal fuss. Wenger said he left with his "blessing." But then, the Frenchman had helped Arsenal win two league titles and three FA Cups, and he left for Barcelona. Funny, that, because players seem to get a bit of a pass going to Camp Nou versus, say, Etihad Stadium these days. Cesc Fabregas? Oh, his childhood club. Nasri? Greedy @#$#$. But let's not digress.
At any rate, these types of decisions are complicated to make in a perfect world, let alone in an agent-driven, Twitter-dominated one where fans will rip you for anything and everything.
Arsenal supporters -- a good many of them, anyway -- have tired of Wenger's building for a future that never comes. Can they really begrudge RvP is he's tired of the rhetoric, too?