Is Edin Dzeko the odd man out?
August, 8, 2012
08/08/12
5:34
PM ET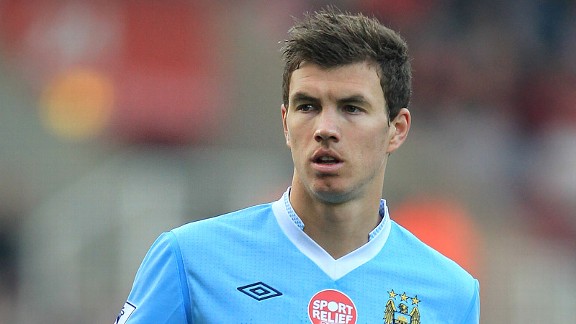 He was the team's second-highest scorer in the Premier League last season, yet Edin Dzeko seems to be on the outside looking in at Manchester City.
The brooding Dimitar Berbatov sits is in a dark corner of a pub. Cigarette in mouth, the Manchester United striker takes a drag. Then he offers a small roll of tobacco to another figure cloaked in darkness. "Here, take this," Berba says. "And welcome aboard. Now tell me your problems."
"Thanks," comes the reply before the glow of orange ambers at the end of the smoke reveals ... Edin Dzeko, who has joined the Premier League's Not Wanted Strikers support group, an unfortunate assembly of talented gentlemen who go unwanted by their employers despite a dependable return on investment.
All right, pardon the bit of dramatization, but you get the point. While we wait to see where Berbatov lands, Manchester City's striker is in a rather similar predicament.
It's no secret that his manager, Roberto Mancini, would like to get rid of him. Surplus to requirements appears to be the message coming out of Mancini's camp ahead of the Community Shield on Sunday. To read some reports, Dzeko is the biggest flop on the blue side of Manchester since Wayne Bridge arrived, a do-nothing, ineffectual striker who traded the Bundesliga about 18 months ago as the leading scoring in 2009-10 for the ignominy at Etihad Stadium.
If reports are to be taken at face value -- always a big "if" in the silly season, which raises more epistemological questions than anything else -- Mancini wanted to move Dzeko out and bring Robin van Persie in. With that deal apparently dead, the Italian manager said Dzeko is "pretty unlikely [to] leave."
Talk about a vote of confidence.
But is Dzeko the 27 million pound flop he's being portrayed? Far from it. If anything, he's a victim of his surroundings, the embarrassment of riches of the defending Premier League champions.
First off, Dzeko's production: 14 Premier League goals in 30 appearances (16 as a starter, 14 as a substitute) last season, which was the second-best return on the team behind Sergio Aguero's 23. Dzeko also netted 18 goals in all competitions last season. Not too shabby on a team with Carlos Tevez, Mario Balotelli and Aguero, and especially when starting a game is anything but a given.
When Mancini brought Dzeko on board in January 2011, he claimed that the Bosnian international might "make the difference" in the team's title ambitions. Dzeko didn't that year, but on the final day of last season he scored the dramatic header that leveled the match 2-2 in stoppage time against QPR before Aguero went on to win the match -- and the league. Dzeko also put four past Tottenham and two against United in that 6-1 drubbing.
Now the line against Dzeko is he runs hot and cold, which is fair enough, though hardly a unique trait among strikers. And his supposed claim in the media, where he said he's too good to be riding the bench, smacks of avaricious agent talk. But it also holds some merit. Down the stretch, Mancini favored playing Tevez or Balotelli, with Dzeko only making two starts in 14 Premier League matches from Feb. 12 to the end of the season, a run that hardly is going to allow a player to find his rhythm.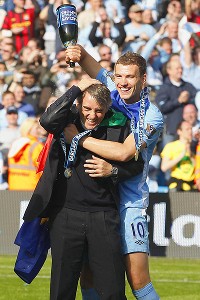 Roberto Mancini and Edin Dzeko celebrate winning the Premier League title.
This isn't to suggest that Dzeko is the top guy at the Etihad -- Aguero is the man who Mancini wants to build this team around, along with getting more consistency out of David Silva. Balotelli, for all his far-flung antics, came good on a number of occasions to earn the right for more starting time, though the manager's patience with the young striker continues to stretch credulity. Can you count on Mario to be super all season? About as much as you can depend on Joey Barton graduating with honors from an anger management class.
And Tevez? If not for the hefty transfer fee, Mancini would have already told the Argentine to take his petulant me-me-me world tour to another club.
But Dzeko has shown a keen understanding when he's on the pitch with Silva and Aguero. And as we saw when he was at Wolfsburg -- Dzeko became the highest scorer in the history of the club with 59 goals in 96 appearances in August 2010 -- he raises his game when he's playing with another striker, albeit when he's also given more license to roam, as he was at Wolfsburg.
With City's deep talent pool, Mancini is unlikely to give Dzeko the freedom he had in Germany -- such a ploy would risk the striker putting off any number of world beaters, and regardless of where the manager has started Dzeko (out wide, in the hole, etc.) he has been forced to remain quite disciplined.
That's not about to change.
Still, Dzeko represents something different from the other attackers in Mancini's arsenal. He's a traditional target man (Mancini likes that type of player). Last season, all but three of Dzeko's 14 league goals came from inside the box; his farthest strike from distance was 24 yards away from goal against Tottenham. On the other hand, only four of Dzeko's goals were headers. Chicken or the egg -- was Dzeko inconsistent, or was the service not there? A bit of bother, really.
If City ever developed real wing play, the Bosnian could become more of an asset. We all know that Silva & Co. attack straight up the middle, a predictable pattern that was still ruthless enough to win the EPL title. But this season teams will strengthen and find ways to counter, even if that means top sides parking the bus. (Chelsea, for one, knows a thing or two about doing that.) Eventually, City will need a plan B. Dzeko could be a key part to that, though for that to happen the side will need more out of their full backs: Aleksandar Kolarov is not especially pacey, though he has his rare moments getting forward; Gael Clichy is faster but doesn't exactly pump in the crosses. On the right, Pablo Zabaleta is all about defending, and Adam Johnson is a "winger" in name only, preferring to come inside.
But Dzeko's biggest fight won't be the opposing teams. It'll be convincing Mancini that the striker needs more time on the pitch, and perhaps in a slightly freer role. Tough spot, that. Dzeko is, to a high degree, a victim of the club he chose to join. Money talks, but you may pay the piper in other ways.
In the meantime, he could always ring up Berbatov for a chat.