City tops Chelsea in curtain raiser
August, 12, 2012
08/12/12
11:09
AM ET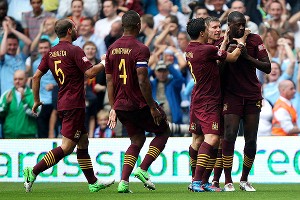 AP PhotoManchester City defeated Chelsea 3-2 at Villa Park.
There are two kinds of nights out with your significant other. You've got the "Hey, let's go grab a bite and catch a movie." And then there's the dreaded Date Night, when the same itinerary carries the weight of expectations. One is fun; one better be fun.
The Community Shield is kind of like football's version of Date Night -- it's a meaningless preseason friendly, the curtain raiser right before the Premier League season kicks off a week later. Yet, there's silverware involved. Expectations. You may be more concerned with not losing than winning. Roberto Di Matteo said as much heading into Sunday's showdown with Manchester City. "When you win, people will say, 'Well, it's not an important game,'" the Chelsea manager said. "If you lose, you know, it's an important game."
Important at least until the real thing starts in a few days. In the meantime, Di Matteo's men will have to lick their wounds as Manchester City defeated them 3-2 at Villa Park, the stand-in for the traditional venue for the Community Shield, Wembley, which was hosting the final day of the Olympics. An entertaining and intriguing match, it pitted a side in full regeneration mode against the defending champions who've done little during the transfer window, much to the chagrin of City manager Roberto Mancini. (Everton's Jack Rodwell, however, is on the verge of signing with City, pending a medical he was having Sunday.)
Despite City controlling the first half with pace and possession, Chelsea struck first -- and by the man who earned one of the cheapest Golden Boots in international football history, Fernando Torres. In the 40th minute, Ramires easily juked by Pablo Zabaleta outside the D before passing the ball through a sea of maroon jerseys to find Torres. The striker coolly chipped the ball over Costel Pantilimon to get the Blues on the score sheet in a 45 minutes in which they created only one other decent chance, a shot from range from Eden Hazard in the 29th minute.
Hazard showed he'll inject Chelsea with some much-needed guile, while we all know that the team's fate -- and perhaps that of Di Matteo -- will be inextricably linked to the success, or failure, of Torres as he leads the line and tries to find a way to replace all those goals Didier Drogba took with him to China.
Two minutes later, however, the game changed: Branislav Ivanovic earned a straight red card for a reckless tackle on Aleksandar Kolarov. The Serb took his rightful place as the fifth player in Community Shield history -- Sunday was the 90th edition of the curtain raiser -- to earn a straight red, joining Kevin Keegan and Billy Bremner, who were both ejected for their infamous brawl in 1974; Roy Keane in 2000; and Francis Jeffers in 2003. To be fair, Ivanovic's tackle was reckless, but certainly not malicious a la Keane. It was also stupid, as the Chelsea defender will now miss the first three games of the season.
And by the likes of how John Terry defended Sunday -- his inability to clear the ball in the 53rd minute allowed Yaya Toure to level the match at 1-1 with a brilliant curling ball into the near post -- Chelsea's back line will be tested straight away when the EPL begins. Of course, it wasn't a fair fight at that point, even if Chelsea seems to relish playing a man down and circling the wagons.
City, meanwhile, was experimenting with a back three, which at kickoff comprised Stefan Savic, Vincent Kompany and Zabaleta. The Sky Blues then got their second goal in the 59th minute by Carlos Tevez. It was a bit of individual brilliance, as Samir Nasri -- who had an excellent match -- found Tevez, who came inside toward the center of the D to unleash a beautiful strike into the upper right. His celebration involved lifting up his jersey where the words "Fuerte Apache" were emblazoned on a T-shirt. But this message wasn't snide; Tevez didn't do one of those ridiculous mock golf swings to mock his paymasters, or cup his ears to prove a petulant point. He's happy (for today, anyway -- that may be a story in itself), and so he simply referenced the impoverished neighborhood of Ejercito de Los Andes where he grew up in Argentina.
Nasri would ice the match, scoring the winning goal in the 65th minute on a slick bit of combo play that saw Kolarov cross the ball from the left. Instead of letting the ball go across his body, Nasri smashed the volley in with his left foot, tremendous skill from a player who has a bit to prove this season.
Chelsea has plenty to prove, too, as the following weeks and months unfold. As Di Matteo tries to rejuvenate his side, he'll have to demonstrate that the side can win with creativity thanks to the likes of Hazard, Torres and, eventually, Marko Marin, Oscar and even Lucas. His side also got one goal back in the 80th minute to make it interesting against City. Daniel Sturridge (on for Juan Mata) hit a shot toward Joe Hart stand-in Pantilimon, who bobbled the ball. Ryan Bertrand, on for Hazard, didn't hesitate to bury the sitter, after which the keeper, who stands an Ent-like 6-foot-8 starred down at Bertrand in a row that wasn't exactly Keegan v. Bremner Part II, but enough to earn both players yellow cards. While City is stacked at virtually every position, it should be indeed worried if Hart ever suffers a serious injury blow.
City had opportunities to put the match away, including Sergio Aguero missing a sitter. Yaya Toure, once he found himself in a slightly more advanced position in the second half, continued to show he'll be a menace to all teams. Tevez and Aguero linked well, too, with Mario Balotelli in the stands, smiling ear to ear. And Terry continues to prove that no matter where he goes, he will be booed. Same old, same old, in other words.
All in all, it was a decent curtain raiser to keep us entertained until the Big Show kicks off.