June, 22, 2011
06/22/11
2:26
PM ET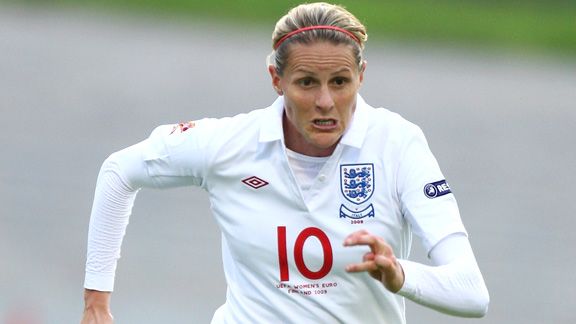 Ian Walton/Getty ImagesKelly Smith is England's greatest player. This will be her second (and likely last) Women's World Cup.
When the 2011 Women's World Cup kicks off in Germany on June 26, we'll be seeing a tournament widely expected to be the most competitive yet. Not only are the teams very evenly matched, the pool of individual players is as talented as it's ever been since the tournament began in 1991. If Germany and Brazil meet in the final, for example, there will be two players with a combined eight FIFA Player of the Year trophies between them (Marta with five and Birgit Prinz with three).
So we've decided to name the best starting XI we'll see on the field this summer. In order to spread out the talent, we're including only one player from each team in the starting lineup. The bench includes the players we couldn't fit into the starting lineup.
Hope Solo, goalkeeper (United States)
The world's best goalkeeper is back in action after missing seven months due to right shoulder surgery. She played the game of her life in the 2008 Olympic final -- including a heart-stopping, point-blank save on Marta in the second half -- leading the underdog U.S. to a win over Brazil in one of the most memorable women's soccer games in recent memory.
Ali Riley, defender (New Zealand)
The 2010 Women's Professional Soccer Rookie of the Year is headed into her second World Cup for New Zealand. While the Football Ferns aren't expected to make much noise in the tournament, Riley has proved herself as one of the most reliable defenders in WPS and imposes herself on the attack from her left back position.
Linda Bresonik, defender (Germany)
Picking just one German player for the best XI isn't an easy task, but Bresonik earns the nod. She started every match in 2007, when Germany didn't concede a goal en route to winning it all. She's also a solid attacker on the flanks.
Sonia Bompastor, defender (France)
Bompastor is another dangerous offensive option at the outside back position. She's so crafty and creative on the ball that she was most popular in her WPS years with the Washington Freedom (2009 and 2010) as a midfielder.
[+] Enlarge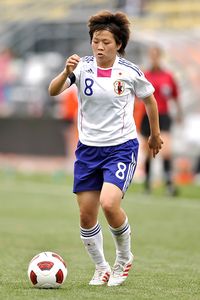 Jamie Sabau/Getty ImagesJapan's Aya Miyama plays in the midfield, and is at her best on free kicks.
Aya Miyama, midfielder (Japan)
Japan's Miyama is at her most dangerous when taking free kicks. Her laser-like shots were on display in Japan's first game of the 2007 tournament as she netted two free kick goals, including the equalizer deep into second-half stoppage time, in a 2-2 draw with England.
Caroline Seger, midfielder (Sweden)
After a bit of a bumpy start in Women's Professional Soccer in 2010, Seger was a dominant force late in the season. She's played well with her new Western New York Flash team this season. Sweden's captain will be looked upon to get the offensive attack going for her side.
Kelly Smith, midfielder (England)
England's greatest player will take the field in Germany for her second, and likely last, World Cup. Through England's first three games in 2007, Smith had four goals and was rivaling Marta for player of the tournament. But England ran into the U.S. in the quarterfinals and was promptly bounced from the competition. Smith has had an injury-riddled career, but has played some of her best soccer in recent years. She was a star at the 2009 European Championships and finished fourth in FIFA's Player of the Year voting in 2010.
Yorely Rincon, midfielder (Colombia)
Maybe it's too soon to list Rincon, who's just 17, on the best XI, but there's something to be said for star power. The latest player to be bestowed the "Next Marta" title, Rincon electrified audiences in the 2010 U-20 World Cup.
Lisa De Vanna, forward (Australia)
De Vanna missed most of 2010 with a broken leg, but when healthy at the 2007 Women's World Cup, she was the super sub of the tournament. In 2009, she became a starter for the Washington Freedom, and her speed -- she's one of few players who can rival Marta with on-the-ball pace -- didn't tire over the course of 90 minutes.
Christine Sinclair, forward (Canada)
Canada's greatest player comes into the Women's World Cup on a hot streak after tearing up WPS in her first few games with the Western New York Flash. She's one of the most lethal finishers in the world.
Marta, forward (Brazil)
The debate in the 2011 Women's World Cup won't be whether Marta is the world's best player. The debate will be whether Marta is the greatest player of all time, surpassing Michelle Akers, Mia Hamm, Kristine Lilly and Birgit Prinz. She is. No player has ever possessed the creativity, speed and finishing touch that Marta displays. She doesn't dive, practices just as hard as she plays, never gets subbed out and isn't selfish with the ball. At 25, she's headed into the World Cup on her best game.
Bench
Abby Wambach, forward (USA)
One of the world's most prolific goal scorers, Wambach is fit after battling Achilles tendinitis earlier this year.
Birgit Prinz, forward (GER)
In what will be her final World Cup, Prinz can extend her record as the all-time leading scorer in Women's World Cup history (14 goals).
Inka Grings, forward (GER)
Picking just two German players for the bench is difficult, because the team is the most talented in the tournament. Grings earns a spot on the bench as Germany's third all-time leading scorer.
Fara Williams, midfielder (ENG)
She's been battling a knee injury this spring, but if Williams can stay healthy during the tournament, she is poised for a breakout performance on an England side with high hopes.
Camille Abily, midfielder (FRA)
France's No. 10 was one of the WPS's most popular players before returning to France this year.
Candace Chapman, defender (CAN)
Chapman has quietly become one of the most reliable defenders in WPS over the past two years.
June, 20, 2011
06/20/11
12:12
PM ET
When the United States takes the field on June 28 against North Korea, 13 players on the roster will be eligible to make their World Cup debut, with several expected to start or see significant minutes in the match.
Perhaps the brightest potential star on the team is Alex Morgan, a 21-year-old forward who has been the United States' super sub over the past six months. Her stoppage-time goal in the first game of a two-leg series against Italy in November propelled the United States to the final World Cup berth.
The United States may need her heroics off the bench this summer. Morgan's speed and attacking mentality make however long she's in the match -- whether it's 45 minutes or five minutes -- just a bit more interesting. Despite her recent success, Morgan says she's only focusing on the future.
"It's my first World Cup [and] my first time in Germany. You can't ask for anything more," she said at a U.S. Soccer/Niketown event in New York City last week. "It's going to be fun, but it's going to be hard work." The United States is relying on a mix of young talent and veteran leadership in its quest to win its first World Cup since 1999.
"If it's a young player giving 100 percent compared to an older player giving the experience and 100 percent, it's still the same. And if we win together and fight together, I think that's the most important," defender Ali Krieger, who will also make her World Cup debut, said at the event.
Morgan, Krieger or any of the other 11 U.S. players who could see their first World Cup minutes this year could end up being the breakout star of the tournament. Here's a look at four veteran stars we'll see this year who shined in their respective World Cup debuts:
[+] Enlarge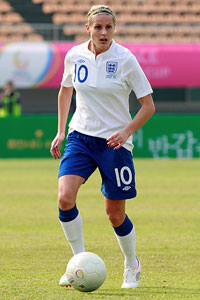 Getty ImagesAlready an international star by the time she made her World Cup debut, Kelly Smith scored two goals against Japan in England's group opener in 2007.
Kelly Smith, 2007, England ties Japan 2-2
After a long wait, England's No. 10 Kelly Smith finally made her World Cup debut in 2007 and did not disappoint. She took control in the second half and scored two goals in the game's final ten minutes to put England ahead 2-1. Already considered on the short list of best players in the world heading into the tournament, Smith immediately proved it on the biggest international stage. She finished with four goals in four games before England lost in the quarterfinals that year.
Japan's Aya Miyama, who scored two goals off free kicks in the match, would have been eligible for this list if not for a one-minute appearance in Japan's final group game in 2003.
Heather O'Reilly, 2007, United States ties North Korea 2-2
Heather O'Reilly was already an established veteran by the time she made her World Cup debut for the United States, and she came through when the Americans needed it the most in their opening game of the 2007 tournament. With the U.S. down 2-1 after North Korea scored two quick goals, O'Reilly's gutsy volley in the 69th minute kept the team from losing in the first round for the first time in its World Cup history.
Lisa De Vanna, 2007, Australia beats Ghana 4-1
Tom Sermanni's Australian squad proved to be the most surprising team in 2007 before losing a close match to Brazil in the quarterfinals, and Lisa De Vanna was one of the stars of the tournament. Used exclusively as a substitute in Australia's group stage matches, she scored two goals in the second half to get Australia's offensive attack going against Ghana. Her game-tying goal against Norway in Australia's next match is remembered as one of the best of the tournament. She eventually earned a spot in the starting lineup in the matchup with Brazil.
Shannon Boxx, 2003, United States beats Sweden 3-1
Shannon Boxx had never appeared for the United States women's national team before being named to the World Cup roster in 2003. Her primary role was that of defensive midfielder, but she proved immediately to be an offensive threat, scoring in her first three national team appearances -- two warm-up games and the United States' opening game against Sweden. Just two years later, she finished third in the FIFA Player of the Year voting.
June, 6, 2011
06/06/11
10:04
AM ET
The United States wrapped up its World Cup tune-up matches this past weekend and will arrive in Germany on June 14 to begin its World Cup quest. Here are three things we learned from this spring's preparation matches:
[+] Enlarge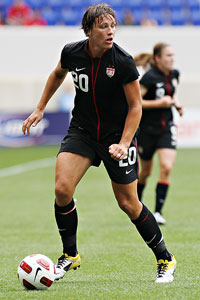 Nick Laham/Getty ImagesAmy Wambach is returning to form after battling through Achilles tendinitis.
1. Hope Solo and Abby Wambach are back
The U.S.'s two best players have been battling through injuries over the past year, but both proclaimed themselves fit for the World Cup before Sunday's final warm-up game, a 1-0 win over Mexico. Solo missed six months after having surgery on her right shoulder in the fall of last year. She missed CONCACAF qualifying for the World Cup, and only made her return to the U.S. national team in April, playing the second half of the team's 2-1 loss to England.
"Looking back, I can't believe how close I cut it to the World Cup," Solo said at a joint Niketown-U.S. women's national team event in New York City on Saturday. "I've only been back for [three] games and now we're about to embark on our greatest journey. Looking back, I had wished I had gotten the surgery earlier, but at the same time, shoulda, coulda, woulda. I'm peaking at the right time, thankfully, because of my goalkeeper training and my coaching. I don't necessarily need a million games to peak. I'm confident going into the World Cup despite only having two games."
For Wambach, it's a return to form after battling through Achilles tendinitis over the past few months. She's been on a hot streak over her last few games, even netting a hat trick for her Women's Professional Soccer club team magicJack in her final WPS game until after the World Cup.
"Getting a hat trick is something any forward will throw in their back pocket, especially heading into a world championship," Wambach said at the Niketown event. "I'm excited to get to Germany. I'm excited that my body is finally feeling more healthy than it's felt probably in a year. I guess you could say it's perfect timing."
Solo was not challenged by Mexico over this past weekend, but proved to be back to her usual self in the two previous friendlies against Japan. She came up with saves when called on, and showed no hesitation going into dives where she would land on her right shoulder.
"There's nothing like it," Wambach said of having Solo back in net. "Having her confidence, her strengths. When she goes into a 1v1 challenge with an opponent, I'm fairly certain and confident that she's going to make the save or at least do something for us. She comes up big."
2. The U.S. defense has seen a lot of changes, but stands strong
The U.S. is more than set in the center of the defense. In fact, the squad has so many central defenders that Amy LePeilbet, the two-time Women's Professional Soccer Defender of the Year, finds herself forced out onto the left wing. While she's still learning how to get into the attack, her defensive presence is still excellent.
When Christie Rampone missed two friendlies because of a groin injury, WPS ironwoman Becky Sauerbrunn stepped into the starting 11 with ease and is a solid first option off the bench in case of an injury to the backline. Ali Krieger appears to have locked down the right back position, but Heather Mitts' return from injury to make the squad (coach Pia Sundhage made it official on Sunday) could mean some changes once the team gets to Germany.
3. The rest of the world can compete
Whether it was midfielders Kelly Smith and Fara Williams taking over for England in the April 2-1 win over the U.S., or Mexico goalkeeper Ceci Santiago holding off the U.S. for most of the game this past weekend, teams and players have been able to take it to the U.S. this spring. It's not a bad thing. It means the rest of the world is very talented and that the 2011 World Cup should be the most competitive yet.
"The road to the World Cup has been bumpy. In a perfect world we should have scored a couple of goals today, but my glass is half full," Sundhage said after Sunday's game. In that match, Santiago made eight saves and the U.S. needed a 92nd minute wonder goal from Lauren Cheney to earn the 1-0 win.
Because of recent results -- three losses dating back to October of last year, this U.S. team has an underdog quality to it. It's not going to be an easy ride through the tournament. The April loss to England, one of a handful of teams expected to challenge the big three of Germany, Brazil and the U.S., has largely shaped the conversation in women's soccer this year. We'll find out in a few weeks whether this year's World Cup will produce any more surprises.
When the United States women's national team announced its World Cup roster last week, one of the names to make the biggest waves in Women's Professional Soccer was that of Becky Sauerbrunn's because it meant the end of one of the league's most celebrated records. Since WPS began in 2009, only one player has competed in every minute of every game -- Sauerbrunn, earning her the "iron woman" title. Her call-up to the full national team means Sauerbrunn will eventually miss a WPS match to prepare for this summer's tournament in Germany.
"Isn't that amazing? How ironic," U.S. forward Abby Wambach said. Wambach has been Sauerbrunn's teammate with magicJack (formerly known as the Washington Freedom) for the past three season, and the two have played against each other many times in practice. "She does so many things that you wouldn't consider flashy. She's consistent. She is really good on the ball. She's just solid."
It's that kind of consistency that kept the 25-year-old defender in the starting lineup each week.
"It's just something I can be proud of," Sauerbrunn said of her streak. "I'm not scoring goals. I'm not really assisting. Defenders don't really get any sort of notoriety or anything like that. It was something I was proud of because it made me feel good that my teammates wanted me on the field, my coaches wanted me on the field. It was nice for me."
While she wasn't called into camp until after the 2010 WPS season finished, she kept playing for her club team while other players missed time for national team commitments. She currently sits atop the WPS charts with 47 consecutive regular-season games, totaling 4,230 minutes.
The U.S. women's national team beat Japan 2-0 this past weekend, and because regular starting defenders Christie Rampone and Amy LePeilbet missed the match with injuries, Sauerbrunn played the full 90 minutes. She paired well with Rachel Buehler in central defense and made several key defensive clearances.
For now in WPS, Sauerbrunn's streak still lives because magicJack had a bye week while the U.S. played Japan. Sauerbrunn returns to her club team this weekend and her iron woman streak will probably continue for two more weeks before it probably comes to an end.
"If the streak has to end, this is the absolute best reason that it's ending -- that I get to go to a World Cup," Sauerbrunn said. "It is kind of bittersweet because I owe WPS so much. Without WPS, I would not have made the national team. I know that just playing day in and day out with some of the best players in the world on a platform where the [national team] coaching staff could watch me every weekend is really the only reason."
May, 17, 2011
05/17/11
11:24
AM ET
U.S. women's national team stars Abby Wambach and Heather O'Reilly visited Bristol, Conn., last week to announce the U.S. roster for this year's Women's World Cup. ESPN.com caught up with them at the end of a busy day of interviews to talk about their World Cup memories and what they expect to see this summer in Germany.
ESPN.com: How did you find out when you made your first World Cup roster? What was that moment like?
Abby Wambach: I found out -- it was in 2003, my WUSA team, the Washington Freedom, was going to play in the finals of the WUSA that year. April [Heinrichs] called me to her house. Drove to her house in Gainesville, Virginia. She told me over lunch that I was going to make the squad and also told me that I was going to be starting. Of course, I got into my car, called my mom immediately and cried for the 30-minute drive home and was pretty pleased with myself. As a young player, you count over and over again in your head all the positions and how many players are going to make it and the roster number. It was one of the greatest days of my life.
Heather O'Reilly: I think that I remember 2004, making the Olympic team, a little more vividly than making the 2007 World Cup team. In 2004, we trained all summer long in residency. At the end of the residency camp, they were going to post -- literally post -- a list on the door at a certain time. I think it was 2 p.m. We finished training around 12, so I had a couple of hours to kill. Myself, Leslie Osborne, Lindsay Tarpley and Lori Chalupny, the four of us hung out all summer long, all the young players. So we got Starbucks and were trying to pass the time. Obviously, [we were] super nervous. [We made] it to the Home Depot Center to check the list on the wall. I remember Abby was there, just kind of watching my expression. Obviously, it's a weird feeling, because you're so excited, but some of your teammates didn't make the team and everybody's been through such a journey together. It's definitely a bittersweet moment, but you know in the end you feel very proud of yourself.
ESPN.com: What would you say to players who didn't make the roster?
Wambach: There are a few things I would say to players who didn't make the roster. One, don't let somebody's decision or opinion of your game be the basis of how you look at yourself. You have to look at your own self and your own game and decide what you feel. Still appreciate all of the time that you spent preparing for whatever team you're trying out for. The other thing is, don't ever give up because that gives whoever decided that roster, who didn't chose you, one up on you. You gotta go back to the grindstone and keep working hard.
ESPN.com: What advice would you give Alex Morgan, who will be making her World Cup debut at 21 years old?
Wambach: I would say, "Don't think about anything. Just run, get the ball and score goals when you get your chance. At the end of the day, let all the veterans and the experienced players be the ones that have the pressure and the responsibility of making your team win games." She just has to go out there and have fun. She's 21 years old. She doesn't need to have the weight of the world on her shoulders. Just go out [and] have the best time. Experience the World Cup, [her] first World Cup, like everybody hopes that they should.
ESPN.com: What do you expect from your group, which features North Korea, Sweden and Colombia?
O'Reilly: I think that we have a very difficult group. I think that we are excited about the challenge. Although we've played North Korea many times in these big competitions, they're sort of the wild card because we don't see them very much in friendlies. We never know what they're going to throw at us, but we know that they are going to be technical and they are going to be disciplined. Sweden, of course, is a big competitor of ours. We play them a lot, we're familiar with a lot of their players and [U.S. women's national team coach Pia Sundhage] is Swedish, so she's very familiar with them. They're obviously a really great team. Colombia -- we don't really know too much about. We do know that they are a very young and talented team. Obviously, they're going to be completely thrilled playing in the World Cup and they have nothing to lose so they're going to come out for us. It's definitely a strong group and we're excited to kick it off.
ESPN.com: Outside of the United States, Germany and Brazil, as a fan, what teams and players would you be most excited to see this summer?
Wambach: I'm excited to see all the games. There's going to be some really great soccer happening this summer. I think England really brought it to us a few weeks ago when we were over there. They were an exciting team to watch. Really fast, really dynamic. [They] scored some really great goals. I think in the end, what I'm most excited to see is the fans in the stands, the kind of commitment in Germany from all of their love of soccer and their education of soccer. Hopefully, [they can] teach our country a little bit of a lesson on how to cheer well.
ESPN.com: There's so much buzz about ticket sales and what the atmosphere will be like in Germany. What do you think it will be like for you team as one of Germany's top rivals?
O'Reilly: It's going to be incredible. We saw a glimpse of it when we played Germany in a friendly at their place. We played in the Augsburg stadium, which is one of the venues. We sort of caught a glimpse of it. That was just a friendly game. It was loud in there and the fans were pretty crazy. The thing that is pretty awesome about the Germans is that they appreciate good soccer. They don't care if it's the men's game or the women's game -- they just want to see good soccer. They're going to pack the stadiums. They're going to be loud and we expect some cheers against us. I think that we do a good job of embracing that and just focusing on the task at hand.
May, 9, 2011
05/09/11
10:21
AM ET
The United States women's national soccer team's World Cup roster, announced on Monday, features 12 players making their first World Cup. Most of those players are expected to see significant minutes.
Perhaps the most anticipated U.S. women's World Cup debut is that of forward Alex Morgan, currently playing club soccer for Women's Professional Soccer's Western New York Flash. Morgan was the U.S.' hero in its playoff series against Italy for the final spot in the World Cup, scoring deep into stoppage time to give the U.S. a 1-0 win and a crucial road goal. Morgan has good pace and likely will be used off the bench in the second half when opponents are getting tired and the U.S. needs a lift.
Joining Morgan on the forward line are Abby Wambach, fourth all-time in international goal scoring; Amy Rodriguez, who will make her World Cup debut; and Lauren Cheney, also a World Cup newbie. Like most of the rookies on the roster, however, Rodriguez and Cheney have been with the national team for several years and won a gold medal with the U.S. in 2008.
This roster is one of the oldest teams the U.S. has sent to the World Cup, with an average of 27.4 years. Only 2003, the last World Cup for many of the 1999 champions, had a higher average age.
The U.S. defense will see the most new World Cup talent, as defenders Rachel Buehler, Ali Krieger and Amy LePeilbet are all expected to start in their World Cup debut. But they've played alongside one another for the past two years and will be joined in the starting lineup by captain and veteran Christie Rampone, the last active player to have made the 1999 Women's World Cup roster. Rampone suffered an apparent groin injury this past Sunday in her WPS game, so U.S. fans will be keeping a close eye on her health during the next few weeks.
Although not expected to be a starter, defender Becky Sauerbrunn is one of the more surprising picks for the roster, as she has seen limited international minutes during the past year. She did make the CONCACAF World Cup qualifying roster and is best known to women's soccer fans as the iron woman of WPS -- the only player in the league to play every minute of every game since the league began play in 2009. Sauerbrunn's streak will end as she makes her first World Cup roster.
The largest group of veterans is in the U.S. midfield, where longtime U.S. stalwarts Shannon Boxx and Heather O'Reilly lead the way. Megan Rapinoe and Carli Lloyd round out the regular starting midfield. Tobin Heath, one of the team's rising stars, makes her first World Cup. She missed most her rookie WPS season in 2010 with an ankle injury but appears to be back to her usual self this year. She's very dynamic on the ball and can give the U.S. a creative spark in the midfield.
Midfielder Lindsay Tarpley, who tore her ACL after the inaugural season of WPS, didn't see her first call back to the national team until coach Pia Sundhage was putting together her camp for the playoff series with Italy for the final Women's World Cup spot. Tarpley has played in just five matches during the past two years for the U.S. but was playing well with her club team, the Boston Breakers, at the end of last year and earned her way back to the team.
In goal is Hope Solo, making her second World Cup. Solo has returned to the field after shoulder surgery and should make her first start in the upcoming exhibitions against Japan. With Solo back healthy, the U.S. should have the best goalkeeper in the tournament. Her backups, Nicole Barnhart and Jill Loyden, are making their first World Cup rosters.
Sundhage was choosing from a roster of 29 players who had been in training camp during the past few weeks, so there weren't going to be any shocking off-the-radar choices. Breakers midfielder Leslie Osborne, who played well at the 2007 World Cup and is a favorite among fans to be called to the roster as a holding midfielder, was not in that camp and did not get the call. Sundhage has aimed for stability and consistency, building team chemistry while rotating players in and out of camp. The squad making the World Cup this year has spent many months of training time together, and the players know one another well.
It hasn't been the easiest past few months for the U.S., as it suffered a key loss to Mexico in World Cup qualifying in the fall as well as losses to Sweden and England this year. The players hope that competing in tough games will prepare them for the World Cup in Germany. As the No. 1 ranked team in the world and the chief rival in Germany's quest to three-peat, the U.S. can expect a hostile environment. Although more than half of the players will be making their first World Cup, they'll be used to facing adversity. Sundhage is counting on the experience of a team that has spent a lot of time playing and training together.
The United States will play its first World Cup match versus North Korea on June 28 in Dresden.
April, 23, 2011
04/23/11
6:18
PM ET
Just two months from now, women's soccer will step onto the world's biggest stage as the 2011 FIFA Women's World Cup kicks off in Germany. The buzz around the sport -- and what German organizers are hoping for -- is that this edition will rival the watershed 1999 Women's World Cup in the U.S. that drew massive attention to the sport and made household names out of Mia Hamm and Brandi Chastain.
"It was so big, you had such a great crowd," said Steffi Jones, who played defender for Germany in the1999 tournament and is now head of Germany's organizing committee. "I felt like, this is how I want ours to be too. Each World Cup has its own chapter, its own history. &
"We are doing our best to keep this history. ... We are a soccer nation, too, so I think that it's going to be huge, too."
For Germany and Jones, with just two months remaining, that means pumping up last-minute ticket sales. Jones plans to visit each World Cup city (there are nine in all, including Berlin, Frankfurt and Dresden) in the weeks ahead. The goal is to sell all of the 800,000 available tickets, and Germany is close to doing that.
"We have to have this atmosphere and say that each team deserves a full crowded stadium and they all play the world's best soccer," Jones said.
The host nation is also the two-time-defending champion, making the pressure on the team to perform even greater. Its opening match against Canada on June 26 in Berlin is expected to be a sell-out, and the July 5 first round matchup against neighbor France (scheduled in Moenchengladbach, conveniently near the French-German border) is also said to be close to selling out.
"It's important that our team goes far as the host, but also that all the other teams play well, score goals, and show how good women's soccer is," Jones said. "We want to be a good host. That's what we had in 2006 with the men's World Cup, and now it's the Women's World Cup and we want to have this same atmosphere."
Only once has a host nation won the Women's World Cup (the U S. in 1999), but no host nation has been the two-time defending champion.
"I think definitely Germany is going to be at the top of [its] game, in their home country, tons of fans supporting them," U.S. women's national team co-captain Rachel Buehler said. "It will be really exciting to watch them and see how that all goes. They've got some amazing players."
Jones says she expects most of the fans to be from Germany, with a few other European nations represented. For the U.S., and other non-European teams, that could mean a mostly hostile environment as the home crowds roots against the other contenders.
"There's going to be tons of fans all rooting against us most likely for a lot of the games," Buehler said. "German fans, it sounds like they're really gearing up for this World Cup. It gets your adrenaline going already because you think about what it's going to be like and the support and all the people that are going to be there."
Team USA, ranked No. 1 in the world, is one of two teams considered to have the best shot of ousting Germany. Despite recent struggles, including a shocking loss to Mexico that put their World Cup qualifying hopes in serious jeopardy, the Americans are still the most decorated team in the sport and draw much international attention.
Rounding out the so-called "Big Three" is Brazil, led by the world's best player, Marta. Brazil finished as the runner-up in its last three major international tournaments. In 2009, Brazil visited Germany for a friendly match, drawing a European-record 44,825 fans for a women's game. Marta is expecting a similar atmosphere this summer.
"Germany's known for organizing events. I know that the German league federation is already putting a lot of effort into this,'' she said through a translator. "There's a lot of buzz going around the tournament. I think we're going to find a very good environment & and the crowds behind it to support what a major tournament such as this demands."
U.S. defender Ali Krieger, who is on track to make her first World Cup roster, has been playing club soccer the past three and a half years for FFC Frankfurt in the Bundesliga. Her team features the German captain and one of the world's most prolific goal scorers, Birgit Prinz. Krieger recently left Germany to focus on the U.S. women's national team training camp.
"Germany is my second home,'' she said. "Being able to show the girls where I have lived for the past three and a half years, why I love Germany so much and why I was so happy there, is going to be amazing. Obviously, football is the No. 1 sport in Europe and the DFB (German Football Federation) president really focuses on female football there in Germany, which helps it to become a little bit more popular and more interesting to the fans."
April, 21, 2011
04/21/11
10:39
AM ET
The expansion Western New York Flash won their first-ever Women's Professional Soccer game this past weekend, besting a very good Boston Breakers team 2-1. The team's excitement after the opening game was clear, and it's only going to get bigger.
"I think we just keep possession so well," Flash defender Ali Riley said after the match. "We play soccer how it's supposed to be played. We didn't even have Marta and there were still just beautiful passages where it's just keeping the ball [and] finding everyone."
While the Flash didn't have their best -- and the world's best -- player, Marta, just yet, they still had an imposing forward line featuring Christine Sinclair, Marta's strike partner last year with FC Gold Pride, and No. 1 overall draft pick Alex Morgan, this fall's hero with the U.S. women's national team. The pair teamed up for a goal, with Morgan assisting Sinclair to give the Flash a 1-0 lead in the second half.
"I think that I did pretty well," Morgan said of her pro debut. "I think I had some good passes, some good balls behind the backline and gave [Sinclair] a pretty good assist."
A forward, Morgan was solid throughout the match and showed the pace that has made her a late-game super sub for the U.S. national team. Western New York coach Aaron Lines offered high praise for her performance.
"Excellent performance … she was quality. She gave them all trouble tonight," he said.
As for Marta, the two-time WPS Player of the Year arrived in Buffalo on Monday after sorting out visa issues. She should make her debut for the team this weekend, but without much training time with the team. She said Tuesday in an interview with espnW that recent nasal surgery kept her away from training for 20 days, and while she isn't 100 percent, she expects to be fit for Sunday's game.
Riley can't wait for her former FC Gold Pride teammate to take the field for the Flash.
"I think we'll be unstoppable," she said with a laugh. "I think a player of that caliber fits in -- no matter if she's been here for a day [or] five weeks."
The Flash will visit the Atlanta Beat on Sunday before making their home debut in Rochester on May 1.
---
This week begins a busy time for members of the U.S. women's national team as they shuttle between training camp in Florida and WPS matches on the weekend. With the Women's World Cup just two months away, U.S. coach Pia Sundhage is trying to get the team together for as much training as possible. There are also three friendlies left to play before the tournament begins. Each national team player's availability for WPS games will likely be a game-time decision each week.
"The schedule's going to get a little bit crazier in the next month or two," Morgan said. "But that's just how it's going to be and how we're going to have to work with it."
It'll be up to the coaches of the WPS teams to figure out the right plan for their club teams and be mindful of national team commitments for both the U.S. players and the internationals from nations participating in this year's World Cup.
"It'll be interesting," Breakers coach Tony DiCicco said. "It gives the other players opportunities."
In the first two years of WPS, every individual award has been won by a national team player. With so many players missing time because of the World Cup this summer, it appears there is a good chance that streak will be broken this year.
The third season of Women's Professional Soccer begins this weekend as the sport of women's soccer gears up for a huge summer. The FIFA Women's World Cup begins on June 26 as two-time defending champion Germany plays host to 15 other countries, including many WPS stars. Not surprisingly, the league hopes to capitalize on the buzz.
"There's going to be a lot of visibility for the sport," WPS CEO Anne-Marie Eileraas said in a phone interview this week. "[WPS has] a lot to offer. We're starting our third year and we're very excited to have the World Cup as a really nice kind of interlude to our season and to draw attention to the women's game."
Leading the way for WPS in the World Cup will be the United States. For the most part, the U.S. team is made up of players from the six WPS clubs. It will be a hectic summer for the players as they fly between national team warm-up games and league matches over the next few weeks.
"I have a really crazy Google calendar that I am constantly updating, trying to share with my family and stuff so that people know where I am and what I'm doing," U.S. women's national team co-captain and Boston Breakers defender Rachel Buehler said this week, taking a quick phone call from Scotland, where the U.S. had just won a closed-door match against Scotland, before she flew back to the U.S. for Boston's season opener Saturday in Atlanta. "We're traveling a lot back and forth with Boston and with the national team."
On the international side of the league, five-time FIFA Player of the Year and 2007 Golden Boot winner Marta -- who now plays for the expansion Western New York Flash -- has shown no signs of slowing down and will likely take a starring role as Brazil looks to improve upon its runner-up finish in the 2007 World Cup.
Marta's new club joined WPS at an important time. The league lost two teams -- the Chicago Red Stars and Marta's former squad, FC Gold Pride -- in what has been a tumultuous offseason. Fortunately for WPS, the Flash were able to elevate from the W-League to WPS after winning the W-League title last year.
"It's a new market for us, new geography where there's a great tradition of soccer," Eileraas said. "The ownership group that has come in with that team has been phenomenal. They've brought in incredible talent. They're taking this very seriously and they're in it for the long haul."
Though two games open the season this weekend, the Flash won't make their debut until they face the Boston Breakers in the league's national TV game on April 17. The match will be an early look at World Cup talent in WPS as top players from at least six countries (U.S., Brazil, Canada, England, New Zealand and Sweden) will likely start in the match.
Women's soccer fans in the U.S. remember that the league's predecessor, the Women's United Soccer Association, folded shortly after completing its third season, on the eve of the 2003 World Cup. As WPS heads into Year 3, Eileraas knows that the sport's troubled past is on the minds of a lot of fans.
"We're not WUSA. We have a completely different model," she said. "We recognize that building a professional sports league is a long-term process, but we also understand that people will be looking at us through the lens of WUSA. I think when you combine that with the World Cup and the visibility for the women's game that it will bring, it is a critical year."
January, 27, 2011
01/27/11
8:49
AM ET
[+] Enlarge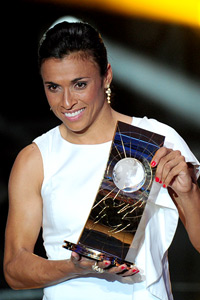 Franck Fife/AFP/Getty ImagesBrazil's Marta, who was the FIFA Women's World Player of the Year, will join the Western New York Flash this season.
The latest expansion franchise in Women's Professional Soccer, the Western New York Flash, had already assembled a solid roster, but its acquisition of five-time FIFA Player of the Year and Brazilian superstar Marta earlier this week pushed the team right to the top of the list of favorites this season.
Marta, who has won the MVP trophy in the first two WPS seasons, will reunite with her former FC Gold Pride strike partner, Christine Sinclair, on the Flash. The two combined to score 29 goals last season, better than the season totals for three of the league's other six teams. Also on Western New York's roster is No. 1 overall WPS draft pick Alex Morgan, whose goal in Italy in November helped the U.S. clinch a Women's World Cup berth.
"I hope we get lots of support, because that is pretty exciting when you put it like that," Flash coach Aaran Lines said of his offensive trio, when reached by phone this week.
But he's not quite buying into the talk of being a favorite in WPS just yet. "We haven't assembled our players, and anyone who's coached knows it's a long, long, long way and a hard road to winning and being successful," Lines said. "But I think we've given ourselves a very good chance of being able to compete right off the bat."
Although the Flash are an expansion team, they feature eight players on their roster who played for last year's champion FC Gold Pride, giving team members a level of familiarity with each other, particularly with the league's most dangerous offensive pairing of Marta and Sinclair. "I think it will definitely play a role in the level of comfort within the team," Lines said.
FC Gold Pride folded in the offseason after beating the Philadelphia Independence 4-0 in the league's title game. The Flash took over the final year of Marta's contract with FC Gold Pride. They also signed 2010 WPS Rookie of the Year and former FC Gold Pride defender Ali Riley, and traded for Swedish midfielder Caroline Seger from Philadelphia.
Western New York joins the league after participating in the W-League this past year and winning the 2010 title. Lines said he expects training camp to start on March 7 to prepare for the 2011 WPS season.
The Flash will face a tough test in their first WPS game, which is against the Breakers on the road in Boston, widely considered the best atmosphere in WPS, on April 17. Boston's back line features two-time WPS Defender of the Year Amy LePeilbet and national team co-captain Rachel Buehler; the offense is led by England's Kelly Smith, who finished fourth in the 2010 FIFA Player of the Year voting. The Breakers lost to Philadelphia in overtime in last year's Super Semifinal match, narrowly missing out on advancing to the final.
"Great way to start -- away in Boston," Lines said. "Doesn't make it any harder than that."