Revisiting top breakout performances
June, 20, 2011
06/20/11
12:12
PM ET
When the United States takes the field on June 28 against North Korea, 13 players on the roster will be eligible to make their World Cup debut, with several expected to start or see significant minutes in the match.
Perhaps the brightest potential star on the team is Alex Morgan, a 21-year-old forward who has been the United States' super sub over the past six months. Her stoppage-time goal in the first game of a two-leg series against Italy in November propelled the United States to the final World Cup berth.
The United States may need her heroics off the bench this summer. Morgan's speed and attacking mentality make however long she's in the match -- whether it's 45 minutes or five minutes -- just a bit more interesting. Despite her recent success, Morgan says she's only focusing on the future.
"It's my first World Cup [and] my first time in Germany. You can't ask for anything more," she said at a U.S. Soccer/Niketown event in New York City last week. "It's going to be fun, but it's going to be hard work." The United States is relying on a mix of young talent and veteran leadership in its quest to win its first World Cup since 1999.
"If it's a young player giving 100 percent compared to an older player giving the experience and 100 percent, it's still the same. And if we win together and fight together, I think that's the most important," defender Ali Krieger, who will also make her World Cup debut, said at the event.
Morgan, Krieger or any of the other 11 U.S. players who could see their first World Cup minutes this year could end up being the breakout star of the tournament. Here's a look at four veteran stars we'll see this year who shined in their respective World Cup debuts:
[+] Enlarge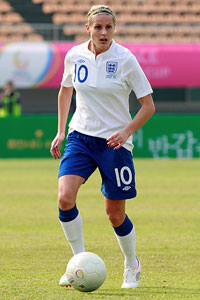 Getty ImagesAlready an international star by the time she made her World Cup debut, Kelly Smith scored two goals against Japan in England's group opener in 2007.
Kelly Smith, 2007, England ties Japan 2-2
After a long wait, England's No. 10 Kelly Smith finally made her World Cup debut in 2007 and did not disappoint. She took control in the second half and scored two goals in the game's final ten minutes to put England ahead 2-1. Already considered on the short list of best players in the world heading into the tournament, Smith immediately proved it on the biggest international stage. She finished with four goals in four games before England lost in the quarterfinals that year.
Japan's Aya Miyama, who scored two goals off free kicks in the match, would have been eligible for this list if not for a one-minute appearance in Japan's final group game in 2003.
Heather O'Reilly, 2007, United States ties North Korea 2-2
Heather O'Reilly was already an established veteran by the time she made her World Cup debut for the United States, and she came through when the Americans needed it the most in their opening game of the 2007 tournament. With the U.S. down 2-1 after North Korea scored two quick goals, O'Reilly's gutsy volley in the 69th minute kept the team from losing in the first round for the first time in its World Cup history.
Lisa De Vanna, 2007, Australia beats Ghana 4-1
Tom Sermanni's Australian squad proved to be the most surprising team in 2007 before losing a close match to Brazil in the quarterfinals, and Lisa De Vanna was one of the stars of the tournament. Used exclusively as a substitute in Australia's group stage matches, she scored two goals in the second half to get Australia's offensive attack going against Ghana. Her game-tying goal against Norway in Australia's next match is remembered as one of the best of the tournament. She eventually earned a spot in the starting lineup in the matchup with Brazil.
Shannon Boxx, 2003, United States beats Sweden 3-1
Shannon Boxx had never appeared for the United States women's national team before being named to the World Cup roster in 2003. Her primary role was that of defensive midfielder, but she proved immediately to be an offensive threat, scoring in her first three national team appearances -- two warm-up games and the United States' opening game against Sweden. Just two years later, she finished third in the FIFA Player of the Year voting.