England looking to cut down Ferns
June, 30, 2011
06/30/11
4:00
PM ET
England had a tough first game of this Women's World Cup, but it can turn things around Friday in Dresden when it faces New Zealand. The Three Lionesses will be looking to gain all three points as they face the team in first place, Japan, in their final match. With Germany potentially looming in the quarterfinal for the second place finisher in Group B, every point counts, as all teams want to avoid that matchup and finish atop the group.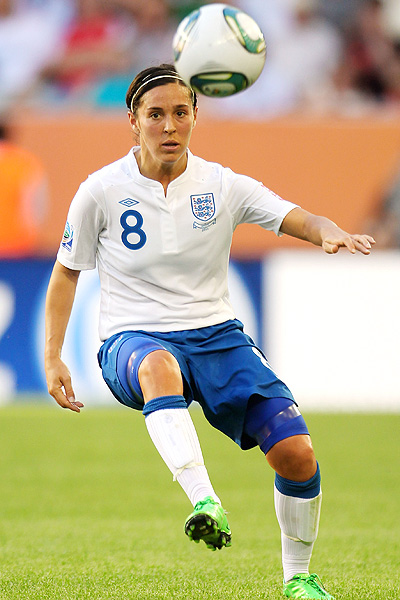 Alex Livesey/IFA/FIFA/Getty ImagesBack to health after recovering from a knee injury, Fara Williams will play a key role in England's midfield.
New Zealand -- which played very well in its opening match against Japan, only to lose on a brilliant Aya Miyama free kick -- is still searching for its first ever Women's World Cup win. The Football Ferns are now 0-7 all time in Women's World Cup matches and have scored just two goals. The 2-1 loss to Japan was their closest-ever match in tournament history.
On paper, this might look like a mismatch -- England is still coming off warmup wins over the United States and Sweden and finished second in the 2009 European Championship -- but then again, England's meeting with Mexico was supposed to be a mismatch as well.
New Zealand coach John Herdman told reporters after the Japan match that he felt his team had faced the best that Group B had to offer, something England, widely considered one of the top dark horses of the tournament, will surely notice -- not that the squad needs any extra motivation. England certainly didn't perform to the best of its ability against Mexico and will want to remove that game from memory with a decisive win.
English midfielder Fara Williams proved she's fit and ready to go after missing several weeks with a knee injury, so her health should no longer be a concern. The lack of finishing for England in the opening match was the biggest source of trouble, with Eniola Aluko's mishit of the ball five yards from goal in the second half serving as the perfect example. England coach Hope Powell may look to insert the 22-year-old Ellen White into the starting lineup to provide a spark on offense. White played well when she entered the Mexico match and scored four goals in World Cup qualifying.
The weather's been hot in Dresden, and both teams looked tired in the second half of their first matches. Fresh legs in the starting lineup and early subs might be seen on both sides of the ball Friday.
Notes from Germany:
• After his team's opening match, Australia coach Tom Sermanni thought Brazil's slow start was because they didn't take his squad seriously. "I think Brazil sat back a little bit in the first half and just kind of let us play, and perhaps, underestimated our ability to play and to keep the ball and to create openings," he said.
Brazil coach Kleiton Lima said sitting back had been Brazil's plan all along for the first half, but he agreed his team made a lot of mistakes.
"We never kept the ball. Once we got the ball, we couldn't keep it. & In the beginning, we were too anxious. We were just too nervous. We were a bit messy," he said.
Whatever the reasons for it, it was clear that Brazil was out of sorts in the first half, and Marta seemed frustrated all game. They may have gotten a 1-0 win over Australia, but they need to get their offense going -- and especially, get Marta going.
• Brazilian goalkeeper Andrea won't ever get credit for it because Brazil's defense is considered a weakness, but she is a solid net minder. She doesn't make the spectacular save, but she makes the saves she should and doesn't make a lot of mistakes.
• The low scoring World Cup can be attributed to the parity in women's soccer, but there have been some spectacular misses so far this tournament, which also keeps the scoring low. Sweden's Jessica Landstrom, Germany's Kristin Garefrekes, Australia's Lisa DeVanna, Nigeria's Desure Oparanozie and even Canada's Christine Sinclair will all be thinking about their not-so-close efforts for quite some time.