Three Lionesses come roaring back
July, 1, 2011
07/01/11
1:11
PM ET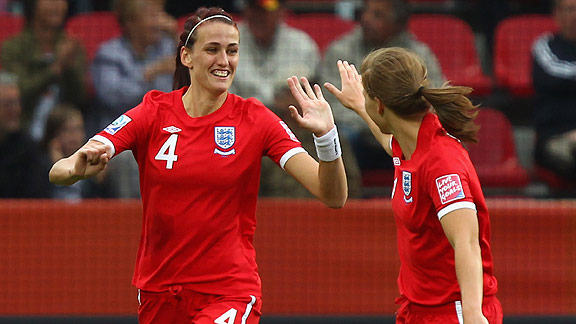 Martin Rose/Getty ImagesMidifielder Jill Scott scored a goal and assisted on another as England came from behind to defeat New Zealand, 2-1, in Group B action.
Jill Scott and Jess Clarke scored in the second half to give England a comeback 2-1 win in Group B action Friday. New Zealand led for much of the game, but in the end it couldn't come away with its first-ever World Cup point.
Here are three things we learned from the match:
1. Pulling off an upset isn't easy
The Football Ferns had England on the ropes in the first half. Sarah Gregorious had scored a shocking goal. England superstar Kelly Smith was limping. But then halftime arrived. England coach Hope Powell inserted Karen Carney into the lineup, and the Three Lionesses were able to take a few deep breaths. In the second half, Jill Scott scored on a header after a perfect cross from Alex Scott in the 63rd minute. Its confidence restored, England kept pushing at goal and Smith was looking better with each step she took.
Then, 18 minutes later, England finished off New Zealand. Moments after a close offside call took away a good scoring opportunity, Casey Stoney got things going for what would be England's game-winning goal. Her long cross, which forced New Zealand keeper Jenny Bindon out of goal, fell right to Jill Scott. Instead of forcing a shot from a tough angle, she calmly passed the ball across the box, and Clarke, who'd been subbed in 16 minutes earlier, hammered it home.
It wasn't very pretty, but eventually England pulled out a win. An upset would've have made it difficult to advance out of Group B, but a win keeps the team in second place heading into Wednesday's game against first-place Japan.
2. New Zealand is a good team and getting better
When Australia moved to the Asian confederation before the 2007 World Cup, it opened a spot for a new team to qualify out of Oceania. It's been a tough go at times for the young Ferns, but being able to go to the World Cup and compete on the world stage has clearly helped them improve. Their fearless play in the first two matches here in Germany, against the best that Group B has in England and Japan, should be an inspiration for other up and coming teams around the world.
After Gregorious scored for New Zealand in the 18th minute, the Ferns' celebration was fun to watch. It seemed that their 1-0 lead had surprised even them. Though they are headed out of the tournament, their spirit has won them more fans.
3. England should still be concerned
The 2-1 win saves England's World Cup hopes, but it still has many things to work on. Its backline continues to look shaky and was caught out of sorts on New Zealand's goal. England's slow starts in tournaments extended to the first 45 minutes of Friday's game before it was able to come back for the win.
"I think we just enjoy making these tournaments hard work," Powell joked when interviewed on Eurosport after the game. "Never easy, is it?"
Because of Japan's big 4-0 win over Mexico earlier Friday, England will need a victory Tuesday against Japan to win Group B.