Is Bob Bradley's time up as coach?
August, 10, 2010
08/10/10
9:54
AM ET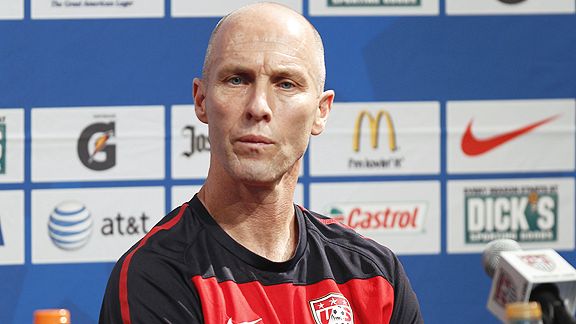 William Perlman/The Star-Ledger/US PresswireBob Bradley spoke about his uncertain future a day before a U.S. friendly against Brazil.
Incumbent U.S. soccer coach Bob Bradley, who has an expiring contract on his hands, was predictably vague about his future during a news conference a day before the U.S.-Brazil friendly at New Meadowlands Stadium.
Bradley is being linked to the freshly vacant job at English Premier League side Aston Villa and was previously considered a contender to coach Fulham. While the Fulham job has been filled, Bradley couldn't deny his interest in managing Aston Villa.
"I'm always excited about new and different challenges," said Bradley. "Certainly coaching in Europe is something that I would love to do. At the same time, I also consider it a challenge when you finish one [World Cup] cycle and begin the process of working on another."
For that to happen, Bradley will have to work out an extension with the U.S. Soccer Federation, which has made no secret in the last decade of its desire to bring in a big-name foreign coach. Jurgen Klinsmann, with whom negotiations collapsed at the very last moment four years ago, which led to Bradley's appointment, is again considered a favorite for the post.
Bradley and U.S. Soccer have had discussions and "some general starting points were laid out," the 52-year-old coach said. After the Brazil friendly, the sides will resume their conversation. In the meantime, "Both sides can think a little bit about what was laid out on the table," said Bradley, staring at the floor, as if he were worried that eye-contact with the press corps might give anything away.
While Bradley always seemed somewhat of a long shot for the Fulham job, there had been contact between the club and Bradley's camp. "People spoke to Fulham on my behalf," Bradley said. "But I personally did not actually speak to Fulham."
The famously guarded Bradley appears to be a favorite among his U.S. players, who would seem loath to see him go. "He's created a very professional environment," said team captain Carlos Bocanegra. "The players always enjoy coming back."