Some say statistics have no place in soccer. Yet conscientious objectors to soccer stats are missing out on some insights into Major League Soccer that help foster a deeper understanding of the league. Below are several interesting tidbits courtesy of Match Analysis, a California-based company that breaks down data and video for all Major League Soccer teams.
• In MLS, the team with the most touches in attack tends to lose.
In 2010, the team with the most touches in the attacking half has lost 59 percent of the time (not counting ties). Similar stats exist for previous seasons.
"Generally, attacking more is OK, but there's a tipping point when you spend too much time in attack beyond which your chances of scoring go down," said Match Analysis president Mark Brunkhart in a phone interview. "It tends to indicate that you're slow in attack and are giving the other team time to organize its defense."
[+] Enlarge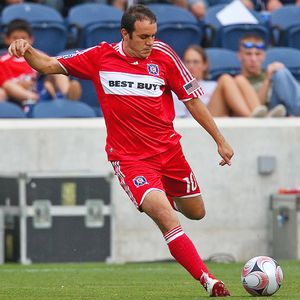 Robin Alam/Icon SMIIn 2009, the Chicago Fire's Cuauhtemoc Blanco led MLS with 7.5 created shots per game.
• Older players are more effective playmakers.
One of the most useful offensive statistics available is shots created per 90 minutes, which rewards players for having a share in a shot taken by their team. And the research indicates that this stat skews to older players. In 2009, the Chicago Fire's Cuauhtemoc Blanco was the league leader by notching 7.5 created shots per game, and he was 37. The next 15 players had an average age of 30.8. The exceptions were Marco Pappa (Chicago Fire, 22), Santino Quaranta (DC United, 25) and Justin Braun (Chivas USA, 23). What's more, of all the players who spent at least 80 percent of their minutes on the field as central attacking midfielders -- the key playmaking position -- no one was younger than 30 except for Mehdi Ballouchy (now New York Red Bulls, 27).
Older defensive midfielders, meanwhile, allowed fewer goals, as proved by a strong link between the time they were on the field, their age and the number of goals conceded from both inside and outside of the penalty area per 90 minutes.
• Taking more shots doesn't mean you'll score more goals.
Last year, in competitive games in which the final score is a one goal-difference, the losing team had an equal or greater number of shots 57 percent of the time. The most logical explanation is that a team that is behind will force lots of shots late in the game when desperation sets in. Yet those are seldom quality shots, meaning the ratio of them going in is lower than that of the team taking fewer but better shots.
Here's a few more stats you might not know
The best ball-winning midfielders in MLS in 2009 were, in order, Carl Robinson (now New York Red Bulls) with 28.2 balls won per game; Pablo Ricchetti (FC Dallas) with 28.1; Osvaldo Alonso (Seattle) with 26.1; and Pablo Mastroeni (Colorado Rapids) and Ramiro Corrales (San Jose Earthquakes) with 25.1.
[+] Enlarge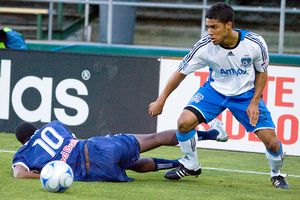 Kostandinos Goumenidis/Icon SMIOut of line? Last season, MLS' biggest fouler was Quincy Amarikwa with 3.36 per game.
Meanwhile, the player to get the most touches on the ball per 90 minutes was the NYRB's Kevin Goldthwaite with 83.6 touches per game; the player to get the most shots off (not including free kicks) per 90 minutes was the San Jose Earthquakes' Cornell Glen; the player with the highest percentage of shots on goal (with at least 20 shots taken) was the Chicago Fire's Patrick Nyarko; the player who lost the ball on the dribble the most often per game was San Jose's Quincy Amarikwa with 13.2 futile solos per game; the player with the highest pass completion percentage was Albert Celades (NYRB) with 55.56 percent; and the league's biggest fouler was Amarikwa with 3.36 fouls per game.
Unless otherwise noted, all of the above observations were based on numbers for the 2009 MLS season as assembled by Match Analysis.