Lionel Messi's crowning achievement
January, 10, 2011
01/10/11
11:08
AM ET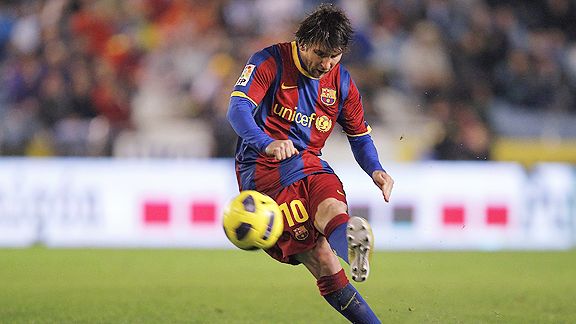 Angel Martinez/Getty ImagesLionel Messi has won the first-ever FIFA Ballon d'Or World Player of the Year award.
Until Monday morning, only 10 men had ever won a Ballon d'Or or a FIFA World Player of the Year award more than once -- Johan Cruyff, Michel Platini, Marco van Basten, Alfredo di Stefano, Franz Beckenbauer, Kevin Keegan and Karl-Heinz Rummenigge the former; Zinedine Zidane and Ronaldinho the latter; and Ronaldo both.
Now there are 11.
Lionel Messi, 23, has won the first-ever FIFA Ballon d'Or, the amalgamation of the two awards, tying him with Ronaldo for the youngest player ever to be named the world's best twice, having swept both previous awards last year.
After the decision was announced in Zurich on Monday, the diminutive Argentine threw his head back in relief and stuck out his tongue. He walked up to the stage slowly, his face partially hidden between his mop of hair, flashed a smile he usually reserves for after he scores a goal, leaned on the dais with his elbows and stumbled through his thank-you speech with a trembling voice. It's not the kind of nervousness you ever see him display on the field.
Turns out, Messi is human after all.
In all seriousness, the award ceremony confirmed something that most of us already knew: that the fantastic, physics-flouting little fellow with his furious feet is special. More special than anybody else. The most special of his generation and of many before it. Better than Cristiano Ronaldo, and the best thing to come along since the original Ronaldo.
The award also offers up a warning. Of the men to come before him, those who won so much hardware so young fell off sharply. Ronaldo succumbed to knee injuries and then his own insatiable appetite. Ronaldinho, who won his second award at 25, lost his focus, too. Van Basten, also 25, was plowed into the ground by uncompromising defenders one too many times and had to retire by age 27, just a year after winning his third Ballon d'Or.
Talent as precocious as that of Messi's attracts many things: aggressive defenders, riches, unimaginable temptations. He appears to have done a good job of staving them all off so far. Managing to do it for another decade, or until his career has run its natural course, is another challenge. Nobody that good at such a young age has been able to stay at that level for very long.
Messi has a gift. He has transcended an age that has produced more technically able and physically imposing players than any before it. And he has done so with insulting ease. He has it in him to be remembered as the GOAT -- the Greatest of All Time.
But it's up to us soccer mortals to nurture him, to demand that referees protect him -- which they're already slacking on -- and to hope he's spared the media scrutiny that has sunk other superstars. Let him be, let him live -- and get on with playing transcendental soccer.
That, after all, is what he does best.