The enigmatic Mr. Buddle is on his way to Germany. Edson, a Pele namesake but not playsake, is a journeyman MLS striker -- and a polarizing player among fans. His MLS career has yielded 90 goals, which is seventh all-time, by the age of 29, despite having lived through several unproductive years.
Some look at Buddle and see an athletic striker who should be a starter for the U.S. national team. Others, including this author, see a player whose limited power-pace skillset doesn't translate to other leagues or the international game.
[+] Enlarge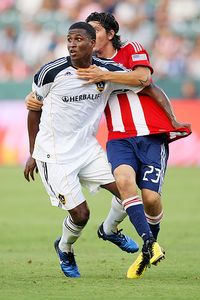 Victor Decolongon/Getty ImagesIs Edson Buddle's athletic style suited to the type of play in the German leagues?
Yes, say the Buddle fans, but he scored twice in the last World Cup tune-up against Australia in South Africa in June. Well, counter Buddle's detractors, the Aussies play exactly the way MLS teams do, relying on their physicality rather than finesse and technique.
So now, after a career-best 17-goal season in MLS for the L.A. Galaxy and two substitute appearances at the World Cup, Buddle is taking his chances in Europe. A trial at Birmingham City was ultimately fruitless, quite possibly because of work permit troubles. Instead, he is off to FC Ingolstadt 04, of the 2. Bundesliga, Germany's second tier.
And again, opinions are divided. Some argue that he could have done better, found a more reputable employer. I say that he couldn't have, and that Germany was a bad choice. The game is more technical there than people think, and I believe he'll find himself perennially chasing the game, ultimately out of his depth. England would actually have been a better place for him, since its game puts more of a premium on physicality.
Either way, we should get an answer to the kind of player Buddle really is.
My guess -- not good enough.