Van der Sar ranks among the all-time greats
January, 28, 2011
01/28/11
9:01
AM ET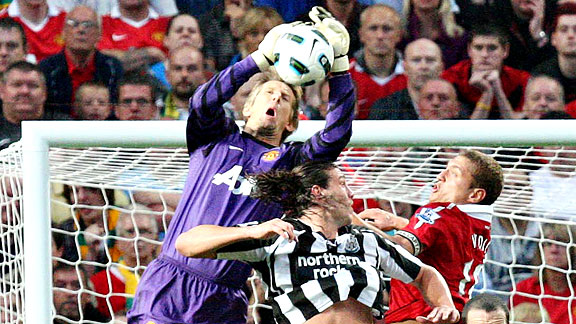 Ian Horrocks/Getty ImagesEdwin van der Sar, who announced Thursday that he's retiring at the end of the season, has been a key to Manchester United's success.
If only Edwin van der Sar had been born 20 years earlier, my grandfather is fond of saying, the Netherlands would have won the 1974 and 1978 World Cups. He wasn't, so the Dutch lost consecutive finals backstopped by a mediocre goalkeeper.
Van der Sar was born in 1970. His career has spanned 21 years, but Thursday the Manchester United keeper announced that he will be hanging up his cleats and gloves at the end of this season.
Van der Sar came onto the scene at Ajax Amsterdam in 1990 as a bowl-coiffed netminder. He was probably the only world-class player ever discovered during a game of hearts, when former Ajax manager Louis van Gaal asked his buddies if anyone happened to know of a decent goalkeeper in the amateur leagues. One of them mentioned van der Sar, and not long after he was an Ajax player.
The Dutch soon nicknamed the lanky keeper "het ijskonijn" -- the ice rabbit -- in homage to his then-buck-toothed grin, huge ears and ability to remain unflappable (no pun intended) under pressure. He rewarded the fans' affection by transcending the legacy of his position.
By the time Ajax had won everything there was to win in 1995, van der Sar was considered one of the world's best at his craft.
In the following years, feeding off of countless spectacular saves, van der Sar continued to develop and become the anchor of a golden generation of Dutch talent, eventually racking up a record 130 caps for the Netherlands and making it to both a World Cup and a Euro semifinal.
Six years ago, Sir Alex Ferguson finally gave in to the incessant nagging of his former star goalkeeper Peter Schmeichel and signed van der Sar for Manchester United. Schmeichel would be proved right as van der Sar became the team's first reliable goalkeeper since Schmeichel had retired. Van der Sar made the Champions League-winning penalty stop in 2008 and set a new record by going 1,311 Premiership minutes without conceding a goal. Ferguson would say several times that not signing van der Sar sooner was one of his biggest mistakes.
Today, at age 40, van der Sar is still a shining example of all that a goalkeeper should be: athletic, clever, tall, composed and with reflexes so sharp a mosquito couldn't get by him.
Hans van Breukelen, who helped the Netherlands win Euro '88, has long been considered the best Dutch keeper of all time. But van Breukelen himself told a Dutch radio soccer show Thursday that van der Sar "was the best we've ever had. By far. We've very rarely seen him make a mistake in [20] years at the very top and in more than 100 caps. He was a jewel in soccer's crown."
[+] Enlarge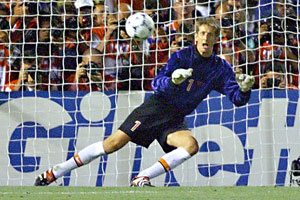 Daniel Garcia/AFP/Getty ImagesVan der Sar, pictured here during a penalty shootout against Brazil in the 1998 World Cup semifinals, racked up a record 130 caps for the Netherlands.
So, following this morning's announcement, after seven sterling seasons as the No. 1 at Ajax, two lesser years at Juventus, four revivalist campaigns at Fulham and a six-year crowning at Manchester United, it's time to wonder if perhaps Edwin van der Sar ranks among the best of all time, too.
Comparing athletes from different eras is an inexact science, but it isn't hard to argue that van der Sar spent more time at the top than did Schmeichel, the more physically gifted Gianluigi Buffon, the more psychologically gifted Oliver Kahn and the mid-career Iker Casillas. At the very least, he was one of the greatest of the 1990s and 2000s.
Whether he was better than Lev Yashin, Jean-Marie Pfaff, Peter Shilton, Gordon Banks, Sepp Maier or Dino Zoff is hard to say. What is clear is that van der Sar should at the very least feel comfortable in their company. Especially since, according to the man himself, he could have kept playing beyond this season, for a while anyway, a claim that's hard to refute if you've seen him play recently.
Speaking to his agent's website, van der Sar said age wasn't a factor. "I'm 40 years old," he said, "but I'm still in good shape."
Hanging up his cleats has more to do with his wife's brain aneurism last year, which first bore the thought of quitting and spending more time with his family. "One moment you've decided and the other you're hesitating again," van der Sar said of the decision process. "And then suddenly the decision is there. Don't ask me how or why, but suddenly you know."
After 286 Dutch Eredivisie games, 66 matches in the Serie A and 300 (and counting) in the Premier League, van der Sar came to a conclusion: "It's been enough."