European clubs continue to tempt fate
February, 10, 2011
02/10/11
2:27
PM ET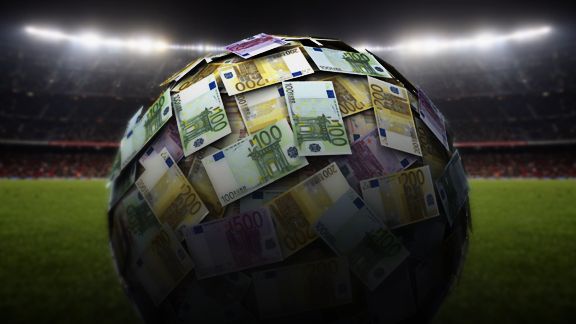 ESPN.com IllustrationProfits may be on the rise, but if European soccer clubs don't curb their spending, UEFA will soon come down hard on them.
The results are in. The Deloitte auditors have pored over soccer's financial books and compiled their annual Football Money League for the most recently completed season, 2009-10.
The top six -- in order, Real Madrid, Barcelona, Manchester United, Bayern Munich, Arsenal and Chelsea -- remained unchanged from last year. Compared to the previous season, Manchester City went from No. 20 to No. 11, and Tottenham Hotspur rose from 15 to 12. Revenues (all funds generated without subtraction of expenses or taxes) ranged from No. 1 Real Madrid's $597.2 million to No. 20 Aston Villa's $149 million.
Much more notable, however, was that despite the global recession 18 of the top 20 teams made more money in 2009-10 than they had in 2008-09. Only Hamburg SV and AS Roma saw a decrease in income, going from $199.9 million to $199.2 million and $199.4 million to $167.1 million, respectively. Overall, revenue of just those 20 clubs totaled $5.85 billion, up 8 percent from the previous year.
In a sense, that's a shame.
Someone flush with cash isn't pressed to manage it properly. The more money clubs make, the more they seem to feel entitled to spend a multiple of that. We've written about soccer's unstoppable downward debt-spiral as well as the right way to run a league. But the latest windfall is only going to encourage clubs to continue their reckless spending. For evidence, look no further than the splurging in this past January transfer window.
But European soccer clubs could become victims of their own success.
Their willingness to live on credit runs counter to UEFA's impending Club Licensing and Financial Fair Play Regulations, which were passed unanimously by the organization's executive committee last May and about which the European governing body insists it is quite serious. As UEFA president Michel Platini told reporters after the vote in Switzerland, UEFA wants to put "stability and economic common sense back into football." An independent Club Financial Control Panel, made up of European political heavyweights, has been set up to ensure that the regulations are properly enforced.
This means that clubs that have overdue debt during the season, an unsatisfactory financial plan for the future or fail to break even -- with an exception in which a dominant shareholder can inject extra money in exchange for shares -- for the financial period ending in 2012 could face suspension from continental European competitions such as the Champions League and the Europa League. These competitions are sizable parts of teams' revenue and the reasons a lot of them are willing to splash out money they don't have on players: to have a chance to win them.
But make no mistake about it, teams that spend rampantly will ultimately be kicked out of competitions. And if you doubt how serious UEFA is, behold Exhibit A: Real Mallorca. The club was in a dire financial state, but even after it was rescued by a well-funded consortium that included tennis player Rafael Nadal, UEFA -- citing a rule predating the financial fair play regulations -- refused Mallorca a spot in the Europa League that it had earned for the 2010-11 season because of its excessive debt.
It would be good for European soccer clubs' revenues to fall, or even plateau now, so that they can learn how to live on a budget before they start facing harsh punishment. They may be in denial about FIFA's crackdown, but if they don't adjust, the consequences could be calamitous.