Day 1 of Ochocinco experiment
March, 23, 2011
03/23/11
2:37
PM ET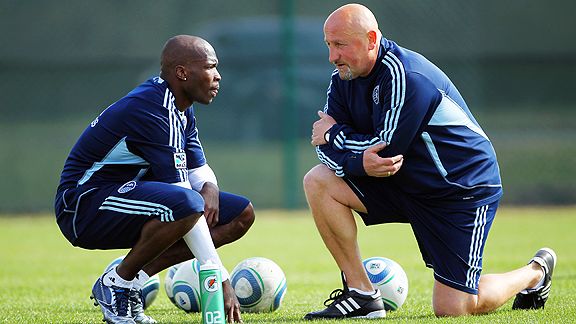 Jamie Squire/Getty ImagesPlaying soccer was "just as difficult as I thought it would be," said Chad Ochocinco -- seen here with a team coach -- after his first day of training with Sporting Kansas City.
On Tuesday night, after arriving in Kansas City to embark on his four-day trial as a soccer player, star Cincinnati Bengals wide receiver Chad Ochocinco had tweeted that he was "headed to bed with a (humble pie) in the oven on low tempature [sic],to be able to grace the pitch with elite futbol athletes."
After watching his first practice with Sporting Kansas City of Major League Soccer on a live feed on Wednesday, it was plain to see: Ochocinco is many things -- an athlete, an entertainer and a media hog -- but a soccer player is not one of them.
Ochocinco got off to a decent start. His first touches, in a simple passing drill, were accurate, if a little hesitant. Insofar as you could tell from a dozen side-footed kicks, his technique is sound, as he used both feet well.
But as practice wore on and the drills became more intricate, Ochocinco exposed himself. Taken aside for an individual workout with a coach, like all trialists are, it became obvious that some of the basics of the game elude him. His dribbling looked passable, if a little clumsy, like a puppy learning to run for the first time. But when it came time to send in crosses, an essential skill for the winger Ochocinco would like to be, the discrepancy between a pro soccer player and a very athletic fan of the game became apparent. Taking too many touches and too much time, he was unable to get a single one of his crosses to its intended target in any kind of acceptable fashion, if it got there at all.
Then it came time to shoot. While it wasn't as bad as his crossing, you would find better finishers than the NFL player in most pickup games. Relying entirely on power, he sent a host of shots sailing over the goal. Those that did manage to connect with the net, he had either pummeled past the hapless coach or slid into the corner where the immobile stand-in goalie couldn't get to them. Even more worryingly, in one-on-ones, Ochocinco was unable to round the goalkeeper at all. The one time he did, he missed the open goal.
The hulking wide receiver looked frustrated now and then, throwing his hands up in the air, covering his face. In the brief scrimmage that bookended the workout, I didn't see him get a single touch on the ball.
[+] Enlarge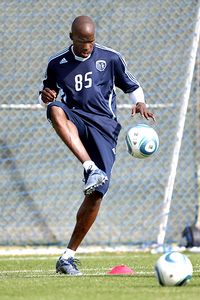 Jamie Squire/Getty ImagesOchocinco's first touches were accurate, but his shooting and dribbling were well below standard.
After practice, he told Sporting KC's TV crew that the experience had been "just as difficult as I thought it would be. The transition from one sport to another, especially at such a high level, would be difficult for everybody. This is not just running around, this is hard work.
"It's been a long time since I played the game of soccer and to be good at it takes a lot more than speed," Ochocinco said, "so I tried to get as much of the touch and the art of it back. It's hard. Everything is going full speed. Because I'm here, they're not going to slow down."
Even among the modest Sporting KC surroundings, Ochocinco looked out of his depth. In fairness, though, it's only been a day, and he's been out of the sport since his sophomore year of high school.
"I will not be able to make up the years I've been away from the game in four or five days," he said, "but I hope to show enough of what I used to be able to do."
For now, though, the message from Day 1 of the Ochocinco experiment is clear: A great athlete does not necessarily make a great soccer player.